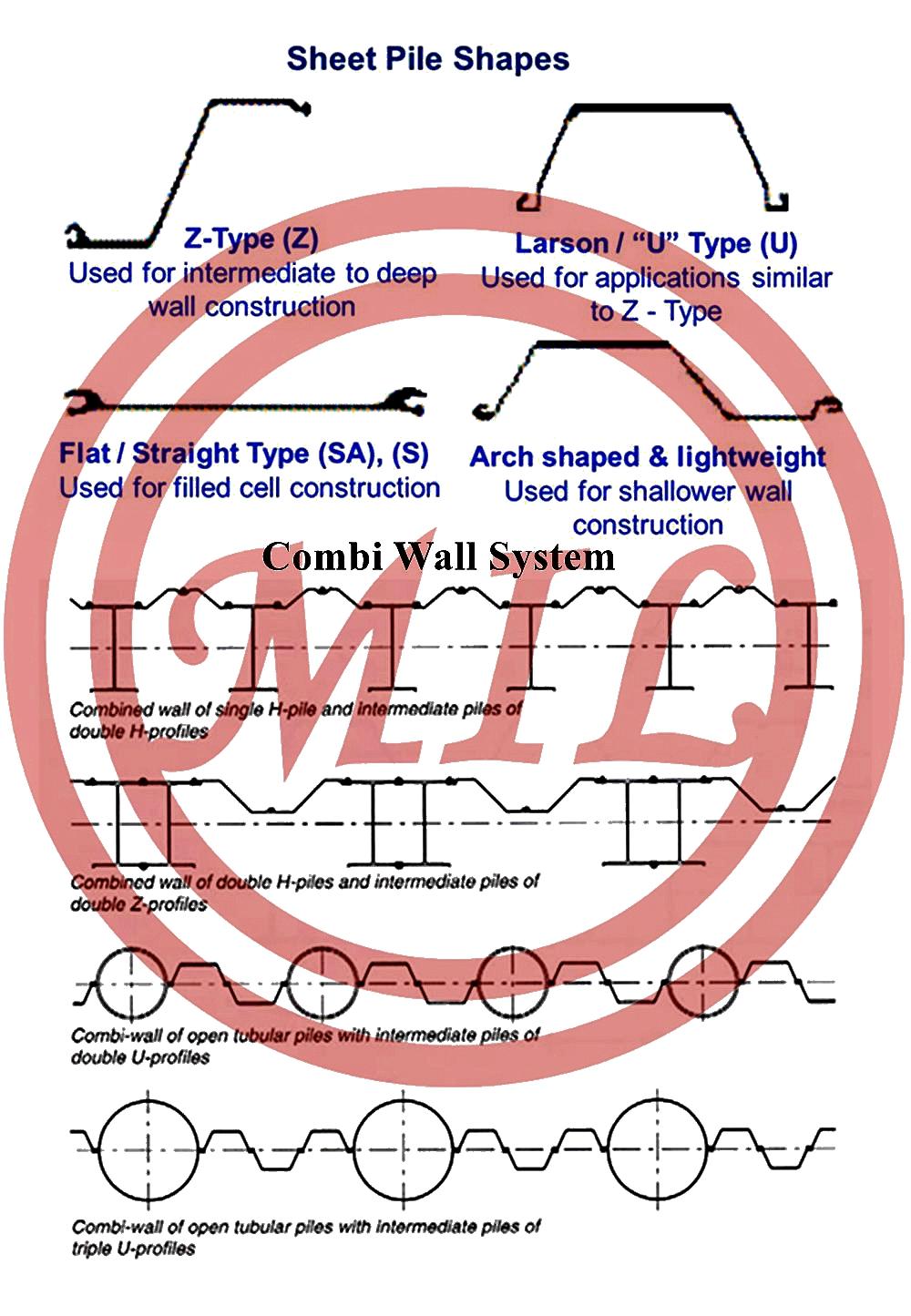 Steel Sheet Piles Overview

Steel sheet piles are long structural sections with interlocking connections, driven into the ground with impact or vibratory hammers to form an impermeable barrier. They could be rolled in both Hot Rolled (JIS or Larssen Type) and Cold Formed (MMU and MMZ) manner and may be in shapes of Z or U in different sizes and weights.
Functionality, appearance and cost-effectiveness are the criteria currently applied when selecting construction materials. Steel sheet piling meets all three: the prefabricated elements allow simple and economic construction, satisfy all requirements for structural safety and protection of the environment and the finished article is appealing to the eye.

Permanent Application of Steel Sheet Piles

Sheet Pile when used as a retaining wall element provides an fast and economical way of constructing a retaining wall especially for water-fronting projects. Its interlocking elements provides watertight lock in retaining earth behind it and hence a suitable solution when building ports, wharf, deepening of rivers, bridges and basement excavations. To prevent corrosion, we provide Epoxy coating which can protect sheet piles even in harsh conditions such as salt water.

Water Front Sheet Pile Applications
Ports, Piers & Harbors
The constantly growing demand for large, capable container vessels has led to a need for larger ports built of durable, long-lasting and cost-efficient materials.

Underground Parking Sheet Pile Applications
The durable, cost-efficient and environmentally friendly option of sheet pile for underground parking garage foundations is becoming increasingly popular

Steel Sheet Piles for Cofferdams
Cofferdams are highly useful and commonly implemented in construction situations in which the structure in progress must be built in an area partially or completely covered by a body of water. The name of this type of dam is derived from the word "coffer," which refers to a sealed box. Common uses for a cofferdam include the safe and efficient construction of piers, bridges and other structures that must be built in standing water.

Bridges & Highway Sheet Pile Applications
Millions of miles of highway and hundreds of thousands of bridges comprise the primary transportation system of North America. This constantly evolving infrastructure requires the use of advanced technology and structural versatility in order to continue functioning at its optimal level.

Storm Protection Sheet Pile Applications
Slope Stabilization & Coastal Protection
Steel pile retaining wall systems are available to aid commercial organizations from across North America in their efforts to apply slope stabilization techniques before major foundation damage can occur. Retaining wall systems manufactured with high-grade, low permeability steel piling help to prevent erosion caused by excess water run-off, flash flooding and gradual erosion caused by exposure to frequent and heavy rain.

Environmental Sheet Pile Applications
Over decades of environmental research regarding ground water and waste containment, commercial remediation engineers have developed a variety of methods of preventing the permeation of pollutants on the subsurface level. The most effective, environmentally safe and cost-efficient option involves the use of interlocking sheet pile barriers, rather than more expensive and invasive methods such as slurry wall containment and drilling. Sheet piles, also known as U-type sheet piles or Larssen Sheet Piles are widely used in construction. They can be used in permanent or temporary applications.

Hot rolled sheet piles are produced to EN 10248, JIS A5523 and JIS A5528 standards.

Z Sheets, U Sheets, Hat Sheets, Straight Web Sheets
Pile Specification EN 10248, JIS 5523 and JIS 5528
Material Specification Grades
EN 10025 S235, S275, S355, S390, S420, S460
JIS A5523 SYW295, SYW390
JIS A5528 SY295, SY390
JIS G3101 SS400, SS490, SS540
ASTM A252 Grade 1, 2, 3
ASTM A572 Grade 42, 50, 55, 60, 65
AS 3678 C350, C450
CSA 40.21 260W, 300W, 350W, 400W
GB/T 700 Q235B
GB/T 1591 Q345B, Q345C, Q390B, Q420B


Tolerance BS EN 10248
Mass ± 5%
Length ± 200mm / ± 7.87402"
Height ± 7mm / ± 0.275591
Thickness ≤ 8.5mm / ≤ 0.334646" ± 0.5mm / ± 0.019685"
≤ 8.5mm / ≤ 0.334646" ± 6%
Width single ± 2%
Width of pair ± 3%
Straightness ≤ 0.2% of the length
Squareness of end ± 2% of the width

Cold Rolled Sheet Piles
Edgen Murray sheet piles are produced in accordance with design code EN 1993-5:2007 and the manufacturing standard EN 10249 parts 1 &2. We comply with the structural steel welding requirements of AS/NZS 1554.1 2004.


CRZ Sheets, CRU Sheets, CRW Sheets, BP Sheets, EU Sheets, Trench Sheets
Pile Specification EN 10249, JIS 5523 and JIS 5528
Material Specification Grades
EN 10025 S235, S275, S355, S390, S420, S460
JIS A5523 SYW295, SYW390
JIS A5528 SY295, SY390
ASTM A572 Grade 42, 50, 60
GB/T 1591 Q235B, Q245B, Q345B, Q390B, Q420B


Tolerance BS EN 10249
Mass ± 7%
Length ± 50mm / ± 1.9685"
Height h≤200±4mm/±0.15748" 200Thickness 5mm/0.19685"=±0.29mm 8mm/0.31496"=±0.35mm 10mm/0.39370"=±0.40mm 13mm/0.51181"=±0.46mm
6mm/0.23622"=±0.31mm 9mm/0.35433"=±0.40mm 12mm/0.47244"=±0.43mm 15mm/0.59055"=±0.46mm
Width single ± 2% ± 2% ± 2% ± 2%
Width of pair ± 3%
Straighness Bending: ≤ 0.25% L
Curving: ≤ 0.25% L
Twisting: < 2% L but no more than 100mm
Straightness - Squareness < 2% W

JIS A5528 SY 295 & SY 390;
EN 10248 S270GP & S355GP.
ASTM A690/A690M-2007 Standard
Available Steel Grade
EN 10025: S235 / S275 / S355 / S390 / S420 / S460
JIS 5528: SY295 / SY390
JIS 5523: SYW 295 / SYW 390
ASTM A572: Gr. 43 / Gr. 50 / Gr. 60
Low Corrosion Steel: ASTM A690 Mariner Steel Grade (345 / 390 / 430)

U Steel Sheet Piles Advantages
A wide range of sections forming several series with various geometrical characteristics, allowing a technically and economically optimum choice for each specific project, typically:
Proprietary shoulder stiffening of PU18, PU22 and PU28 makes these profiles ideal for hard driving conditions and reuse
The 750mm wide AU series is more economical with reduced number of interlocks per meter run of wall directly improving water tightness control
Combination of great profile depth with large flange thickness giving excellent statically properties
The symmetrical form of the single element has made these sheets piles particularly convenient for re-use

Easy fixing of tie-rods and swivelling attachments, even under water
Good corrosion resistance, the steel being thickest at the critical corrosion points

PAL / PAU / Omega piles have interlocks away from the neutral axis on one side, enabling installation of piles close to existing structures


ASTM A950/A950M Fusion Bonded Epoxy-Coated Structural Steel H-Piles & Sheet Piling

Z profile sheet piles are called Z's, because the single piles are shaped roughly like a horizontally stretched Z. Z profiles are continuous through the web providing full shear transmission between compression and tension faces of the wall. Interlocks are located symmetrically on both sides as far away from the neutral axis as possible, providing efficient use of material and creating a positive influence on the section modulus. Z profiles are traditionally driven as double piles facilitating a greater wall coverage per pitch and drive.
Our Z Section Sheet Piles are manufactured from high quality steel and certified to DIN EN ISO 9001:2008. Sheets are supplied in High Yield Grade S355 as standard or up to S490 GP if required. Steel provides Hot Rolled AZ sheet piles and Cold Formed OZ / PAZ sheet piles from China Mills.
Z Steel Sheet Piles Advantages
Interlocks located at the outer fibre thus give optimized section profile for high strength and low material weight
High inertia enabling reduction of deflection for serviceability
Efficient section with high bending moment resistance
Uniform section thickness for good driving stiffness and greater durability performance
Greater system width compared to standard U profile sheet piling providing:
Reduced handling & installation time;
Reduced number of interlocks per meter run of wall directly improving water tightness control
AZ series incorporates the quality-proven Larssen interlock
The Hot Rolled AZ range of sheet piles is the most advanced in the world. ArcelorMittal introduced the AZ profile in 1990 and is committed to continuously improving the sections through ongoing, aggressive research. The AZ's now cover the widest range of strengths representing the strongest, most efficient sheet piles in the industry.