Spiral/Helical Submerged Arc Welded (SSAW/HSAW) Steel Pipe
HSAW (or "spiralweld") large line pipe is characterized as a steel pipe having a DSAW seam the entire length of the pipe in a spiral form. HSAW is produced using hot-rolled coil that is formed into a hollow cylinder by twisting the skelp as it is unrolled (in the same manner that the cardboard core in a roll of paper towel is formed) and then welded as the edges come together using an automated SAW process both inside the cylinder and outside the cylinder. The end product is a welded pipe.
Stages in the HSAW production process typically include: de-coiling and leveling; skelp end welding for continuous rolling; edge trimming and bevelling; forming and tack welding; cutting to length; skelp and repair welding; inside cleaning of pipe; internal and external SAW; further inside cleaning; weld seam removal at pipe ends; and beveling of pipe ends.
HSAW large line pipe production processes also comprise a number of quality control steps including, but not limited to, the following: skelp and edge ultrasonic testing; sampling and destructive testing; inspection of SAW; tack weld inspection; hydrostatic testing; ultrasonic testing; x-ray weld inspection/filmless radiography; final inspection; and generation of certificates. The complainant employs both the LSAW process and the HSAW process for its production of large line pipe.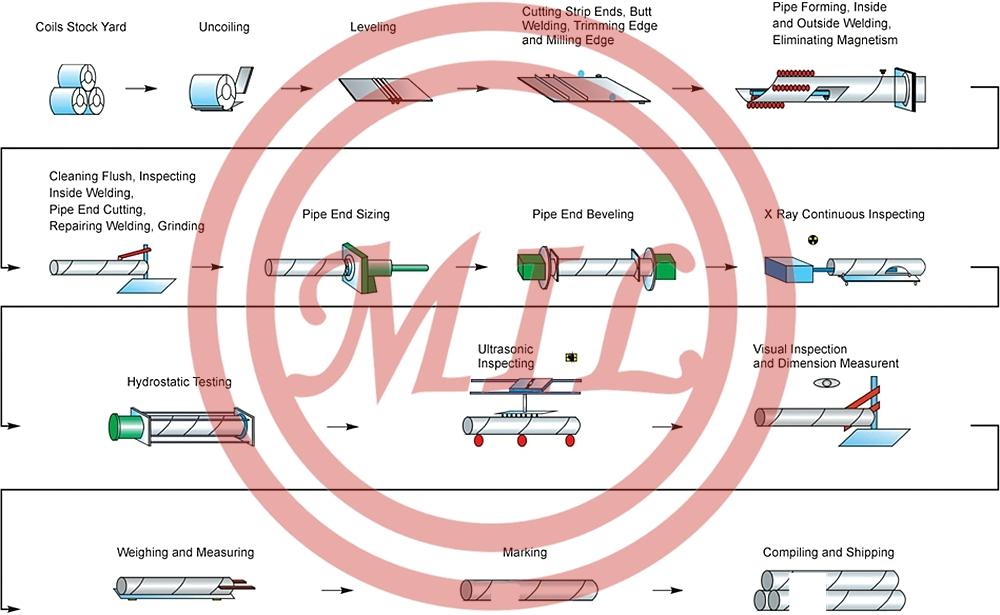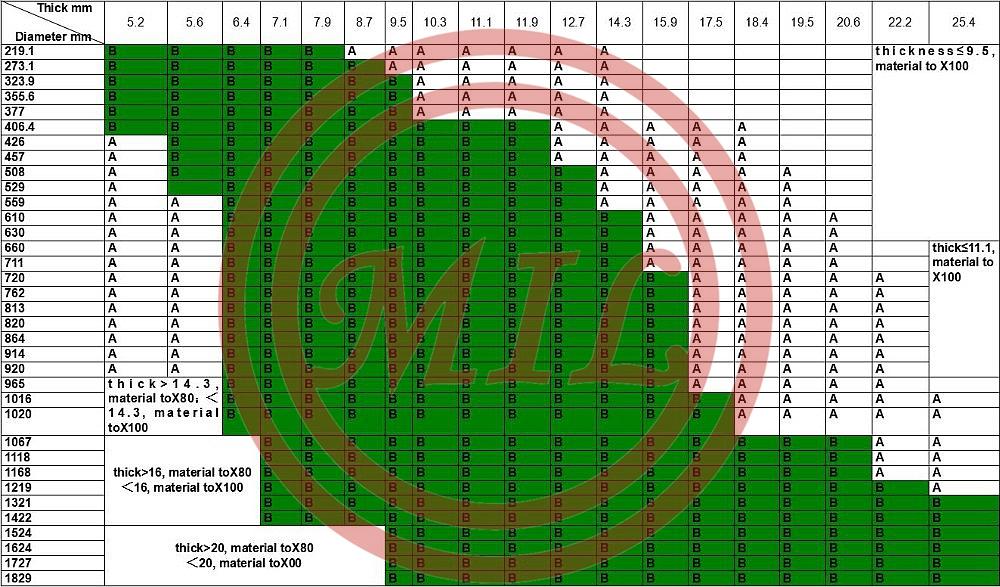 Reference Standards:
API 5L PSL 1,2 & 3,ISO 3183-1,2 & 3, AS 1163,AS 2885.1,CSA Z245.1, DIN 17172, EN 10208-1,2 & 3, DNV OS-F101,EN10217-5
NACE MR 0175/ISO 15156-2,NACE TM 0177,NACE TM 0284
BS 3602-2, BS 6323-7,GOST 10704,IPS-M-PI-190, IGS-MS-PL-001,GOST 20295,GOST R52079,KOC-MP-019,KOC-MS-001,NFA 49-211,NFA 49-411, NRF-001-Pemex-2007
DEP 31.40.20.30 (Non-Sour),DEP 31.40.20.31 (Sour),DEP 31.40.20.35,DEP 31.40.20.37, DGS-9510-001, 01-SAMSS-035 and 01-SAMSS-038,TOTAL GS EP PLR 202,TOTAL-GS-PLR-212
ASTM A252, EN 10219-1/2, AWWA C200, BS 3601-1, DIN 2460
API 2B, API 2H, API 2W
DIN 2470-1 & 2, DIN 17120, DIN 17174,
EN 10217-1/3 EN 10220, EN 10224,EN 10255, EN 10296-1
JIS G 3444, JIS G 3457, JIS 5525,KS D3566, AS 1579
ASTM A134,ASTM A139,ASTM A155, ASTM A671,ASTM A672,ASTM A691,ASME B31.1,ASME B31.3
3 Layer Polyethylene Coating
CSA Z.245.21, DIN 30670,ISO 21809-1, NFA 49-710, AWWA C215
3 Layer Polypropylene Coating
DIN 30678, NFA 49-711
AWWA C222, EN 10290
Fusion Bonded Epoxy (Single / Dual layer) Coating
CSA Z 245.20,API RP 5L7, ISO 12944,ISO 21809-2,AWWA C213, AS 3862,NACE SP394
Internal Liquid Epoxy Coating
API RP5L 2, AWWA C210,EN10289, EN 10290, EN 10301,ISO 15741,NFA 49-709
ISO 21809-5, DNV-OS-F101
Exterior Coal-Tar/Asphalt Enamel Coating
AWWA C203,
Internal Cement Mortar or Cement Mortar Coating Additive
AWWA C205, DIN 2614, BS 534