PREPAINTED COLOR COATING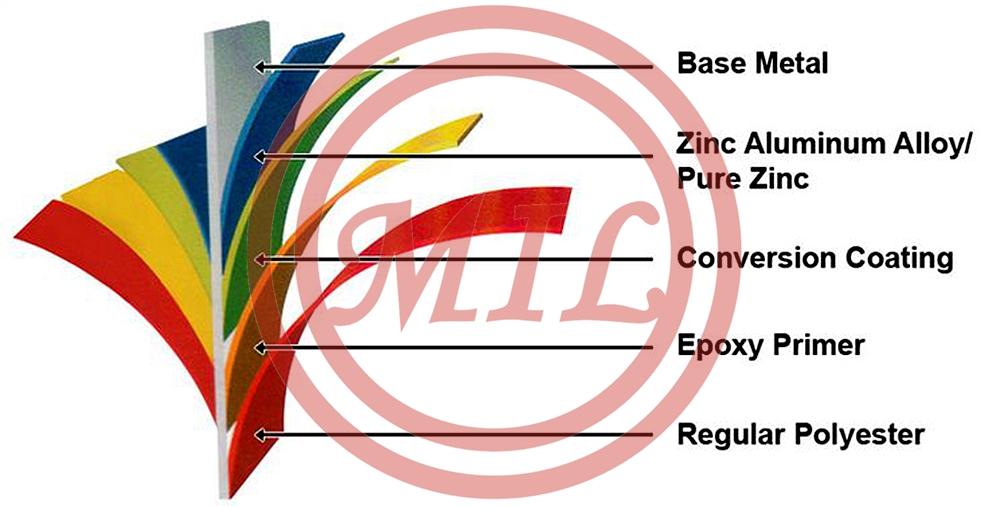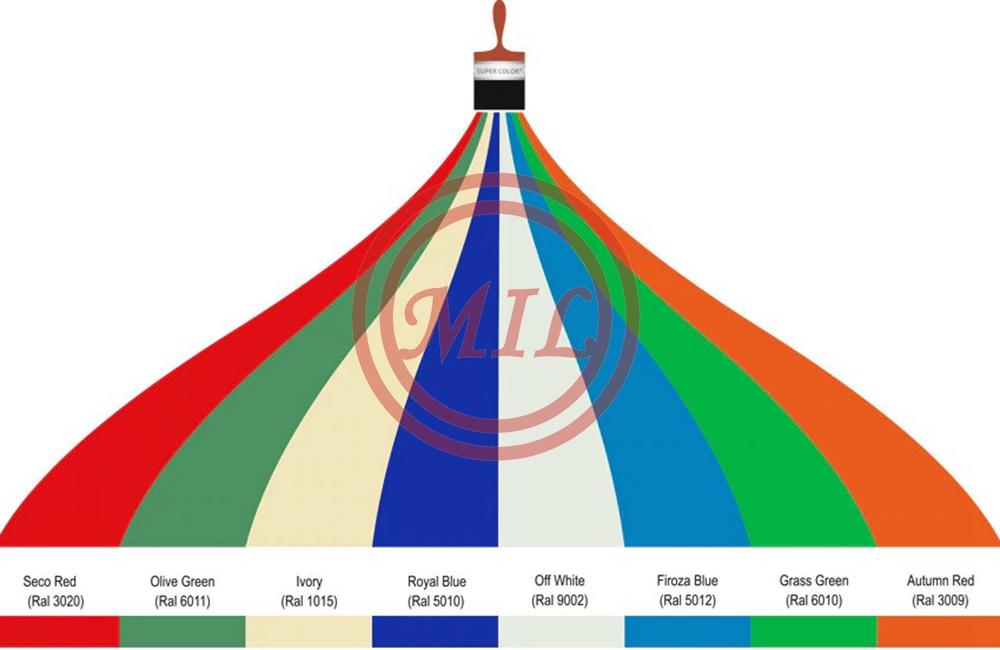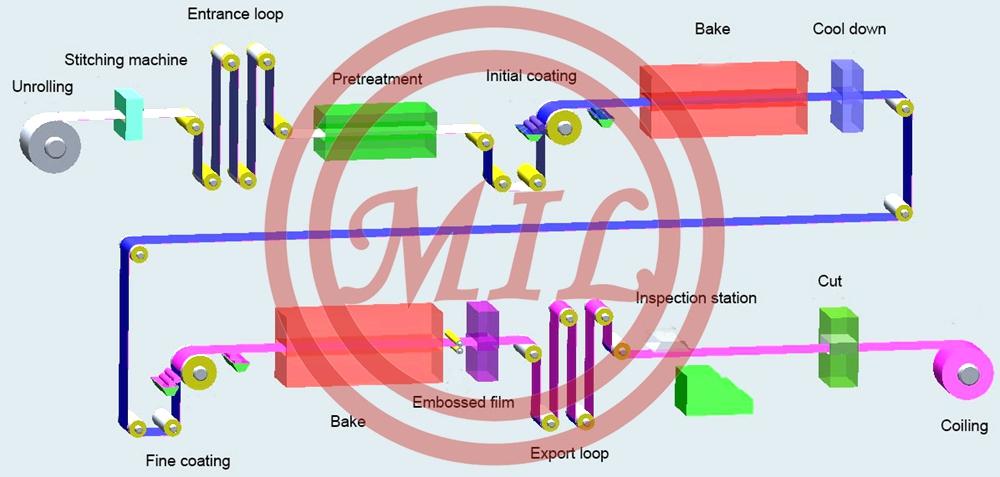 Process flow: after cleaning and surface chemical pre-treatment, hot-dip galvanized coils (GI, SZ) or cold rolled coils (CR) are roll-coated, then undergoes baking and fixing, and it is embossed, printed and laminated before cooling down.
With its sizes in 0.3-1.6*600-1575 mm, the products are single-side coated, double-side coated, single-layer coated, double-layer coated, embossed (1# line, printed, laminated (2# line). Typical steel grade to be produced are TSGCC, TSGCD & TSZACC.
The products have good corrosion resisting property and are good for decorating, which can be wildly used in such fields as the external & internal building wall decoration, making doors and windows, household electrical appliances and furniture, etc.

The normal specifications are as the following:
1. Basic material: Galvanized steel or Galvalume steel
2. Thickness: 0.15mm - 1.5 mm
3. Width: 914mm -- 1, 250mm
4. Zinc or AZ coating: 60-200g/m2
5. Coat fabric: 2 / 1 (two coats for top / 1 coat for bottom) or 2 / 2 (two coats for top / two coats for bottom), based on customers' requirements
6. Color: White, black, sky blue, bright red, yellow, based on customers' requirements as per RAL color series.
Pre_painted Galvanized Galvalume Coil Sheet

Specifications of Pre-painted Products

Product Type

Product Spec.

Substrate Spec.

Coating Designation

Pre-painted hot-dip galvanized steel coil

JIS G3312 1994

JIS G3302 1998

JIS G3302 1998

CGCC,CGCH ,

SGCC,SGCH,

Z10,Z12,Z18,

CGCD1,

SGCD1

Z20,Z22,Z25,

CGC340,CGC400,

SGC340,SGC400,

Z27,Z35

CGC440,CGC570

SGC440,SGC570

ASTM A755M 2001

ASTM A653M 2003

ASTM A653M 2003

CS Type A,B,C

Z100,Z120,Z180,

FS Type A,B

Z275,Z350

SS Grade 230,255,

275,340,550

EN10169 1997

EN10327 2004

EN10326/7 2004

DX51D,DX52D,DX53D

Z100,Z140,Z200,

EN10326 2004

Z225,Z275

S220GD,S250GD,S280GD

S320GD,S350GD,S550GD

Pre-painted 55% Al-Zn coated steel coil

JIS G3322 1998

JIS G3321 1998

JIS G3321 1998

CGLCC,CGLCD

SGLCC,SGLCD

AZ90,AZ120

CGLC400,CGLC440

SGL400,SGL440

AZ150,AZ170

CGLC570

SGL570

ASTM A755M 2001

ASTM A792M 2003

ASTM A792M 2003

CS Type A,B,C

AZM70,AZM90

FS Type A,B

AZM100,AZM150

SS Grade 230,255,

AZM165,AZM180

275,340,550

EN10169 1997

EN10327 2004

EN10326/7 2004

DX51D,DX52D,DX53D

AZ100,AZ150

EN10326 2004

AZ185

S220GD,S250GD,S280GD

S320GD,S350GD,S550GD