Internal Expoxy Coating+External FBE/DFBE Coating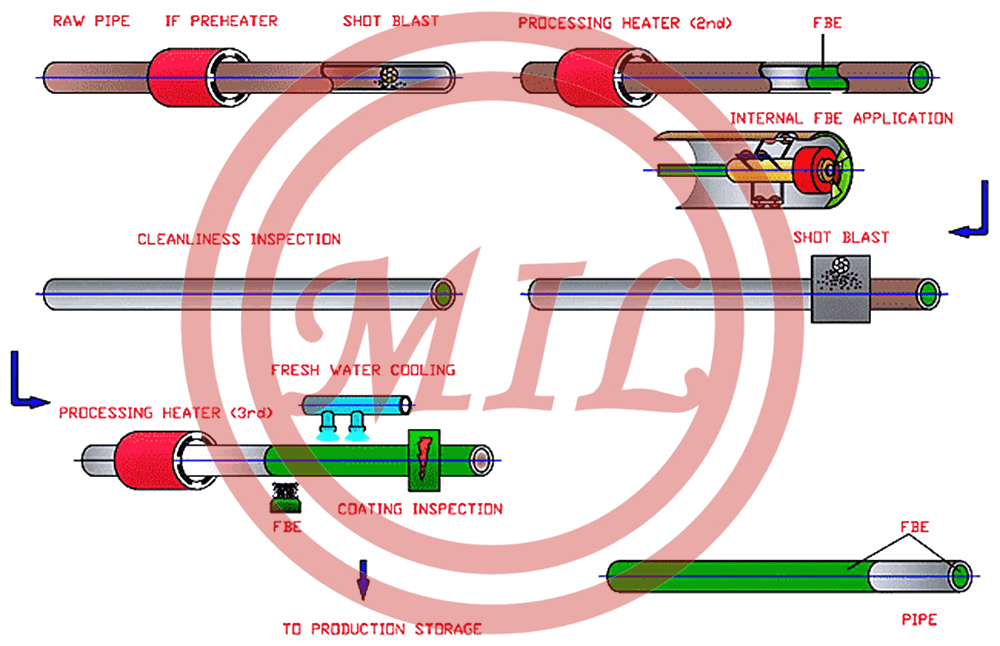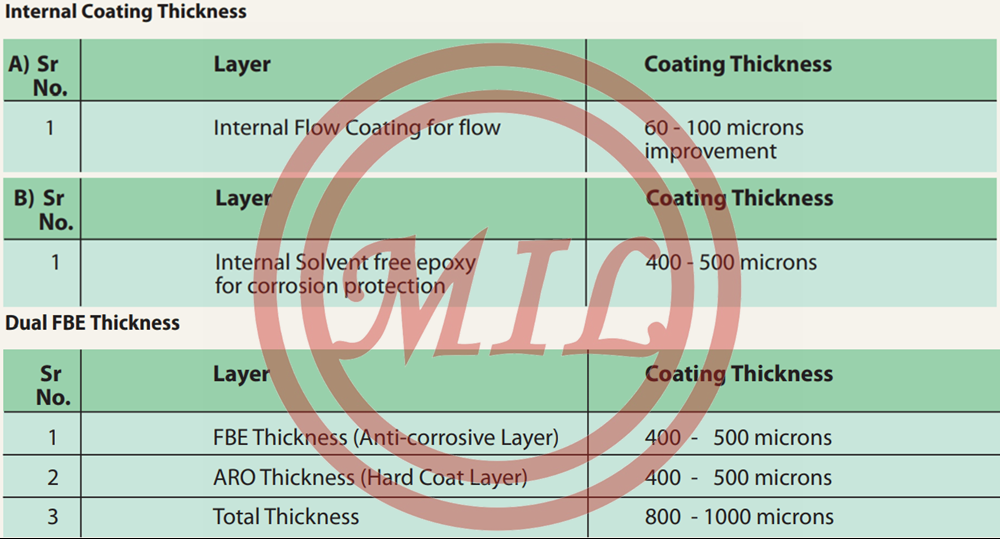 Fusion Bonded Epoxy
Fusion Bond Epoxy is a powder epoxy thermosetting coating applied for anticorrosion protection to steel pipelines. The pipe is first blast cleaned and heated. Then epoxy powder is spray applied by electrostatic guns to melt and form a uniform layer that hardens within a minute from application. Utilizing industry accepted materials supplied by manufacturers such as 3M, DuPont, and Nap-Gard,etc.
It is applied in the form of a dry powder at thicknesses of 14-25 mils (350-600 microns) onto the heated surface of the steel pipe. Once applied and cured, the epoxy film exhibits an extremely hard surface with excellent adhesion to the steel surface. The FBE protective surface is homogeneous and offers an excellent resistance to chemical reaction.

The FBE coating systems provide protection at moderate temperatures (-40ºC to 85ºC) and come in two options:
· FBE Dual: recommended for sub-sea pipelines and flowlines operating in the toughest environments. It offers excellent impact resistance and abrasion properties which, combined with its good flexibility, provide suitable protection against coating damage during pipe transportation and construction
· FBE Non-slip: this coating system provides a rough, non-slip surface for a pipeline that will subsequently be concrete-coated
Fusion Bonded Epoxy with Abrasion Resistance Overcoating (FBE/ARO) – Utilizing two completely separate powder systems, the facility can produce FBE with an ARO at unprecedented processing speeds using industry accepted materials such as 3M 6352, DuPont 7-2610, and Nap Gard.
Abrasion Resistant Overcoating (ARO) is an optional sacrificial second layer in the FBE process that is designed to protect the FBE from impact and/or rock damage while still retaining mild flexibility. Directional bores and road crossings are common examples of installations that require ARO to keep the anti-corrosion coating intact. The ARO is applied immediately following the FBE application using a similar method but normally in a separate coating booth. While the FBE is still in the gel state, the applied ARO powder forms a commingled layer with the FBE and ultimately a strong, durable and resistant outer shell, usually at a final thickness of 20 to 40 mils (500-1000 microns)
Fusion Bonded Epoxy with High Temperature Resistant Overcoating – Utilizing two completely separate powder systems, the facility can produce FBE with a high operating temperature resistant overcoating such as DuPont's Nap-Gard Gold and 3M's 6258.

Internal Coating
The primed FBE coating is a two-layer structure anti-corrosion system for pipe internal surface consisting one liquid phenolic primer layer and fusion bonded epoxy (FBE) coating as topcoat.
· Liquid epoxy:3 to 4 mils (60 to 100 µm)
· Internal Fusion Bonded Epoxy (FBE)
· Special anticorrosive painting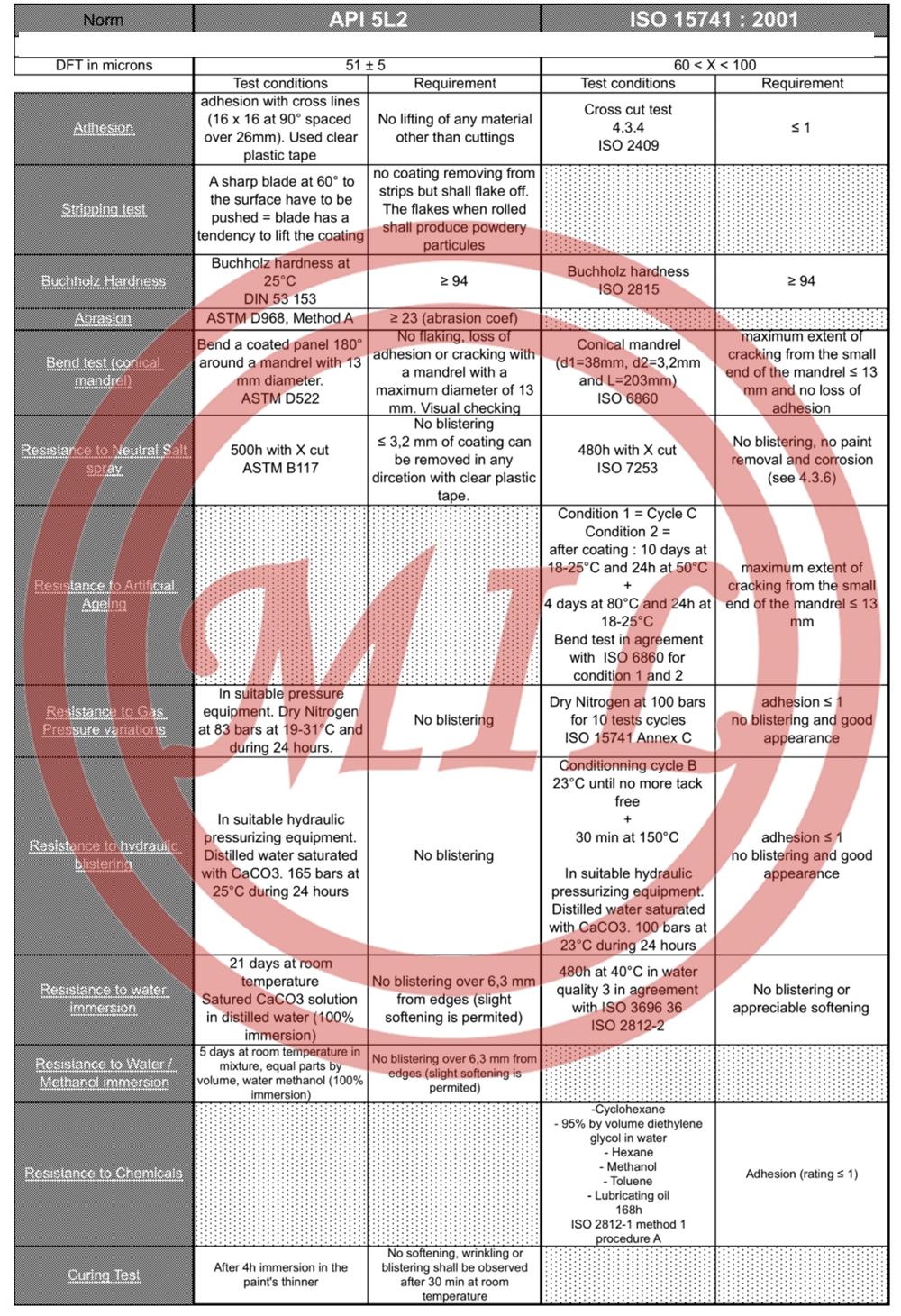 Coating

Fusion Bonded Epoxy (Single / Dual layer) Coating
CSA Z 245.20,API RP 5L7, ISO 12944,ISO 21809-2,AWWA C213, AS 3862,NACE SP394
Internal Liquid Epoxy Coating
API RP5L 2, AWWA C210,EN10289, EN 10290, EN 10301,ISO 15741,NFA 49-709