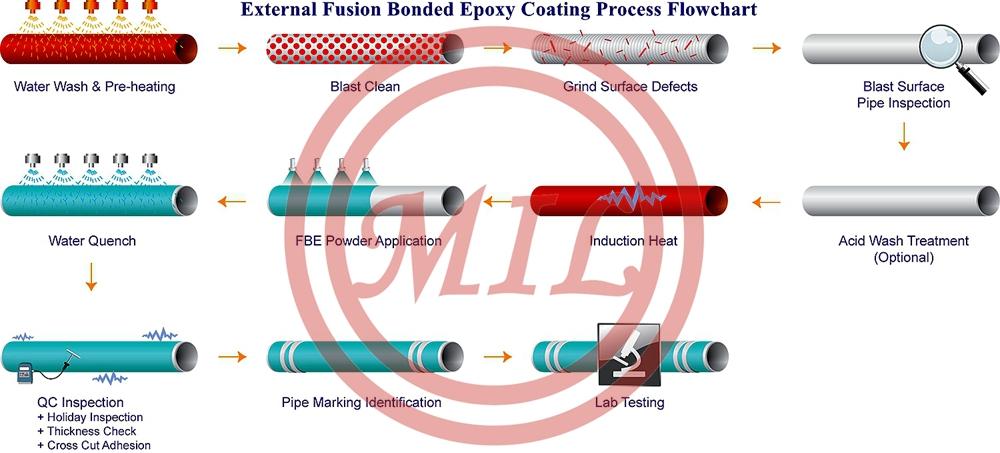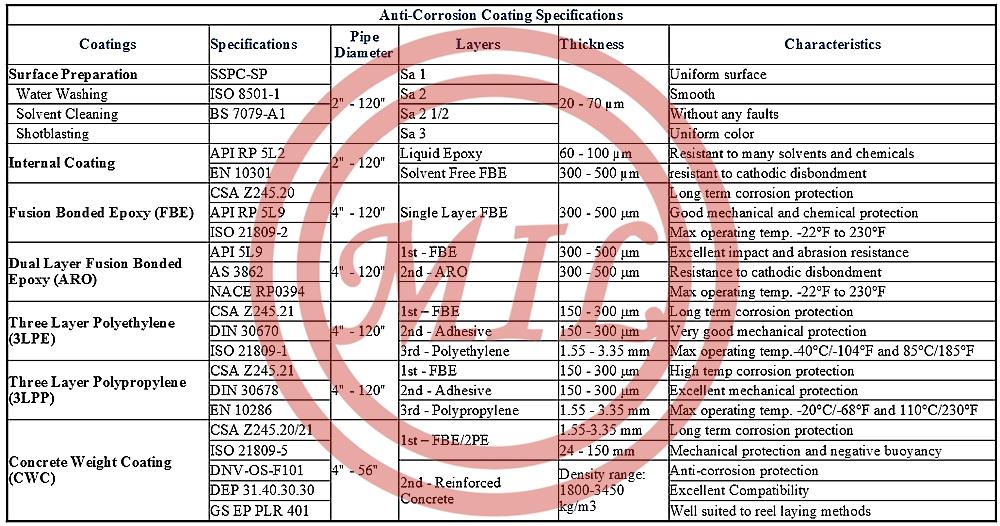 Coating Description:
SURFACE PREPARATION
All surfaces must be thoroughly clean, dry, sound and free from grease, oils, waxes and all loose materials. For this purpose, the internal and external surfaces of the pipes are cleaned by spraying steel grid by use of special blasting machines.
SANDBLASTING
Sandblasting is very neccessary for surface preparation for steel pipes. Sandblasting removes rust, existing coatings, mill scale, dirt, oil, grease, and other contaminants. It creates an anchor pattern for the primer.
Sandblasting does not remove all the salt from the substrate surface. Before sandblasting newly manufactured or repainted steel, pressure washing or steam cleaning is necessary. Salt Test Kits are used for determining the cleanliness of the surface.
There are standards for the degree of cleanliness of the sandblasted steel substrate. All paint specifications that include sandblasting should specify the type of blast required. The standards currently in use follow the guidelines provided by NACE (National Association of Corrosion Engineers), SSPC (Steel Structures Painting Council) or Sa (Swedish Pictorial Standards).
"Commercial Blast": NACE 1-2-3, SSPC-SP5-6-10, or Sa 2 ½, all those method of preparing steel surfaces provides free of all visible oil, grease, dirt, dust, mill scale, rust and paint. Generally, evenly dispersed, very light shadows, streaks and discolouration caused by stains of rust, stains of mill scale, and stains of previously applied paint may remain on no more than 33% of the surface. Slight residues of rust and paint may also be left in the craters of pits if the original surface is pitted.
The sandblast profile: the height from the top of the peaks to the depth of the pits, is a consideration when choosing a primer. A common practice is to recommend a primer that can easily be applied to a dry film thickness that exceeds the height of the profile.
Internal Coated Pipes (Epoxy Coated)
A spraying nozzle has been used to spray the liquid epoxy inside the pipe as per the required thickness. Before applying the epoxy paint, internal surface of the pipe is cleaned. The liquid applied epoxy lining systems may consist of any of the following three types:
A two-part, chemically cured epoxy primer and one or more coats of a different two-part, chemically cured epoxy topcoat;

Two or more coats of the same two-part, chemically cured epoxy coating; or,

a single coat of a two-part, chemically cured epoxy coating.
The typical coating thickness for gas pipelines varies between 60 to 100 μm and for water and other liquids it varies between 200 to 500 μm.
Features of Internal Epoxy Coating
Increase flow of gas/water by 20%

Suitable for Service Temperature up to 80°C

Excellent Corrosion Resistance

High Steel Adhesion

Low mechanical & abrasion Resistance

High Impermeability for water / gas

Low Electrical Resistance

Ease of cleaning the pipeline and ease of water

Decrease line maintenance and up keep costs
FBE Coated Pipes
Fusion bonded epoxy (FBE) coated pipes are used for prevent steel pipes from corrosion and harmful chemicals. These are thin coatings of epoxy-resin powder materials formed in a film and applied on pipes by specialised coating facilities by electrostatic spraying. These FBE coated pipes can be used in temperatures up to 85oC in dry conditions.
FBE Coating has been used as a standard in industries for protection against corrosion. FBE coatings have good handling characteristics; they are flexible and resistant to soil pressure. These are used in pipeline projects that have normal requirements and do not have harsh conditions.
A dual-layer of fusion bonded epoxy can also be used for coating of pipelines for use in harsher conditions to make it more abrasion resistant. The second layer is also made of the similar fusion bonded epoxy with both the layers being sprayed successively. Depending on the application, the dual-layer FBE can also come with an Abrasion-Resistant Overcoat (ARO), to reduce damage to pipes.
Features of Fusion Bonded Epoxy (FBE) Coating
Corrosion resistant and chemical resistant

High resistance to cathodic disbondment

Increases the life span of steel pipes providing a constant performance throughout its life span.

High bond strength and bond firmly to mild steel pipe surface.
Dual Layer FBE Coating (UV Resistant Overcoat)
It is for above ground applications in diameter range from 25 mm to 3000 mm. This coating provides excellent corrosion resistance, resistance to cathodic disbondment and resistance to UV degradation.
Dual Layer fusion bonded epoxy coatings are thermoset hardening layers of epoxy resin applied to steel pipes using an electrostatic process, which protects them against corrosion.
The two coating layers in dual layer FBE coated pipe are as follows:
Layer 1: This is the corrosion protective layer. This layer is of fusion bonded epoxy which offers very good corrosion protection. The fusion bonded epoxy has a very good bonding with the blasted steel surface.
Layer 2: This layer is a coat of fusion bonded polyester. This layer absorbs the UV radiation that causes degradation and erosion of the FBE coating.
Features of Dual FBE Coating
Base coat of Fusion bonded epoxy has excellent adhesion to steel & provides long term corrosion protection to steel pipelines operating over a wide range of temperatures.

Provides excellent resistance to cathodic disbondment.

Top coat of Fusion bonded polyester provides U V protection & protection from harsh weather conditions for the designed lifespan.

Coating has been designed for good chemical resistance under various installation conditions.

Ability to be stored & used in all climatic conditions.

Resistance to UV radiation & rain.
Coating Specification
Fusion Bonded Epoxy (Single / Dual layer) Coating
CSA Z 245.20,API RP 5L7, ISO 12944,ISO 21809-2,AWWA C213, AS 3862,NACE SP394
Internal Liquid Epoxy Coating
API RP5L 2, AWWA C210,EN10289, EN 10290, EN 10301,ISO 15741,NFA 49-709