Surface treatments
Hot-Dip Galvanizing –ASTM A153 – ISO 1461- UNI 3740 – BS 729
Electro Zinc Plating (with optional Hydrogen De-Embrittlement) – (colour White – Yellow) – UNI 4721 – ASTM B633
Ptfe – Fluorocarbon Coating – Xylan 1070 / Xylan 1024 Blue / Green / Red / Yellow
Ceramic Filled Fluorocarbon Coating – Xylar 1 or Xylar 2 and Xylan 1070
Silver Plating –ASTM B254 – B700
Pickling & Passivation –ASTM A380
GEOMET 321 o 500 – ASTM F1136
Electro less Nickel Plating – ASTM B733
Nickel Plating – ASTM B689
Electro Zinc/Nickel Plating – ASTM B841
Zinc Phosphate Coating / Manganese Phosphate Coating (with optional Hydrogen De-Embrittlement) – ASTM F1137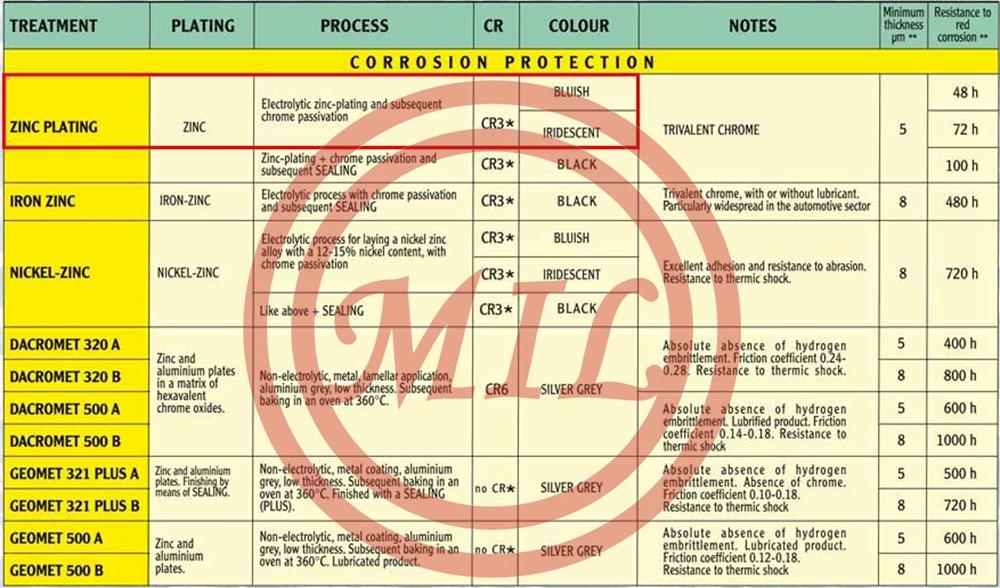 The Advantages and Disadvantages of Common Process of Fastener Surface Treatment
Fastener surface treatment, according to their product requirements, there are many surface treatment methods and processing technology. According to the surface treatment methods can be divided into many, such as painting, electroplating, electroless plating, vacuum coating, dip plating, anodizing, sand blasting, coating, vapor deposition, carburizing, nitriding, surface hardening; More advanced, there can be a lot of methods, physical, chemical, electrical processing, mechanical, metallurgical and so on.
Common surface treatment methods are the following:
Electroplating: The electroplated part is immersed in an aqueous solution containing the metal compound to be deposited, and the electroplating metal is precipitated and deposited on the part through the plating solution. General plating with galvanized, copper, nickel, chromium, copper-nickel alloy, and sometimes will be black, phosphating, etc. also included. Electroplating easy to produce hydrogen embrittlement, the mechanical strength of the workpiece. Hot-dip galvanizing: Completed by plating the molten steel with a carbon steel part immersion temperature of about 510 ° C. As a result, the iron-zinc alloy on the surface of the steel gradually becomes a passivated zinc on the outer surface of the product. However, due to hot plating due to high temperature, steel is easy to produce high temperature annealing adverse effects.
Mechanical plating: mechanical plating is the activator, metal powder, the impact medium (glass beads) and a certain amount of water mixed into the slurry, together with the workpiece into the drum, by means of the rotation of the roller generated by the role of mechanical energy in the activator And the impact medium (glass beads) mechanical collision under the joint action, at room temperature in the iron-based surface gradually formed zinc coating process.
Dacromet: The following focuses on the advantages of surface treatment. Zinc chrome film (Dacromet) corrosion mechanism Description: Zinc chrome film (Dacromet) coating process is a new surface treatment technology, also known as Dacromet, Duckle, Duck rust, zinc chrome film (Dacromet), Duckman and so on.
As a green plating process, zinc chrome film (Dacromet) process using a closed-loop approach, in the pre-treatment: in addition to the oil and dust with a special equipment collection and treatment; in the coating, curing, there is no traditional plating The process of acid, alkali, chromium and other heavy metal sewage problems, resulting only from the coating evaporated from the water vapor, the determination, does not contain the provisions of the state control of harmful substances. Zinc chrome film (Dacromet) coating was matte silver gray, can be re-painted on the above.
ASTM A193 / ASTM A193M Alloy Steel & Stainless Steel Bolting Materials for High-Temperature Service
ASTM A193 / ASTM A193M Grade B5 (AISI 501)
ASTM A193 / ASTM A193M Grade B6, B6X (AISI 410)
ASTM A193 / ASTM A193M Grade B7, B7M (AISI 4140, AISI 4142, AISI 4145, AISI 4140H, AISI 4142H, AISI 4145H
ASTM A193 / ASTM A193M Grade B16
ASTM A193 / ASTM A193M Grade B8, B8A (AISI 304, AISI 304L, AISI 304H)
ASTM A193 / ASTM A193M Grade B8C, B8CA (AISI 347, AISI 347H)
ASTM A193 / ASTM A193M Grade B8M, B8MA, B8M2, B8M3 (AISI 316, AISI 316L, AISI 316H)
ASTM A193 / ASTM A193M Grade B8P, B8PA (AISI 305)
ASTM A193 / ASTM A193M Grade B8N, B8NA (AISI 304N)
ASTM A193 / ASTM A193M Grade B8MN, B8MNA (AISI 316N)
ASTM A193 / ASTM A193M Grade B8MLCuN, B8MLCuNA
ASTM A193 / ASTM A193M Grade B8T, B8TA (AISI 321, AISI 321H)
ASTM A193 / ASTM A193M Grade B8A, B8RA
ASTM A193 / ASTM A193M Grade B8S, B8SA
ASTM A193 / ASTM A193M Grade B8LN, B8LNA (AISI 304N, AISI 304LN)
ASTM A193 / ASTM A193M Grade B8MLN, B8MLNA (AISI 316N, AISI 316LN)
ASTM A194 / ASTM A194M Carbon Steel, Alloy Steel & Stainless Steel Nuts for Bolts for High-Pressure & High-Temperature Service
ASTM A194 / ASTM A194M Grade 1 (Carbon Steel)
ASTM A194 / ASTM A194M Grade 2, Grade 2HM, Grade 2H (Carbon Steel)
ASTM A194 / ASTM A194M Grade 4 (Carbon Molybdenum Steel)
ASTM A194 / ASTM A194M Grade 3 (AISI 501)
ASTM A194 / ASTM A194M Grade 6 (AISI 410)
ASTM A194 / ASTM A194M Grade 6F (AISI 416)
ASTM A194 / ASTM A194M Grade 7, Grade 7M (AISI 4140, AISI 4142, AISI 4145, AISI 4140H, AISI 4142H, AISI 4145H)
ASTM A194 / ASTM A194M Grade 8, Grade 8A (AISI 304, AISI 304L, AISI 304H)
ASTM A194 / ASTM A194M Grade 8C, Grade 8CA (AISI 347, AISI 347H)
ASTM A194 / ASTM A194M Grade 8M, Grade 8MA (AISI 316, AISI 316L, AISI 316H)
ASTM A194 / ASTM A194M Grade 8T, Grade 8TA (AISI 321, AISI 321H)
ASTM A194 / ASTM A194M Grade 8F, Grade 8FA (AISI 303)
ASTM A194 / ASTM A194M Grade 8P, Grade 8PA (AISI 305)
ASTM A194 / ASTM A194M Grade 8N, Grade 8NA (AISI 304N)
ASTM A194 / ASTM A194M Grade 8LN, Grade 8LNA (AISI 304LN)
ASTM A194 / ASTM A194M Grade 8MN, Grade 8MNA (AISI 316N)
ASTM A194 / ASTM A194M Grade 8MLN, Grade 8MLNA (AISI 316LN)
ASTM A194 / ASTM A194M Grade 8R, Grade 8RA (XM19 Nitronic-50)
ASTM A194 / ASTM A194M Grade 8S, Grade 8SA
ASTM A194 / ASTM A194M Grade 8MLCuN, Grade 8MLCuNA (UNS S31254 SMO254)
ASTM A194 / ASTM A194M Grade 16 (Chromium Molybdenum Vanadium Steel)
ASME SA194 / ASME SA194M Carbon Steel, Alloy Steel & Stainless Steel Nuts for Bolts for High-Pressure & High-Temperature Service
ASME SA194 / ASME SA194M Grade-1 (Carbon Steel)
ASME SA194 / ASME SA194M Grade-2, Grade-2HM, Grade-2H (Carbon Steel)
ASME SA194 / ASME SA194M Grade-4 (Carbon Molybdenum Steel)
ASME SA194 / ASME SA194M Grade-3 (AISI 501)
ASME SA194 / ASME SA194M Grade-6 (AISI 410)
ASME SA194 / ASME SA194M Grade-6F (AISI 416)
ASME SA194 / ASME SA194M Grade-7, Grade-7M (AISI 4140, AISI 4142, AISI 4145, AISI 4140H, AISI 4142H, AISI 4145H)
ASME SA194 / ASME SA194M Grade-8, Grade-8A (AISI 304, AISI 304L, AISI 304H)
ASME SA194 / ASME SA194M Grade-8C, Grade-8CA (AISI 347, AISI 347H)
ASME SA194 / ASME SA194M Grade-8M, Grade-8MA (AISI 316, AISI 316L, AISI 316H)
ASME SA194 / ASME SA194M Grade-8T, Grade-8TA (AISI 321, AISI 321H)
ASME SA194 / ASME SA194M Grade-8F, Grade-8FA (AISI 303)
ASME SA194 / ASME SA194M Grade-8P, Grade-8PA (AISI 305)
ASME SA194 / ASME SA194M Grade-8N, Grade-8NA (AISI 304N)
ASME SA194 / ASME SA194M Grade-8LN, Grade-8LNA (AISI 304LN)
ASME SA194 / ASME SA194M Grade-8MN, Grade-8MNA (AISI 316N)
ASME SA194 / ASME SA194M Grade-8MLN, Grade-8MLNA (AISI 316LN)
ASME SA194 / ASME SA194M Grade-8R, Grade-8RA (XM19 Nitronic-50)
ASME SA194 / ASME SA194M Grade-8S, Grade-8SA
ASME SA194 / ASME SA194M Grade-8MLCuN, Grade-8MLCuNA (UNS S31254 SMO254)
ASME SA194 / ASM A194M Grade-16 (Chromium Molybdenum Vanadium Steel)
ASTM Fasteners
ASTM A193 : Alloy & Stainless Steel Bolting Material for High Temperature
ASTM A193M : Alloy & Stainless Steel Bolting Material for High Temperature
ASTM A194 : Alloy & Stainless Steel Nuts for High Temperature
ASTM A194M : Alloy & Stainless Steel Nuts for High Temperature
ASTM A307 : Carbon Steel Externally Threaded Fasteners
ASTM A307M : Carbon Steel Externally Threaded Fasteners
ASTM A320 : Alloy & Stainless Steel Bolting for Low Temperature
ASTM A320M : Alloy & Stainless Steel Bolting for Low Temperature
ASTM A325 : High Strength Bolts for Structural Joints
ASTM A325M : High Strength Bolts for Structural Joints
ASTM A354 : Quenched & Tempered Alloy Steel Bolts, Studs & Other Fasteners
ASTM A354M : Quenched & Tempered Alloy Steel Bolts, Studs & Other Fasteners
ASTM A437 : Alloy Steel turbine Bolting Specially Heat Treated for High Temperature
ASTM A437M : Alloy Steel turbine Bolting Specially Heat Treated for High Temperature
ASTM A449 : Quenched & Tempered Bolts & Studs
ASTM A449M : Quenched & Tempered Bolts & Studs
ASTM A453 : Bolting Material, High Temperature 50 to 120 ksi Yield Strength
ASTM A453M : Bolting Material, High Temperature 50 to 120 ksi Yield Strength
ASTM A489 : Carbon Steel Eyebolts
ASTM A489M : Carbon Steel Eyebolts
ASTM A490 : Heat Treated Structural Bolts, 150 ksi Tensile Strength
ASTM A490M : Heat Treated Structural Bolts, 150 ksi Tensile Strength
ASTM A540 : Alloy Steel Bolting for Special Applications
ASTM A540M : Alloy Steel Bolting for Special Applications
ASTM A563 : Carbon & Alloy Steel Nuts
ASTM A563M : Carbon & Alloy Steel Nuts
ASTM A574 : Alloy Steel Socket Head Cap Screws
ASTM A574M : Alloy Steel Socket Head Cap Screws
ASTM A687 : High Strength Non Headed Steel Bolts & Studs
ASTM A687M : High Strength Non Headed Steel Bolts & Studs
ASTM F436 : Hardened Flat Washers
ASTM F436M : Hardened Flat Washers
ASTM F467 : Nonferrous Nuts for General Use
ASTM F467M : Nonferrous Nuts for General Use
ASTM F468 : Nonferrous Bolts, Cap Screws, & Studs for General Use
ASTM F468M : Nonferrous Bolts, Cap Screws, & Studs for General Use
ASTM F541 : Alloy Steel Eyebolts
ASTM F541M : Alloy Steel Eyebolts
ASTM F568 : Carbon & Alloy Steel Metric Fasteners
ASTM F568M : Carbon & Alloy Steel Metric Fasteners
ASTM F593 : Stainless Steel Bolts, Cap Screws & Studs
ASTM F593M : Stainless Steel Bolts, Cap Screws & Studs
ASTM F594 : Stainless Steel Nuts
ASTM F594M : Stainless Steel Nuts
ASTM F738 : Stainless Steel Metric Bolts, Screws & Studs
ASTM F738M : Stainless Steel Metric Bolts, Screws & Studs
ASTM F835 : Metric Socket Head Cap Screws
ASTM F835M : Metric Socket Head Cap Screws
ASTM F836 : Metric Stainless Steel Nuts
ASTM F836M : Metric Stainless Steel Nuts
ASTM F844 : Steel Washers for General Use
ASTM F844M : Steel Washers for General Use
ASME Fasteners
ASME SA193 : Alloy & Stainless Steel Bolting Material for High Temperature
ASME SA193M : Alloy & Stainless Steel Bolting Material for High Temperature
ASME SA194 : Alloy & Stainless Steel Nuts for High Temperature
ASME SA194M : Alloy & Stainless Steel Nuts for High Temperature
ASME SA307 : Carbon Steel Externally Threaded Fasteners
ASME SA307M : Carbon Steel Externally Threaded Fasteners
ASME SA320 : Alloy & Stainless Steel Bolting for Low Temperature
ASME SA320M : Alloy & Stainless Steel Bolting for Low Temperature
ASME SA325 : High Strength Bolts for Structural Joints
ASME SA325M : High Strength Bolts for Structural Joints
ASME SA354 : Quenched & Tempered Alloy Steel Bolts, Studs & Other Fasteners
ASME SA354M : Quenched & Tempered Alloy Steel Bolts, Studs & Other Fasteners
ASME SA437 : Alloy Steel turbine Bolting Specially Heat Treated for High Temperature
ASME SA437M : Alloy Steel turbine Bolting Specially Heat Treated for High Temperature
ASME SA449 : Quenched & Tempered Bolts & Studs
ASME SA449M : Quenched & Tempered Bolts & Studs
ASME SA453 : Bolting Material, High Temperature 50 to 120 ksi Yield Strength
ASME SA453M : Bolting Material, High Temperature 50 to 120 ksi Yield Strength
ASME SA489 : Carbon Steel Eyebolts
ASME SA489M : Carbon Steel Eyebolts
ASME SA490 : Heat Treated Structural Bolts, 150 ksi Tensile Strength
ASME SA490M : Heat Treated Structural Bolts, 150 ksi Tensile Strength
ASME SA540 : Alloy Steel Bolting for Special Applications
ASME SA540M : Alloy Steel Bolting for Special Applications
ASME SA563 : Carbon & Alloy Steel Nuts
ASME SA563M : Carbon & Alloy Steel Nuts
ASME SA574 : Alloy Steel Socket Head Cap Screws
ASME SA574M : Alloy Steel Socket Head Cap Screws
ASME SA687 : High Strength Non Headed Steel Bolts & Studs
ASME SA687M : High Strength Non Headed Steel Bolts & Studs
ASME F436 : Hardened Flat Washers
ASME F436M : Hardened Flat Washers
ASME F467 : Nonferrous Nuts for General Use
ASME F467M : Nonferrous Nuts for General Use
ASME F468 : Nonferrous Bolts, Cap Screws, & Studs for General Use
ASME F468M : Nonferrous Bolts, Cap Screws, & Studs for General Use
ASME F541 : Alloy Steel Eyebolts
ASME F541M : Alloy Steel Eyebolts
ASME F568 : Carbon & Alloy Steel Metric Fasteners
ASME F568M : Carbon & Alloy Steel Metric Fasteners
ASME F593 : Stainless Steel Bolts, Cap Screws & Studs
ASME F593M : Stainless Steel Bolts, Cap Screws & Studs
ASME F594 : Stainless Steel Nuts
ASME F594M : Stainless Steel Nuts
ASME F738 : Stainless Steel Metric Bolts, Screws & Studs
ASME F738M : Stainless Steel Metric Bolts, Screws & Studs
ASME F835 : Metric Socket Head Cap Screws
ASME F835M : Metric Socket Head Cap Screws
ASME F836 : Metric Stainless Steel Nuts
ASME F836M : Metric Stainless Steel Nuts
ASME F844 : Steel Washers for General Use
ASME F844M : Steel Washers for General Use
DIN FASTENERS
DIN 906 - Hexagon Socket Pipe Plugs
DIN 908 - Hexagon Socket Screw Plugs
DIN 910 - Hexagon Head Screw Plugs
DIN 911 - Hexagon Socket Screw Keys
DIN 912 - Socket Head Cap Screws
DIN 913 - Socket Set Screws with Flat Point
DIN 914 - Socket Set Screws with Cone Point
DIN 915 - Socket Set Screws with Dog Point
DIN 916 - Socket Set Screws with Cup Point
DIN 917 - Hexagon Cup Nuts - Low Pattern
DIN 920 - Slotted Pan Head Screws, Small Head
DIN 923 - Slotted Pan Head Screws with Shoulder
DIN 927 - Slotted Shoulder Screws
DIN 928 - Square Weld Nuts
DIN 929 - Hexagon Weld Nuts
DIN 931 - Hexagon Cap Screws Partially Threaded
DIN 933 - Hexagon Cap Screws Fully Threaded
DIN 933 Sz - Hexagon Cap Screws with Slot
DIN 934 - Hexagon Nuts - 0,8d
DIN 935 - Castle Nuts
DIN 936 - Hexagon Jam Nuts
DIN 937 - Hexagon Thin Slotted and Castle Nuts
DIN 939 - Studs, Tap End - 1,25d
DIN 960 - Hex Cap Screws, Metric Fine Thread - Part Thread
DIN 961 - Hex Cap Screws, Metric Fine Thread - Full Thread
DIN 963 A- Slotted Flat Head Machine Screws
DIN 964 A- Slotted Oval Head Machine Screws
DIN 965 A - Cross Recessed Flat Head Machine Screws
DIN 966 A - Cross Recessed Oval Head Machine Screws
DIN 980 V - Self-Locking Nuts; All Metal Construction
DIN 982 - Self- Locking Nuts w/nylon Insert: Heavy Series
DIN 985 - Self Locking Nuts w/locking Insert: Standard Series
DIN 986 - Self Locking Domed Cap Nuts with Nylon Insert
DIN 988 - Shim Washers
BS EN 15048 Non-preload bolt assemblies