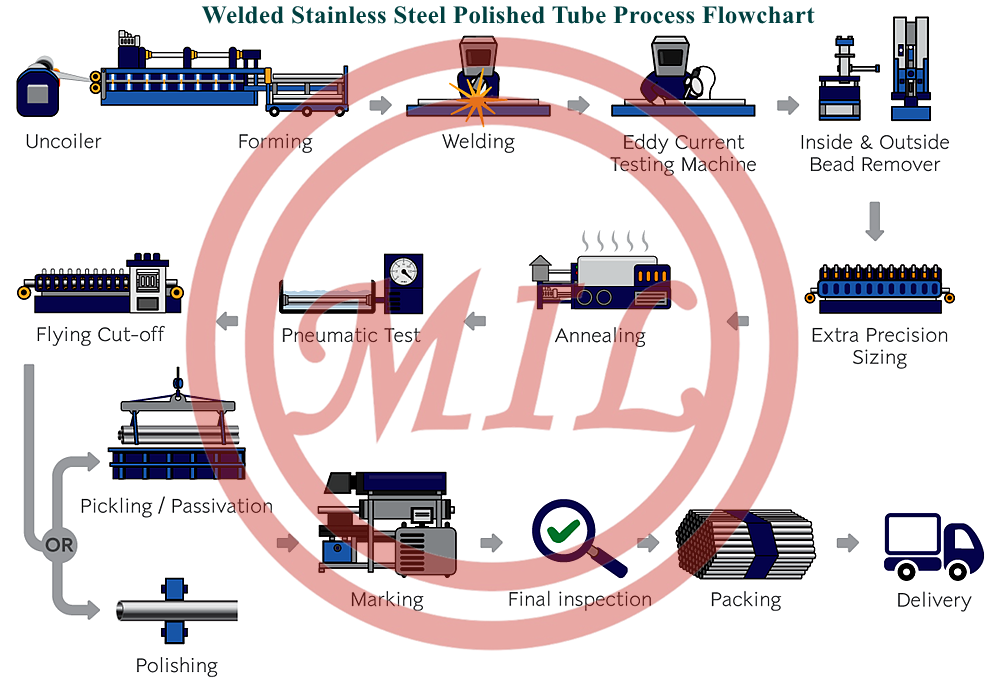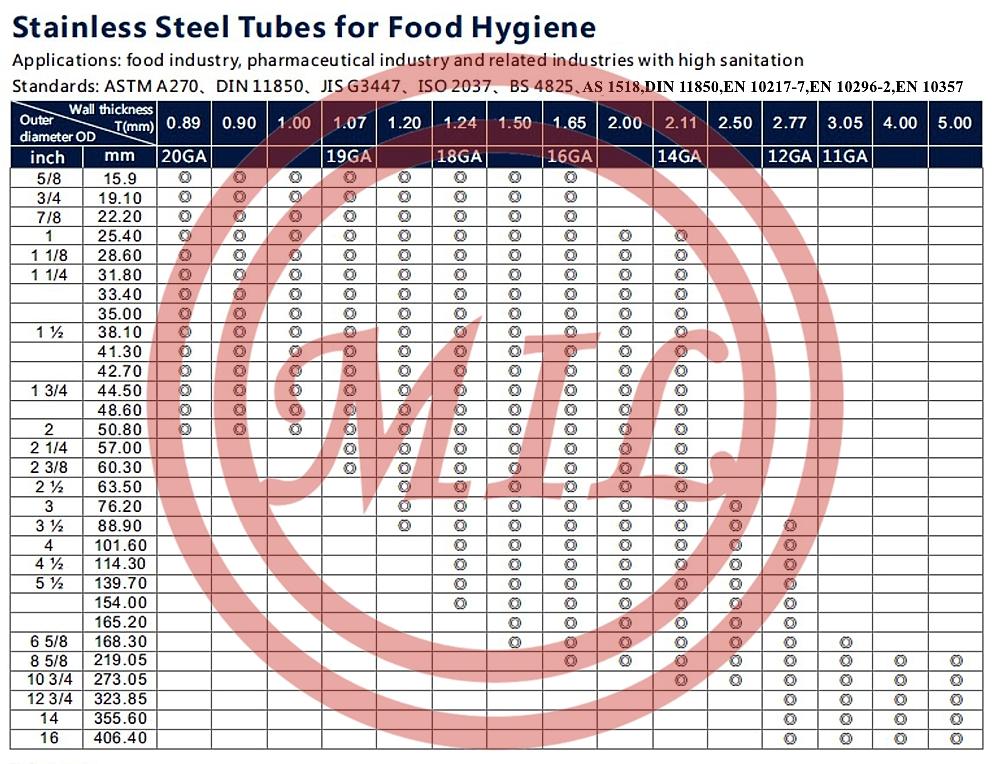 Sanitary tubing is a kind of tubing having a special surface, commonly polishing process is carried out for high performance tubing, sanitary tubing is for use in the bakery, beverage, dairy, food, biotechnology or pharmaceutical Industries.
Tubing should conform to ASTM A270 and 3A sanitary standards requirement, in both welded and seamless types.
Stainless steel is a ideal material for sanitary tubing, it has good corrosion resistance with high strength, that is basic properties of stainless steel, tubing is easy to clean outside and inside, removing residues, and stainless steel material is no harmful to human healthy.
Sanitary Tubing Quality
Welded tubes are main types for sanitary purpose, we use TIG automatic welding method to manufacture tubing, then annealed, minimum temperature is 1040 degree C, rapidly cooled to achieve the maximum cold finish effect
Each tubing should be conducted eddy current testing to ensure high quality tubing, other tests conform to ASTM A270 specification.
Stainless steel sanitary tubing is to joint with other components, fittings, tees, valves.

Polishing Tubing
To achieve smooth surface, tubing always is needed to make polishing process, mechanical polishing is most used method to smooth tubing surface.
Roughness is measured using Ra value, common Ra value is less than 0.8 μm for outside and inside surface, after polishing, roughness value reaches 0.2 μm.
ASTM A270 And 3A Polished Tubing
Stainless Steel Polished Grits
120 grit

180 grit

320 grit

400 grit

600 grit

800 grit
DIN EN 10357 Tube Manufacturing Process And Surface Treatment
CC: unannealed, Pickled and passivated inside and outside, Inner Surface Ra < 0.8 µm, weld seam Ra < 1.6 µm
CD: unannealed, pickled W2(b) and passivated inside and polished outside, Inner Surface Ra < 0.8 µm, weld seam Ra < 1.6 µm, Outer Surface ground Ra < 1.0 µm
BC: annealed, Pickled or brightly annealed inside and outside, Inner Surface Ra < 0.8 µm, weld seam Ra < 1.6 µm
BD: annealed, pickled or bright annealed inside and polished outside, Inner Surface Ra < 0.8 µm, weld seam Ra < 1.6 µm, Outer Surface ground Ra < 1.0 µm
Polishing Finishes And Ra Value
Standard Grit and equivalent Ra value, Ra (um) 6.3 is mill finishes, 0.8 level is standard sanitary finishes, food grade is high level sanitary tubes, we can offer mirror finishes tubes.
| Standard Grit (Reference Only) | Ra (Uin) | Ra (Um) |
| --- | --- | --- |
| 60 | 985 | 6.3 |
| 180 | 32 | 0.8 |
| 220 | 20 | 0.51 |
| 320 | 10 | 0.25 |
Polished Tubing Applications
Stainless steel polished tube is wide used in food processing, bear, beverage, drinking water, it is also used for construction purpose, like handrail required a bright surface, polishing inside surface for stainless steel sanity tubing conforming to ASTM A270 specification.
Food, Beverage, and Dairy

Pharmaceuticals

Handrail

Kitchen equipment
Mechanical Polishing
Mechanical Polishing is a process to grind surface of metal using abrasive belt and mechanical tools at multi stages so as to achieve desired smooth surface and roughness value, meanwhile, it alters the microstructure of surface.
Stainless steel tubing is polished mechanically to pass through a set of abrasive wheels and tapes with polishing machine, with polishing paste to improve polishing efficiency, finally this process makes desired polishing level using different grinding belt to remove surface layer.
There are Dry and Wet mechanical polishing for selecting, wet style is a better option.
Electropolishing
Electropolishing is a process that uses a metal workpiece as an anode and performs electrolysis in a suitable electrolyte to selectively remove its rough surface and improve the surface finish, it is also called Electrochemical or anodic polishing.
Theory
During electropolishing, current flows on the surface of the metal product as the anode, which will form an oxide film, a salt film or an oxygen adsorption layer on the surface, so that the metal dissolution rate of the anode drops sharply, that is, in a passive state. But this passivation film layer may be dissolved in the electrolyte, and the anode is reactivated. At a certain current density, metal passivation and metal dissolution proceed alternately.
Electrolyte
The electrolyte usually uses phosphoric acid as the main component, and it also needs to add certain oxidants (such as sulfuric acid, chromic anhydride, etc.). Without electricity, the electrolyte should have no significant corrosive effect on the metal being polished. It also requires that the electrolyte has a high solubility for the anode dissolution product and is easily removed. In addition, the electrolyte is required to have good stability, low cost and low toxicity. If necessary, a small amount of organic substances (such as glycerin, methyl cellulose, etc.) can be added to the electrolyte as a corrosion inhibitor. Use perchloric acid-acetic acid electrolyte for electropolishing to obtain a high-finish surface.
Process
After being energized, a polarized film is formed on the surface of the polished metal, allowing metal ions to diffuse through this thin flag. The current density of microscopic and macroscopic bumps or rough spots on the surface and the burr area is greater than the rest of the surface, and it dissolves at a faster rate to achieve the purpose of leveling and deburring. By prolonging the polishing time, increasing the polishing temperature and current density, a bright surface can be obtained.
Mechanical Polishing Vs. Electropolishing
Mechanical Polishing and Electropolishing are main methods to polish stainless steel tubing, mechanical polishing performs well for general industries, when higher polishing level is required, like in the pharmaceutical and semiconductor industries, Electropolishing has its advantages.
Improve Cleanability

Enhance Durability

Improve Sterility

Increase Corrosion Resistance
Mechanically polished surfaces retain the basic alloy composition with only slight depletion of the other alloy elements, whereas electropolished surfaces contain essentially only chromium and iron, and no stress resided.
Reference Standards:
ASTM A270 Seamless and Welded Austenitic and Ferritic/Austenitic Stainless Steel Sanitary Tubing
DIN 11850 Tubes for the food, chemical and pharmaceutical industry - Stainless steel tubes - Dimensions,materials
EN 10357 Austenitic, austenitic-ferritic and ferritic longitudinally welded stainless steel tubes for the food and chemical industry
AS 1528.1 Tubes and tube fittings for the food industry - Part 1: Stainless Steel
JIS G 3447 Stainless Steel Sanitary Pipestry - Part 1-Tube