Stainless Steel Elbow 45, 90, 180 Degree
Stainless steel elbow is connected two lengths of pipe or tubing applied in piping and plumbing systems, to change the direction, there are different angles, 45 degree, 90 degree, 180 degree. SS elbow have high strength under high pressure environment, and corrosion resistance.
Beside 45, 90, 180 degree, there are 60 and 45 angle elbow are also available, elbow size range NPS from 1/2 inch to 48 inch, Schedule range covers 5S, 10S, 40S, 80S, 160S, XXS, elbow fitting sizes should be conformed to ASME B16.9 and ASME B16.11.
Elbow is forged or machined to butt welding elbow, threaded ( male and female ), or socket welding elbow, male and female elbow, there have seamless pipe fitting type and seam pipe fitting type. Elbow should be annealed, and mill test certificate is reported according to EN10204/3.1.
Stainless steel Elbow fitting standards
ASME B16.9
Factory Made Wrought Butt welding Fittings
ASTM A403
Wrought Austenitic Stainless Steel Piping Fittings
ASTM A960
Common Requirements for Wrought Steel Piping Fittings
ASTM A815
Wrought Ferritic, Ferritic/Austenitic, and Martensitic Stainless Steel Piping Fittings
EN 10253-3
Wrought austenitic and austenitic-ferritic (duplex) stainless steels without specific inspection requirements
EN 10253-4
Wrought austenitic and austenitic-ferritic (duplex) stainless steels with specific inspection requirements
From 3.0 mm wall thickness bevelled in compliance with DIN 2559-22 or ASME B 16.25.
Stainless steel grades for elbow
There are various steels to adapt different applications, like Ferritic steels and duplex steels.
AISI
304, 304L, 304H
316, 316L, 316H, 316Ti
317, 317L, 317LN
321, 321H
347, 347H
310S
904L
2205
EN
1.4301
1.4307
1.4401
1.4404
1.4541
1.4550
1.4438
1.4539
Long and Short Radius Elbow
Elbows are available in two radius types by length, Short radius (SR) and Long radius (LR), there are also additional radius, for example, 2D, 3D, 4D etc.
Long Radius elbow
Long radius elbow radius is 1.5 times the diameter of the pipe, that means R = 1.5D, this elbow is used for pressure loss, and elbow abrasion.
Short Radius elbow
Short radius elbow radius is equal to the pipe diameter, widely are typically installed in limited situation, in tight space.
Pipe Elbow dimensions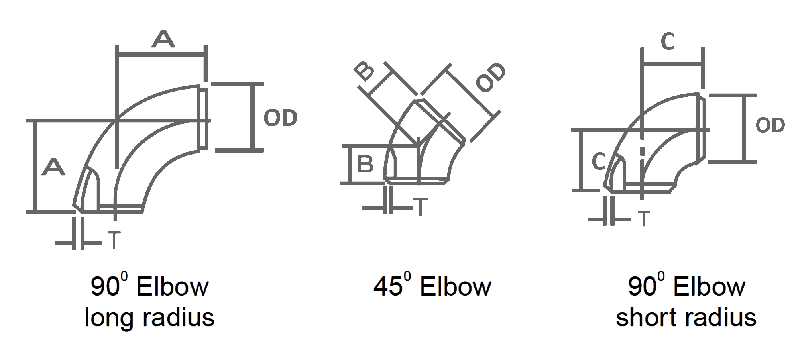 NPS
OD
Center to End
Inch.
mm
A
B
C
1/2
21.3
38
16
–
3/4
26.7
29
11
–
1
33.4
38
22
25
1 1/4
42.2
48
25
32
1 1/2
48.3
57
29
38
2
60.3
76
35
51
2 1/2
73
95
44
64
3
88.9
114
51
76
3 1/2
101.6
133
57
89
4
114.3
152
64
102
5
141.3
190
79
127
6
168.3
229
95
152
8
219.1
305
127
203
10
273.1
381
159
254
12
323.9
457
190
305
14
355.6
533
222
356
16
406.4
610
254
406
18
457.2
686
286
457
20
508
762
318
508
22
559
838
343
559
24
610
914
381
610
26
660
991
406
660
28
711
1067
438
711
30
762
1143
470
762
32
813
1219
502
813
34
864
1295
533
864
36
914
1372
565
914
38
965
1448
600
965
40
1016
1524
632
1016
42
1067
1600
660
1067
44
1118
1676
695
1118
46
1168
1753
727
1168
48
1219
1829
759
1219
All Dimensions to ASME B16.9, unit is in mm
Elbow Weight Chart
NPS
inches
ELBOWS
LR 90°
ELBOWS
SR 90°
Sch.
5S
Sch.
10S
Sch.
40S
Sch.
80S
Sch.
5S
Sch.
10S
Sch.
40S
Sch.
80S
1/2
0.05
0.06
0.08
0.10
0.03
0.04
0.05
0.07
3/4
0.06
0.07
0.09
0.11
0.04
0.05
0.06
0.07
1
0.09
0.15
0.18
0.20
0.06
0.10
0.12
0.13
1 1/4
0.13
0.20
0.25
0.35
0.09
0.13
0.17
0.12
1 1/2
0.18
0.30
0.40
0.50
0.12
0.20
0.27
0.33
2
0.30
0.50
0.70
0.90
0.20
0.33
0.47
0.60
2 1/2
0.60
0.85
1.35
1.80
0.40
0.60
0.90
1.20
3
0.90
1.30
2.00
2.90
0.60
0.90
1.35
1.90
4
1.40
2.00
4.00
5.90
0.90
1.35
2.65
3.90
5
2.90
3.60
6.50
9.70
1.95
2.40
4.35
6.50
6
4.00
5.00
10.5
16.0
2.70
3.35
7.00
10.5
8
7.40
10.0
21.5
33.5
4.90
6.70
14.5
22.5
10
13.6
16.8
38.5
52.5
9.10
11.2
25.6
35.0
12
23.4
27.0
59.0
79.0
15.6
18.0
39.5
53.0
14
29.0
35.0
70.0
94.0
19.3
23.5
47.0
63.0
16
41.3
47.0
95.0
125
27.5
31.5
63.5
84.0
18
51.8
59.0
120
158
34.5
39.5
80.0
105
20
73.0
85.0
146
194
49.0
57.0
98.0
129
24
122
140
210
282
82.0
94.0
140
188
Approximate weights in kg, density 8 kg/dm3