Ring Type Joint Flanges
Ring Type Joint Flanges are typically used in high pressure (Class 600 and higher rating) and/or high temperature services above 800°F (427°C). They have grooves cut into their faces which steel ring gaskets. The flanges seal when tightened bolts compress the gasket between the flanges into the grooves, deforming (or Coining) the gasket to make intimate contact inside the grooves, creating a metal to metal seal.
An RTJ flange may have a raised face with a ring groove machined into it. This raised face does not serve as any part of the sealing means. For RTJ flanges that seal with ring gaskets, the raised faces of the connected and tightened flanges may contact each other. In this case the compressed gasket will not bear additional load beyond the bolt tension, vibration and movement cannot further crush the gasket and lessen the connecting tension.
ORIFICE FLANGE
Orifice Flanges are used with orifice meters for the purpose of measuring the flow rate of either liquids or gases in the respective pipeline. Pairs of pressure "Tappings", mostly on 2 sides, directly opposite each other, are machined into the orifice flange. This makes separate orifice carriers or tappings in the pipe wall unnecessary.
Orifice Flanges generally come with either Raised Faces or RTJ (Ring Type Joint) facings. They are, for all intensive purposes, the same as weld neck and slip on flanges with extra machining.
The image on the right shows a set Orifice Flanges, where a Orifice Plate is mounted and a jack screw is machined. This jack screw is used to facilitate separating the flanges for inspection or replacement of the Orifice Plate and gaskets.
The range of orifice flanges covers all standard sizes and ranges, and all common flange materials. Flanges are available in Welding Neck, Slip On, and Threaded form, and are typically supplied with two 1/2" NPT tappings in each flange.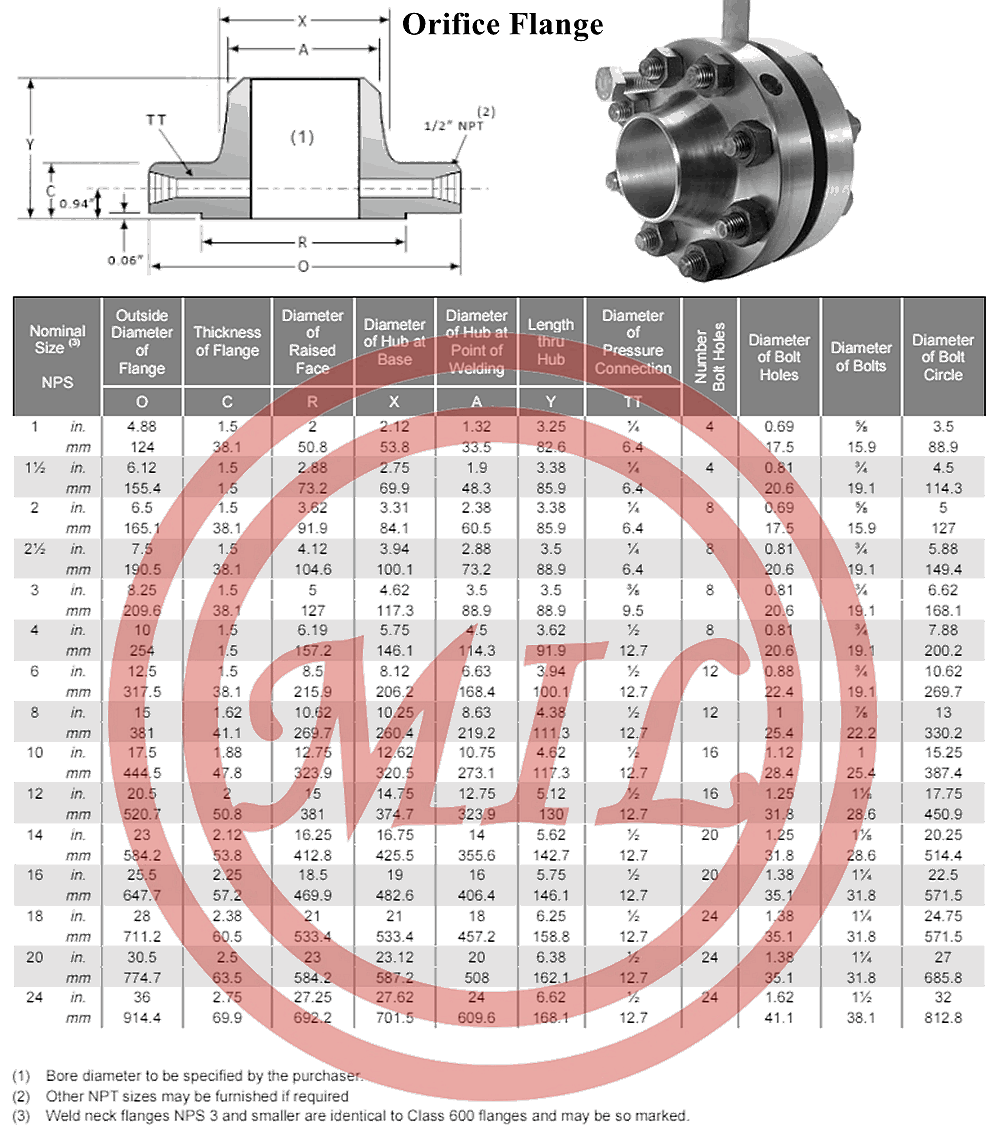 Swivel Ring Flange
The Swivel Ring Flange is comparable to a set of stub end and lap joint flange, with the difference that an Swivel Ring Flange is used for higher pressure and mostly in offshore / subsea applications.
The swivel ring flanges adjust for bolt hole misalignment in the field via rotational adjustment of the bolt hole pattern on the flange ring relative to the spool piece.
The Swivel Ring Flange is of two piece construction consisting of a heavy forged welding hub with a rotating forged ring that serves as a mating flange to a Weld Neck or other flange. It has a Retaining Ring to secure the Welding Hub to hold the Rotating Ring in position.
These versatile flanges are utilized in many applications and are used extensively in offshore piping where they solve the issues associated with the alignment of bolt holes during subsea flange installation.
360° rotational swivel ring simplify bolt alignment
Ratings
The pressure-temperature ratings and basic dimensions (OD - bolt circle - facing - number and size of bolts) of Swivel Ring Flanges, in Class 150 through Class 2500, are identical to ASME B16.5 and MSS SP44 Flanges and will readily mate to a standard weld neck flange. Ring type joints (RTJ), raised face, flat face and other facings are furnished as required. Sizes up through 60 inch including flanges to mate to ASME B16.47 dimensions are available.
Materials
Standard materials are A105 with a minimum yield of 42,000 psi and additional thickness is provided at the welding end to compensate for higher yield pipe. These flanges can be furnished in higher yield materials such as ASTM A694 or ASTM A707 and are also supplied to customer specifications.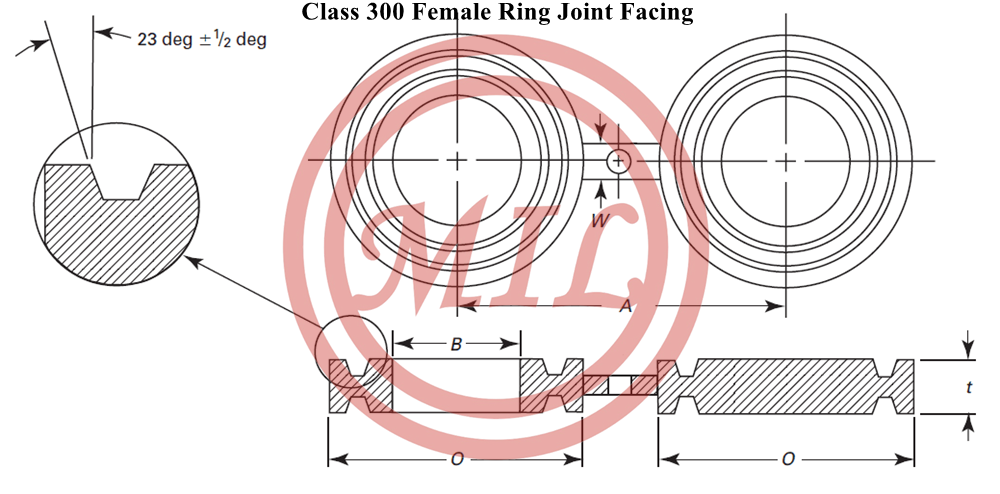 Anchor Flange
an anchor flange is a device installed on a pipeline to combat axial movement. Resembling a collar, once it is attached to a pipe, the anchor flange is commonly anchored into a concrete foundation. Typically placed onto a section of pipeline as it makes a turn or is at a bridge crossing, the anchor flange is used to prevent the pipeline from moving.
WELDING NECK ANCHOR FLANGES
Anchor flanges are important elements in many thrust-control systems, especially those protecting pipeline pumping stations. Welded into the line and encased in concrete, they immobilize the pipe at predetermined locations and transfer built-up stresses to external structures. For example, in cross-county pipelines end forces of considerable magnitude are generated by internal pressure and temperature changes. A 24" O.D. x 0.594" wall pipe in a pipeline operating at 1100 psi and subjected to a 90° rise in metal temperature, for example, will develop total thrust of 1,000,000 lbs. Unless these forces are properly controlled, they can damage pumps, valves and other close-tolerance equipment. Anchor Flanges may be used to secure subsea piping and risers to platform structures.
One of the common traits of a metal pipeline is its inherent movement caused by the flow of liquid through the pipe, as well as from the expansion and contraction caused by temperature changes. When a pipeline makes a sharp turn, the flow of liquid inside of the pipeline attempts to push the pipe in the direction of the flow. By placing an anchor flange on the pipeline and securing it into position by locking it in a concrete pillar buried deep into the ground, the forces pushing against the pipe are displaced into the earth.
Another area where an anchor flange is commonly used in a pipeline is at river and bridge crossings. Left unanchored, a pipeline has the tendency to sag when crossing large expanses. This is caused from the weight of the liquid flowing inside of the pipeline. By placing an anchor flange at each side of the crossing, the pipeline is held firmly in place and prohibited from moving. The friction of fluid moving through the pipeline will attempt to push the pipeline out of position over time, if not for an anchor.
The same aspects of movement in a large pipeline are duplicated in smaller versions of hydraulic hard line. As the hydraulic fluid is heated, the hydraulic hard line begins to expand and contract. When anchoring a hydraulic line on a machine or in a machine shop, placing an anchor flange in concrete is not an option. The anchor used in this type of application is commonly secured by bolting the anchor to the machine or the building. This requires a flange that resembles a bearing block, with a bolt hole drilled into each corner of the anchor block.
The most common method of fastening a flange to a pipeline or a hydraulic line is to weld the flange solidly into position. This allows the installer to accurately position the flange onto the pipeline where it will offer the most success. When sealing the anchor flange in cement, the concrete is typically poured around the flange and the pipeline after the flange has been welded onto the pipeline.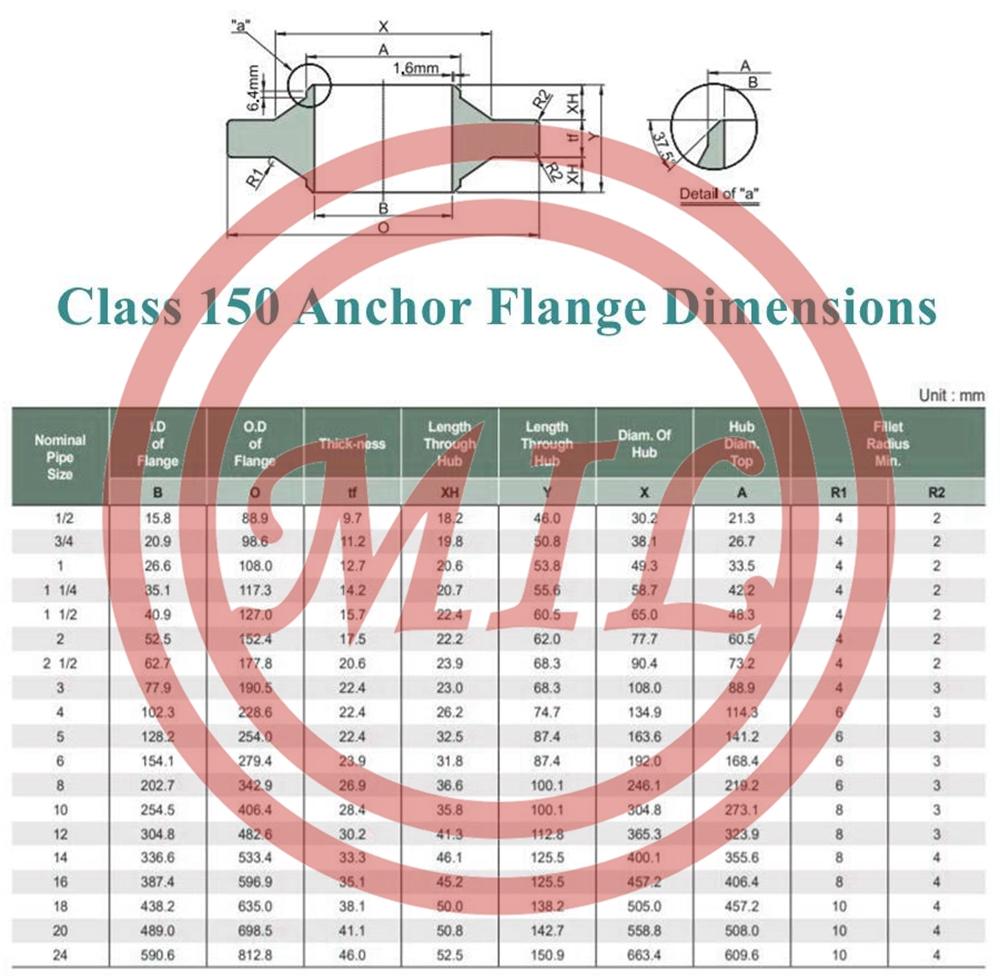 Compact Flange
A compact flange, similar to a swivel ring flange, is a two-piece constructed flange used extensively for offshore pipelines, offshore industry applications and onshore and sub-sea applications. Its double sealing action prevents hydrocarbon releases to address health and safety issues and concerns.
The term "compact" given to these flanges signify that they are compact in size for small diameter pipeline applications. Compact flanges typically weight less than conventional ANSI flanges by 70 to 80 percent. These flanges have double independent seals that make them safer. Also these flanges have integrated sealing systems both inside and outside the flange, which allows them to have larger design pressure and temperature ranges. These flanges are used for 0.5 to 48 inch (1.27 to 122 cm) pipe sizes with a pressure rating of class 150 to class 2500 specifications.
Materials used to manufacture compact flanges include:
ASTM A105, A350 LF2, LF6, A694 F52~F65

AISI 4130, AISI 8630

A182 F316/316L, F44, F51, F53, F55, F60

ASTM B564 N06625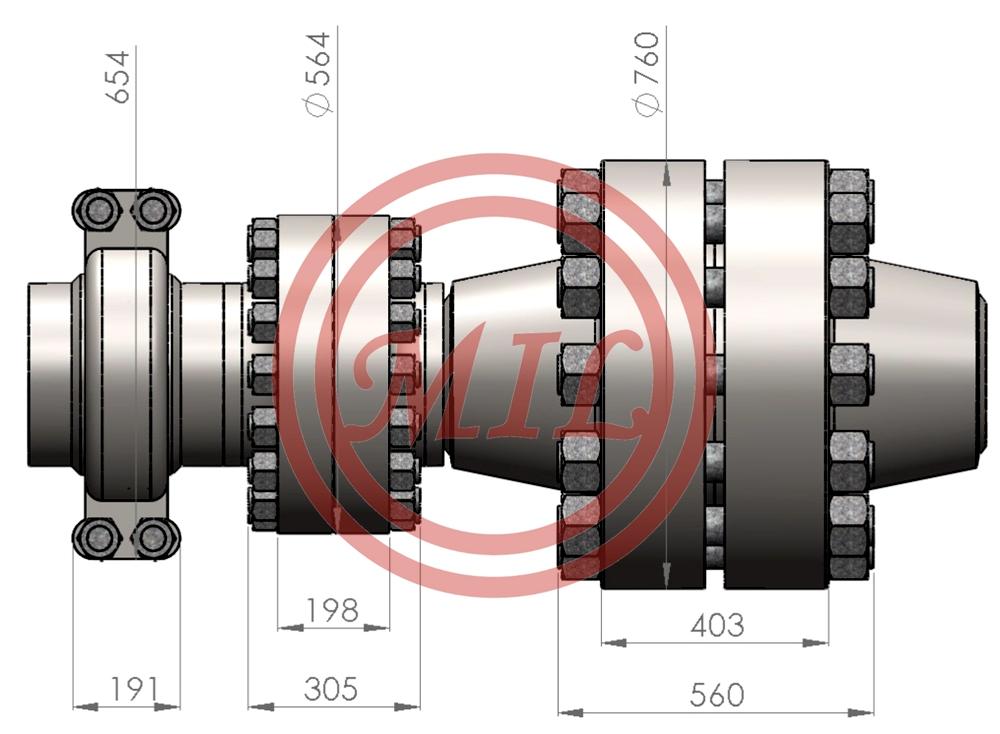 Spectacle blinds
Spectacle Blinds are generally applied to permanently separating pipe systems, or just to connect with each other. A Spectacle Blind is a steel plate cut into two discs of a certain thickness.
The two discs are attached to each other by section of steel similar to the nose piece of a pair of glasses. One of the discs is a solid plate, and the other is a ring, whose inside diameter is equal to that of a flange.
1. Spectacle blind 2. Flanges 3. Gaskets 4. Stud Bolts
Spectacle Blinds be applied in systems, which regularly need to be separated from other installations. Normally, a Spectacle Blind is mounted in the "open" position so that flow through the pipe is possible. If the Spectacle Blind in the "close" position is rotated, the pipe is blanked off and no flow is possible.