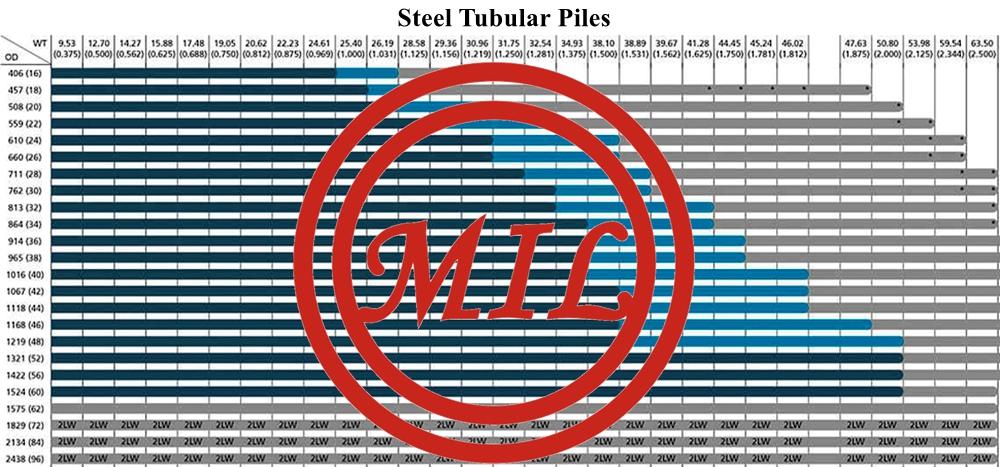 Steel Tubular Piles

Tubular piles are tubular pipes used for piling purposes,which are also called steel piles,piping tubes,or tubular piling. Tubular piles are normally large diameter piles because bigger bending moment are required in lots of cases.
Tubular piling are available in numerous European and US steel grades and can be coated on request and are provided with C9 connectors. Steel piles are the main retaining elements of the combined wall, carrying horizontal loads from soil and water pressures and vertical foundation loads. The intermediary Z-type sheet piles transfer horizontal loads to the tubular piles.Piling tubes are manufactured in a range of materials, from standard carbon steel to high tensile steel, and in all thicknesses to suit specified design. Our piling designs are well proven in quay walls and as the backbones of floating structures. Wider applications include foundation works and construction pipes, industrial pipeline networks, communications infrastructure, and machinery.
The tubular combined wall not only service as the retaining wall member, resisting horizontal loads, but also serve as bearing pile which resist vertical loads. The OZ sheet pile can be shorter than the tubular piles and only have the functions of earth retaining and load transfer. Nowadays the interlocks used in the combined piles have many choices on the market, C9 C14 are the most traditional sheet piling accessory.Further fabrications, like piling shoes,lifting ligs, weld beads, beveled ends, corner sections, paintings...etc we can all do in our workshops.SGS or BV Inspection report is normally supplied.
Mega Monopiles
Monopile foundations have established themselves as the first choice for offshore wind turbines and have been the most frequently used foundation types so far.
Monopile foundations consist of a central support tube, which is piled into the seabed. Usually a Transition Piece is connected, on which the wind turbine is installed. Monopile foundations have the advantage that they are relatively quick to install and that no major preparatory work is necessary on the seabed. Another advantage is the low maintenance after installation.
Monopiles are a suitable foundation type for offshore wind power turbines. They are single open-ended steel pipe piles, which are driven in the prevailing sandy saturated soil of the seabed.
The monopiles are often subjected to high lateral loads due to the harsh conditions of the offshore environment, especially arising from the action of wind and water waves. The prognosis of accumulated deformations due to cyclic horizontal loading with monopile foundations is a real challenge. Adequate predictions require profound knowledge about the soil-monopile interaction behaviour.
Transition Piece
Transition pieces are needed in order to connect the towers of the offshore wind turbines with the respective monopile. Made up of a steel pipe construction, the primary steel part, as well as secondary steel elements like platforms, ladders or boat landing systems, transition pieces are essential construction components of offshore wind turbines
For almost all Monopile foundations, a Transition Piece is used. A Transition Piece consists of a support tube and secondary steel or concrete elements and is installed by a grouted connection or by a flange on the monopile.
Pin Piles
With pin piles e.g. jacket foundations are fixed in the seabed. Jackets are a three- to four-legged framework steel structures.
Our Advantages
Ø With our pipe pile mill strategically located near the port and our strong steel pile production ability, No limit on tubular pile dimensions, This is especially important for deep foundations,quay wall, cofferdam,Jetty construction. The biggest tubular pipes we have produced, length up to 100m,diameter up to 3m.Any steel grade,X70 or S460 or A690,as long as you name it, we will produce for your steel piles. Our SSAW pipe machines can produce up to 25mm thickness pipe piling, our LSAW machines can produce up to 80mm thickness piling pipes.
Ø Our steel piling factory will produce the required sheet piles sizes, and corner sections as well. So that we will ship with tubular piles in one shipment, you just need to install them at jobsites.
Ø Further fabrications, like piling shoes, lifting ligs, weld beads, beveled ends, corner sections, paintings...etc we can all do in our workshops.SGS or BV Inspection report is normally supplied.
Paintings
Our inhouse painting facilities allows for any kind of anti-corrosion protection: Painting, Petrolatum Tapes, Galvanizing.
Tubular Pile Classifications
Pipe piles are produced from different steel grade for wide applications, for example, foundation pipes, king pile, monopile, bearing pile, pipe pile wall, slope stabilization, pipelines, deep foundation, and struts etc.
ACCESSORIES | Pipe Piling
Chill Rings
A chill ring includes a cylindrical non-consumable base metal ring having an outside diameter sized to fit adequately inside the diameter of the pipe end to be welded.
Conical Points
Conical points are used to push the earth aside and maintain grinding. On rough surfaces, the point distributes the load around the entire pipe, rather than focusing the shock on only a section.
Cutting Shoes
A open-end cutting shoe is an exceptionally tough, heat-treated cast steel shoe with a ledge to ease driving. Use of a cutting shoe protects the pipe end and makes it possible to use a thinner pipe.
Pipe Caps
Pipe caps are available in all standard sizes ranging from 8 5/8" to 72".
Pipe Splicers
Pipe piling splicers are available in all pipe sizes. Pipe splicers help ease alignment of pipe and drive it with no welding required.
Reference Specification
API 5L PSL1/PSL 2 Line Pipe: Gr. B X42, X46, X52, X56, X60, X65, X70, X80/BM.X42M,X46M,X52M,X60M,X65M
API 2B Specification for the Fabrication of Structural Steel Pipe
ASTM A252 FOUNDATION PILES for soil consolidation, marine wharfs
ASTM A500 Standard Specification for Cold-Formed Welded and Seamless Carbon Steel Structural Tubing in Rounds and Shapes
ASTM 572 Gr.50, EH36TM, DH36, DH36TMZ
AS 1163 Structural Steel Hollow Section--C250,C250L0,C350,C350L0,C450,C450L0
AS 2159 Piling Design and Installation
AS 812 Bored Piles
BS 2059 Part I & II Gr. 320, Gr. 360
BS 3601 Steel Pipe and Tubes for Pressure Proposes Carbon Steel: Ordinary Duties- Gr. 360,Gr. 430,
BS 7191 All Specification for Weldable Structure Steels for Fixed Offshore Structures
CSA Z245.1 Steel Pipe- Category I, II, III-241,290,359,386,414,448,483,550,620,690,825
DIN 1626 Welded circular tubes of non-alloy steel with special quality requirements-St. 37.0,St44.0, St.52.0
DIN 17120 Welded structural steel circular tubes for structural engineering purposes
EN 10219-1 Cold formed welded structural hollow sections of non-alloy and fine grain steels. Part 1: Technical delivery requirements.
EN 10210 S275, S355 Hot Finished Structural Hollow Section of Non-Alloy and Fine Grain Structural Steels
EN 10296-1 Welded steel tubes for mechanical and general engineering purposes – TDR. Part 1: Non alloy and alloy steel tubes
JIS G 3444 Carbon Steel Tubes for General Structural Purpose- STK 90,400,490,500,540
JIS G 3457 Arc Welded Carbon Steel Pipe- STPY 400
JIS A5525 Steel Pipe Pile
KS D 3566 Carbon Steel Tubes for General Structural Purpose- STK4 90,400,490,500,540
KS D 3583 Arc Welded Carbon Steel Pipe- SPW 400
KS F4602 Steel Pipes Piles
KS F4605 Steel Pipe Sheet Piles
Coating Specification:
ASTM A950: Standard Specification for Fusion-Bonded Epoxy-Coated Structural Steel H-Piles and Sheet Piling.
ASTM A972: Standard Specification for Fusion-Bonded Epoxy-Coated Pipe Piles.
CSA Z245.20-10: Plant-Applied External Coatings for Steel Pipe (Fusion-Bonded Epoxy Powder & Coating Qualifications).
ISO 12944:1998 – Paints & Varnishes – Corrosion Protection of Steel Structures by protective paint system (parts 1 – 8)
ISO 20340:2009 Paints and varnishes – Performance requirements for protective paint systems for offshore and related structures
ISO 15741: Paints and Varnishes - Friction-Reduction Coatings for the Interior of On-and Offshore Steel Pipelines for Non-Corrosive Gas.
NACE RP0394-2002: Application, Performance, and Quality Control of Plant-Applied, Fusion-Bonded Epoxy External Pipe Coating.