ASTM A595 A,ASTM A572 65 Tapered Pole,Traffice Sign Pole,Lighting Pole,Lamp Pole
| | |
| --- | --- |
| Model No.︰ | - |
| Brand Name︰ | - |
| Country of Origin︰ | - |
| Unit Price︰ | US $ 715 / MT |
| Minimum Order︰ | 10 MT |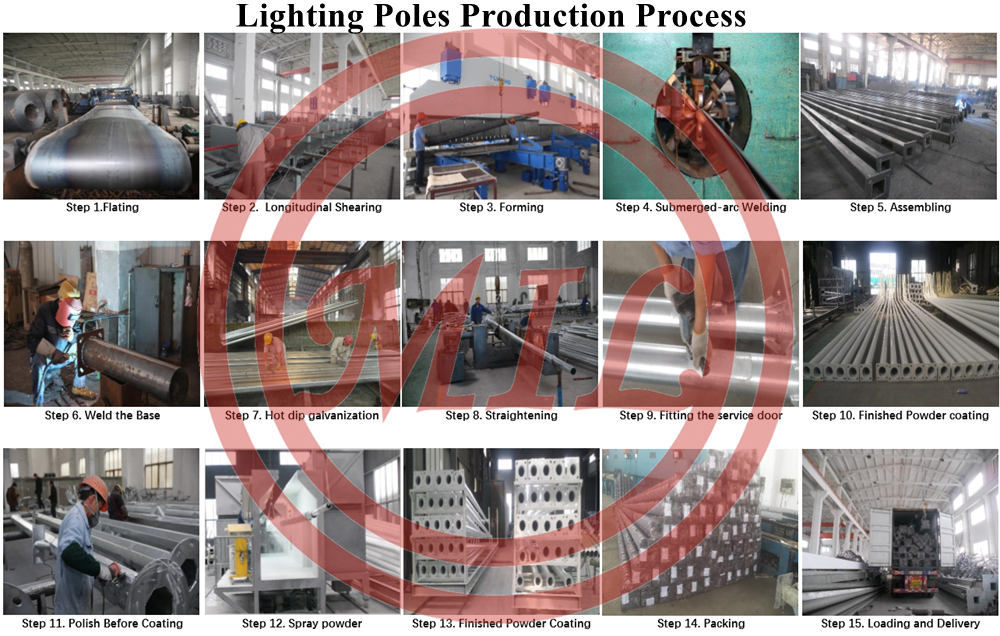 We offers a variety of Steel Pole types to meet your specific communication tower needs. Our Tapered Steel Poles and Flanged Steel Poles feature designs that are aesthetically pleasing and blend well into the environment while requiring minimum space for installation.
All of our Steel Poles are hot-dip galvanized after fabrication to ensure years of corrosion free use.
Tapered Steel Poles are designed with base diameters from 2' to 6'. These minimal site requirements lower lease rates and/or acquisition costs.
Tapered Steel Poles are designed for rapid installation, making them ready for service quickly while meeting the demands of today's PCS, cellular, and other communication tower environments.
We provide structure and foundation design services with approved engineering documents, in any state, by a registered professional engineer.
Flanged Steel Poles are easy to handle and install. Precision fitted connections allow quick assembly of the modular sections and the top platform, sidearms or mounting frame.
Our Steel Poles can be modified with an inside flange for better aesthetics.
Internal Flanged Steel Poles are one continuous pole. Sections from 5' to 50' can easily be added should future expansion be required.
Our broadband Light Duty Poles are a series of pre-engineered, light application poles.
Light Duty Poles are designed for direct embedment at the base with a quick aggregate backfill.
Poles are available in heights from 30 feet to 150 feet.
Typical uses include
• Broadband Communication Poles
• Wifi
• Security Camera Mounts
...and other lightweight communication pole applications.
Artistic street lighting poles: Steel Materials: steel materials comprises Q235A, Q235B, Q345A, Q345B, GR65, etc. coatings: hot-dipped shiny galvanization with maple leaf frost pattern or dull grey galvanization, the thickness of zinc is more than 60um(microns) or be multi-color plastic powder spraying or powder coated after galvanization. welding: welding procedure has been certified by AWS(American Welding Society ) and our welders have got corresponding certificate after testing and inspection shape: conical or taper multi-sided, straight or bending. We can also produce them according to your drawings and requirements. Price for each piece will be given according to your drawings. Power transmission poles/communication poles/wind power poles Steel Materials: steel materials comprises Q235A, Q235B, Q345A, Q345B, GR65, etc. coatings: hot-dipped shiny galvanization or dull grey galvanization, the thickness of zinc is more than 85um(microns) or be multi-color plastic spraying or powder coated after galvanization. welding: welding procedure has been certified by AWS(American Welding Society ) and our welders have got corresponding certificate after testing and inspection Price for each set will be given according to your drawing
Desig-nation
Over All Length L
Planting Depth
Load Applied from Top at a Distance of
Height above ground H
Length of Sections
Outside Diameter and Thickness of Sections
Approx. Weight of Pole
Breaking Load
Crippling Load
Working Load
Load for Permanent Set not Exceeding 13 mm
Load for Temporary Deflection of 157.5 mm
Bottom h3
Middle h2
Top h1
Bottom h3
Middle h2
Top h1
Col 14 2
Col 13 2.5
(1)
(m)
(2)
(m)
(3)
(m)
(4)
(m)
(5)
(m)
(6)
(m)
(7)
(m)
(8)
(m)
(9)
(mm)
(10)
(mm)
(11)
(mm)
(12)
(kg)
(13)
(kg)
(14)
N(kg)
(15) n
(kg)
(16)
(Nkg)
(17)
N(kg)
(18)
N(kg)
410SP-1

7.00

1.25

0.30

5.75

4.00

1.50

1.50

114.3 x 3.65

88.9 x 3.25

76.1 x 3.25

62

2570 (262)

1820 (186)

912(93)

1030 (105)

1245 (127)

785 (80)

410SP-2

7.00

1.25

0.30

5.75

4.00

1.50

1.50

114.3 x 4.50

88.9 x 4.05

76.1x3.25

73

3100 (316)

2240 (224)

1100 (112)

1240 (126)

1510 (154)

941 (96)

410SP-3

7.00

1.25

0.30

5.75

4.00

1.50

1.50

114.3 x 5.40

88.9 x 4.85

76.1x3.25

85

3630 (370)

2580 (263)

1280 (131)

1450 (148)

1760 (180)

1090 (111)

410SP-4

7.50

1.25

0.30

6.25

4.50

1.50

1.50

224.3 x 3.65

88.9 x 3.25

76.1x3.25

67

2350 (240)

1670 (170)

1320 (135)

941 (96)

1150 (117)

627 (64)

410SP-5

7.50

1.25

0.30

6.25

4.50

1.50

1.50

114.3 x 4.50

88.9 x 4.05

76.1x3.25

79

2760 (281)

1960 (200)

981 (100)

1100 (112)

1340 (137)

745 (76)

410SP-6

7.50

1.25

0.30

6.25

4.50

1.50

1.50

114.3 x 5.40

88.9 x 4.85

76.1x3.25

93

3320 (339)

2360 (241)

1180 (120)

1330 (136)

1620 (165)

873 (89)

410SP-7

7.50

1.25

0.30

6.25

4.50

1.50

1.50

139.7 x 4.50

114.3 x 3.65

88.9x3.25

97

4330 (442)

3080 (314)

1540 (157)

1740 (177)

2110 (215)

1400 (143)

410SP-8

7.50

1.25

0.30

6.25

4.50

1.50

1.50

139.7 x 4.85

114.3 x 3.65

88.9x3.25

103

4630 (472)

3280 (335)

1650 (168)

1850 (189)

2250 (229)

1480 (151)

410SP-9

7.50

1.25

0.30

6.25

4.50

1.50

1.50

139.7 x 5.40

114.3 x 3.65

88.9x3.25

110

5100 (520)

3620 (369)

1810 (185)

2040 (208)

2480 (253)

1600 (163)

410SP-10

8.00

1.25

0.30

6.50

4.50

1.75

1.75

114.3 x 3.65

88.9 x 3.25

76.1x3.25

70

2260 (230)

1600 (163)

804 (82)

902 (92)

1110 (112)

520 (53)

410SP-11

8.00

1.25

0.30

6.50

4.50

1.75

1.75

114.3 x 4.50

88.9 x 4.05

76.1x3.25

83

2730 (278)

1930 (197)

971 (99)

1090 (111)

1320 (135)

618 (63)

410SP-12

8.00

1.50

0.30

6.50

4.50

1.75

1.75

114.3 x 5.40

88.9 x 4.85

76.1x3.25

97

3190 (325)

2270 (231)

1130 (115)

1270 (130)

1550 (158)

725 (74)

410SP-13

8.00

1.50

0.30

6.50

4.50

1.75

1.75

139.7 x 4.50

114.3 x 3.65

88.9x3.25

101

4160 (424)

2950 (301)

1480 (151)

1670 (170)

2020 (206)

1180 (120)

410SP-14

8.00

1.50

0.30

6.50

4.50

1.75

1.75

139.7 x 4.85

114.3 x 4.50

88.9x3.25

111

4440 (453)

3160 (322)

1580 (161)

1770 (181)

2160 (220)

1280 (131)

410SP-15

8.00

1.50

0.30

6.50

4.50

1.75

1.75

139.7 x 5.40

114.3 x 4.50

88.9x3.25

119

4890 (499)

3470 (354)

1740 (177)

1960 (200)

2380 (243)

1380 (140)

410SP-16

8.50

1.50

0.30

7.00

5.00

1.75

1.75

114.3 x 3.65

88.9 x 3.25

76.1x3.25

75

2090 (213)

1480 (151)

745 (76)

834 (85)

1020 (104)

432 (44)

410SP-17

8.50

1.50

0.30

7.00

5.00

1.75

1.75

114.3 x 4.50

88.9 x 4.05

76.1x3.25

89

2520 (257)

1790 (182)

893 (91)

1010 (103)

1230 (125)

510 (52)

410SP-18

8.50

1.50

0.30

7.00

5.00

1.75

1.75

114.3 x 4.40

88.9 x 4.85

76.1x3.25

104

2950 (301)

2100 (214)

1050 (107)

1180 (120)

1430 (146)

598 (61)

410SP-19

8.50

1.50

0.30

7.00

5.00

1.75

1.75

139.7 x 4.50

114.3 x 3.65

88.9x3.25

109

3844 (392)

2730 (278)

1360 (139)

1540 (157)

1800 (191)

961 (98)

410SP-20

8.50

1.50

0.30

7.00

5.00

1.75

1.75

139.7 x 4.85

114.3 x 3.65

88.9x3.25

115

5110 (419)

2910 (297)

1460 (140)

1650 (168)

2000 (204)

1010 (103)

410SP-21

8.50

1.50

0.30

7.00

5.00

1.75

1.75

139.7 x 5.40

114.3 x 4.50

88.9x3.25

129

4530 (462)

3220 (328)

1620 (164)

1810 (185)

2210 (225)

1130 (115)

410SP-22

8.50

1.50

0.30

7.00

5.00

1.75

1.75

165.1 x 4.50

139.7 x 4.50

114.3 x 3.65

141

5450 (5556)

3870 (395)

1930 (197)

2180 (222)

2650 (270)

1730 (176)

410SP-23

8.50

1.50

0.30

7.00

5.00

1.75

1.75

165.1 x 4.85

139.7 x 4.50

114.3 x 3.61

148

5840 (596)

4150 (423)

2080 (212)

2330 (238)

2840 (290 )

1820 (186)

410SP-24

8.50

1.50

0.30

7.00

5.00

1.75

1.75

165.1 x 5.40

139.7 x 4.50

114.3 x 3.65

158

6450 (658)

4580 (467)

2340 (234)

2579 (263)

3140 (320)

1970 (201)

410SP-25

9.00

1.50

0.30

7.50

5.00

2.00

2.00

114.3 x 3.65

88.9 x 3.25

76.1x3.25

78

1940 (198)

1380 (141)

686 (70)

775 (79)

941 (96)

333 (34)

410SP-26

9.00

1.50

0.30

7.50

5.00

2.00

2.00

114.3 x 4.50

88.9 x 4.05

76.1x3.25

92

2340 (239)

1670 (170)

834 (85)

941 (96)

1140 (116)

402 (41)

410SP-27

9.00

1.50

0.30

7.50

5.00

2.00

2.00

114.3 x 5.40

88.9 x 4.85

76.1x3.25

108

2750 (280)

1950 (199)

971 (99)

1100 (112)

1330 (136)

461 (47)

410SP-28

9.00

1.50

0.30

7.50

5.00

2.00

2.00

139.7 x 4.50

114.3 x 3.65

88.9x3.25

113

3580 (365)

2540 (259)

1270 (130)

1430 (146)

1740 (177)

745 (76)

410SP-29

9.00

1.50

0.30

7.50

5.00

2.00

2.00

139.7 x 4.85

114.3 x 4.50

88.9x3.25

125

3820 (390)

2728 (277)

1350 (138)

1530 (156)

1860 (190)

814 (83)

410SP-30

9.00

1.50

0.30

7.50

5.00

2.00

2.00

139.7 x 5.40

114.3 x 4.50

88.9x3.25

133

4220 (430)

2990 (305)

1500 (153)

1690 (172)

2050 (209)

882 (90)

410SP-31

9.00

1.50

0.30

7.50

5.00

2.00

2.00

165.1 x 4.50

139.7 x 4.50

114.3 x 3.65

147

5070 (517)

3600 (367)

1800 (184)

2030 (207)

2460 (251)

1360 (139)

410SP-32

9.00

1.50

0.30

7.50

5.00

2.00

2.00

165.1 x 4.85

139.7 x 4.50

114.3 x 3.65

154

5430 (554)

3850 (393)

1930 (197)

2180 (222)

2640 (269)

1430 (146)

410SP-33

9.00

1.50

0.30

7.50

5.00

2.00

2.00

165.1 x 5.40

139.7 x 4.50

114.3 x 3.65

154

6000 (612)

4270 (435)

2130 (217)

2410 (245)

2910 (297)

1540 (157)

410SP-34

9.50

1.80

0.60

7.70

5.00

2.25

2.25

139.7 x 4.50

114.3 x 4.50

88.9 x 3.25

122

3630 (370)

2580 (263)

1280 (131)

1450 (148)

1760 (180)

745 (76)

410SP-35

9.50

1.80

0.60

7.70

5.00

2.25

2.25

139.7 x 4.85

114.3 x 4.50

88.9 x 3.25

129

3880 (396)

2760 (281)

1390 (142)

1550 (158)

1880 (192)

784 (80)

410SP-36

9.50

1.80

0.60

7.70

5.00

2.25

2.25

139.7 x 5.40

114.3 x 4.50

88.9 x 3.25

137

4280 (436)

3040 (310)

1520 (155)

1710 (174)

2080 (212)

833 (85)

410SP-37

9.50

1.80

0.60

7.70

5.00

2.25

2.25

165.1 x 4.50

139.7 x 4.50

114.3 x 3.65

153

5150 (525)

3660 (373)

1820 (186)

2060 (210)

2500 (255)

1300 (133)

410SP-38

9.50

1.80

0.60

7.70

5.00

2.25

2.25

165.1 x 4.85

139.7 x 4.50

114.3 x 3.65

160

5510 (562)

3910 (399)

1960 (200)

2210 (225)

2680 (273)

1370 (140)

410SP-39

9.50

1.80

0.60

7.70

5.00

2.25

2.25

165.1 x 5.40

139.7 x 4.50

114.3 x 3.65

170

6090 (621)

4320 (441)

2160 (220)

2430 (248)

2960 (302)

1480 (151)

410SP-40

10.00

1.80

0.60

8.20

5.20

2.40

2.40

139.7 x 4.50

114.3 x 4.50

88.9 x 3.25

128

3390 (346)

2410 (246)

1210 (123)

1350 (138)

1650 (168)

608 (62)

410SP-41

10.00

1.80

0.60

8.20

5.20

2.40

2.40

139.7 x 4.85

114.3 x 4.50

88.9 x 3.25

135

3630 (370)

2580 (263)

1280 (131)

1450 (148)

1760 (180)

637 (65)

410SP-42

10.00

1.80

0.60

8.20

5.20

2.40

2.40

139.7 x 5.40

114.3 x 4.50
Specifications︰
Reference standards applicable to this section:
1. AASHTO: American Association of State Highway Transportation Officials
a. LTS-1: Structural Supports for Highway Signs, Luminaires and Traffic Signals
2. AISC: American Institute of Steel Construction
3. AISI: American Iron and Steel Institute
4. ASTM: American Society for Testing Materials
a. A36: Structural Steel
b. A123: Zinc (Hot-Dip Galvanized) Coatings on Iron and Steel Products
c. A153: Zinc Coating (Hot-Dip) on Iron and Steel Hardware
d. A325: High Strength Bolts for Structural Steel Joints
e. A501: Hot-Formed Welded and Seamless Carbon Steel Structural Tubing
f. A563: Carbon and Alloy Steel Nuts
g. A570: Steel, Sheet and Strip, Carbon, Hot-Rolled, Structural Quality
h. A572: High Strength Low-Alloy Columbium-Vanadium Steels of Structural
Quality
i. ASTM A595 / A595M - 14 Standard Specification for Steel Tubes, Low-Carbon or High-Strength Low-Alloy, Tapered for Structural Use.
j. F1554: Hooked, headed and threaded anchor rods



Materials

Our vast selection of products is designed and manufactured to the highest of specifications and quality. The materials we use are manufactured in complience with ASTM International standards to provide quality poles for your application. Our products are manufactured for durability, wear and corrosion resistance, as well as visual appeal. Provided below is information on our materials, including Union Metal specifications, ASTM standards and process conditions:

Steel Tapered Shafts — ASTM A595

Anchor Bolts — ASTM F1554, GRADES 36,55 or 105

Castings

Aluminum — 319, 356

Gray Iron — ASTM A48c Class 30

Galvanizing

Poles — ASTM A123

Hardware / Anchor Bolts — ASTM A153

Plates — ASTM A36

Mandrel Process for Steel Tapered Shafts —ASTM A595

Telescoping Joint Specs — Minimum 1 ½" x the inside diameter of female tube

Welding — AWS D1.1

Shafts

Steel shaft of the pole shall be fabricated from not less than #11 Manufacturer's Standard Gauge, best grade, hot rolled basic open hearth steel. The shaft shall have only one longitudinal, automatically, electrically welded joint, and shall have no intermediate horizontal joints or welds. Only one length of steel sheet shall be used, which shall be formed into a continuously tapered shaft, having a taper of approximately .14" per foot.

After forming and welding, the tapered shaft shall be longitudinally cold rolled under sufficient pressure to flatten the weld and increase the physical characteristics of the shaft so that the metal will have a minimum guaranteed yield strength of 55,000 psi.

The cold rolling process shall also form a round, octaflute, square, octagonal, or cruciform shaft (as specified by the design of the pole to be furnished). The octaflute shaft shall have equally spaced Doric flutes, sharp and clear-cut throughout the entire length of the shaft. To obtain the sharp crest of the flutes, the radius of the crest shall be less than the thickness of the metal in the shaft.

Intended Use: For City Streets, Parking Lots, Campuses, Commercial Developments, Plazas, Historic Districts, Village Squares, Residential Areas, Parks, Walkways, Boulevards, and Roadways.

Features: Pole shaft is one piece, low carbon alloy steel per ASTM A595, Grade A with 55,00-PSI minimum yield strength. Pole base shall be per ASTM A36 and shall telescope pole shaft and be circumferentially welded top and bottom. Hand hole is 2" x 4" minimum, cover and fasteners are included. Base covers shall be two piece, interlocking construction. Finish shall match pole. Removable pole cap shall be provided with each drill pattern type pole. Non-structural fasteners shall be stainless steel.



The following are product attributes:

Galvanized poles will be finished per ASTM A123. Painted poles shall be semi-gloss powder paint; Grounding provision shall be immediately accessible through hand hole, 3/8-16 threads; Steel anchor bolts shall be per AASHTO M314 or ASTM F 1554 – Grade 55, hot dip galvanized. Nuts and washers shall be per AASHTO M314-90 or ASTM F 1554 – hot dip galvanized

Features: Pole shaft is one piece, 6005, 6061, or 6063-aluminum alloy, heat-treated to a T6 temper. Pole base shall be 356 or A356 aluminum alloy, heat-treated to a T6 temper after welding. Hand hole is 2" x 4" minimum, cover and fasteners are included. Nut covers shall be provided as standard. Finish shall match pole. Removable pole cap shall be provided with each drill pattern type pole. Non-structural fasteners shall be stainless steel.
Standard Met︰
SECTION 02582 TRAFFIC SIGNAL POLE ASSEMBLIES (STEEL)

PART 1 GENERAL
1.01 SECTION INCLUDES
A. Steel traffic signal pole assemblies, including anchor bolts.
1.02 MEASUREMENT AND PAYMENT
A. Unit Prices.
1. Payment for Traffic Signal Pole Assemblies will be measured by each traffic signal pole assembly.

1.03 REFERENCES
A. Reference standards applicable to this section:
1. AASHTO: American Association of State Highway Transportation Officials
a. LTS-1: Structural Supports for Highway Signs, Luminaires and Traffic Signals
2. AISC: American Institute of Steel Construction
3. AISI: American Iron and Steel Institute
4. ASTM: American Society for Testing Materials
a. A36: Structural Steel
b. A123: Zinc (Hot-Dip Galvanized) Coatings on Iron and Steel Products
c. A153: Zinc Coating (Hot-Dip) on Iron and Steel Hardware
d. A325: High Strength Bolts for Structural Steel Joints
e. A501: Hot-Formed Welded and Seamless Carbon Steel Structural Tubing
f. A563: Carbon and Alloy Steel Nuts
g. A570: Steel, Sheet and Strip, Carbon, Hot-Rolled, Structural Quality
h. A572: High Strength Low-Alloy Columbium-Vanadium Steels of Structural
Quality
i. A595: Steel Tubes, Low-Carbon, Tapered for Structural Use
j. F1554: Hooked, headed and threaded anchor rods

PART 2 PRODUCTS
2.01 MATERIALS
A. All items shall be new materials of the latest product in production to the commercial trade,
and shall be of the highest quality as to materials used and workmanship. The manufacturer
of these items shall be experienced in design and construction of such items and shall furnish
evidence of having supplied similar items, which have been in successful operation, for not
less than three (3) years.
2.02 SILENCE OF SPECIFICATIONS
A. The apparent silence of these specifications as to any detail, or the apparent omission from it
of a detailed description concerning any point, shall be regarded as meaning that only the best
commercial practice shall prevail and that only material and workmanship of the finest
quality shall be used. All interpretations of these specifications shall be made on the basis of
this statement.
2.03 TRAFFIC SIGNAL POLE ASSEMBLIES
A. The traffic signal poles shall be designed in accordance with the 1994 edition of the
AASHTO standard specifications.
B. Anchorage: Included with each pole shall be a minimum of four steel anchor bolts, complete
with double hex nuts, lock washers and flat washers. Nuts, washers and threaded areas of
anchor bolts shall be hot-dip galvanized to ASTM - A153. Anchor bolts shall meet the
requirements of ASTM F1554, Gr. 55. An anchor bolt template shall be included with each
pole assembly.
C. Wind Resistance: Entire pole and arm assembly to be rated to withstand AASHTO
requirements for 90 mile per hour wind.
D. Welds: All welds shall meet the requirements of AWS D1.1.
E. Material Certification: Material certifications shall be provided for all ASTM numbers
referred to in this specification.
F. Complete design drawings and complete technical data must be submitted for approval to the
City of Houston prior to starting fabrication. Shop drawings shall be signed and sealed by a
Registered Professional Engineer.
G. The pole unit and all materials used in its manufacture shall meet the requirements of the
American Association of State Highway and Transportation Officials (AASHTO),
specifically LTS-1: Standard Specifications of Structural Supports for Highway Signs,
Luminaries and Traffic Signals.
H. Pole shaft and arms shall be circular or octagonal in cross-section with no transverse joints or
welds and no more than one (1) longitudinal welds per pole or arm. Refer to the standard
drawings for exact sizes on the pole diameters. They shall be uniform in cross-section and
shall uniformly taper from the pole shaft to the end of the arm. The end of the arm shall be at
a height above the pavement, as detailed on the standard drawing, with design vertical
loadings, when installed on the pole.
2.04 POLE SHAFT
A. The pole shaft for the Type 1 poles shall be fabricated from a minimum of 3-gauge (0.2391
inch) hot rolled commercial steel. The shaft shall have only one (1) longitudinal,
automatically, electrically welded joint, and shall have no intermediate horizontal joints nor
welds. After forming and welding, the tapered shaft shall be longitudinally cold rolled over a
hardened steel mandrel under sufficient hydraulic pressure to flatten the weld and increase
the physical characteristics of the shaft. The shaft shall meet the chemical and physical
properties of ASTM-A595 GR. A, having a minimum yield strength of 55,000 psi. Only one
(1) length of steel sheet shall be used, which shall be formed into a continuously tapered
shaft, having a taper of approximately 0.14 inch per foot.
B. The pole shaft for the Type 2 poles shall be fabricated from a minimum 0.375 inch hot
rolled commercial steel. The shaft shall have only one (1) longitudinal, automatically,
electrically welded joint, and shall have no intermediate horizontal joints nor welds. The
shaft shall meet the chemical and physical properties of ASTM-A572 GR. 55, having a
minimum yield strength of 55,000 psi. Only one (1) length of steel sheet shall be used, which
shall be formed into a continuously tapered shaft, having a taper of approximately 0.14 inch
per foot.
C. The base plate shall conform to ASTM-A36 or ASTM A572 steel. It shall telescope the shaft
and be attached by means of two continuous welds, one on the inside of the base at the end of the shaft, the other on the outside at the top of base. The base plate shall be arranged to accept four (4) 2-1/4 inch diameter anchor bolts on an 18 inch bolt circle.
D. The pole shaft shall be furnished with a reinforced handhole frame with steel cover and a 1/2
inch - 13 UNC grounding provision. Dimensions shall be as shown on the detail drawings.
E. Each pole shaft shall include a steel pole plate welded to shaft for the mast arm connection.
It shall be arranged to accept four (4) connecting bolts. Pole plate material shall conform to
the requirements of ASTM-A36 or ASTM A572 Grade 50 steel.
F. As required, each pole shall be provided with an ornamental pole top. The final shaped pole
top shall be mechanically attached to the top of the shaft to provide access for wiring signals
secured by a J-hook wire support; also provided. Pole top material shall conform to the
requirements of AA-319.OF aluminum.
G. The pole shaft shall be drilled in the field at required signal locations.
2.05 MAST ARM
A. The mast arm shall be fabricated from a minimum 7-gauge (0.179 inch) hot rolled
commercial steel in accordance with ASTM A595 Grade A and shall have a yield of not less
than 55,000 psi. It shall be fabricated and formed into a round shape as required, using the
same cold rolling process as the pole shaft and shall have the same physical properties and
yield strength. Arm dimensions shall be equivalent in strength for the loads shown in the
plans.
B. Mast arm shall be a straight flange plate mounted style and shall include a steel arm plate
with four (4) connecting bolts. Arm plate material shall conform to the requirements of
ASTM-A36 or ASTM A572 Grade 42 steel. Bolts shall be internally mounted to pole plate
and meet the requirements of ASTM-A325.
C. A slip joint shall be permissible for arms forty (40) feet and greater in length. The slip joint
shall be made in the shop but may be match marked and shipped disassembled. An
automatic submerged arc process shall weld pole shaft and arm. Pole and arm diameters
shall be uniform at any cross-section and shall be reasonably straight.
D. Tenons for mounting the vehicle signal head assemblies shall be provided on the mast arm at
locations required. Refer to the standard drawings for tenon details.
2.06 LUMINAIRE ARM
A. The luminaire arm shall be fabricated from 2-inch Schedule 80 pipe.
B. The length of the luminaire arm shall be as shown in the standard drawings or required in the
plans.
C. The luminaire arm shall be connected to the pole shaft with simplex fittings, and in
accordance with details shown on the standard drawings.
2.07 HOT-DIP GALVANIZING
A. Surface Preparation.
1. Prior to being incorporated into an assembled product, steel plates 3/4 inch or more in
thickness may require blast cleaning to remove rolled-in mill scale, impurities, and
non-metallic foreign materials. After assembly, all weld flux shall be mechanically
removed.
2. The iron or steel product is degreased by immersion in an agitated 4.5%-6%
concentrated caustic solution elevated to a temperature ranging from 150 to 190-
degrees Fahrenheit. It is then pickled by immersion in a heated sulfuric acid solution
of 6%-13% concentration, controlling the temperature between 150 and 190-degrees
Fahrenheit. It is next rinsed clean from any residual effects of the caustic or acid
solutions by immersion in a circulating fresh water bath.
3. Final preparation is done by immersion in a concentrated zinc ammonium chloride
flux solution heated to 130-degrees Fahrenheit. The solution's acidity content is
maintained between 4.5-5.0 pH. The assembly is air dried to remove any moisture
remaining in the flux coat and/or trapped within the product.
B. Pole shaft and arm shall be hot-dip galvanized after fabrication in conformance with ASTM
A123 requirements with a minimum of two (2) ounces per
Product Image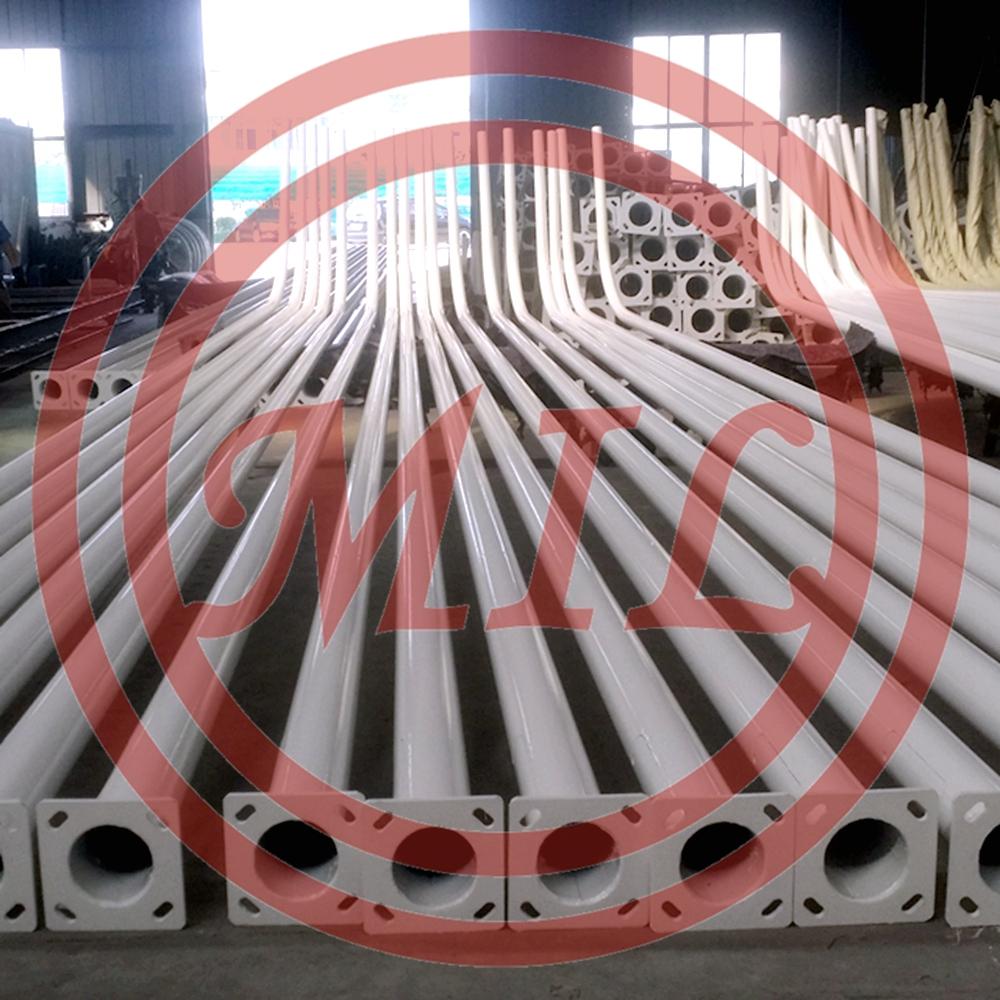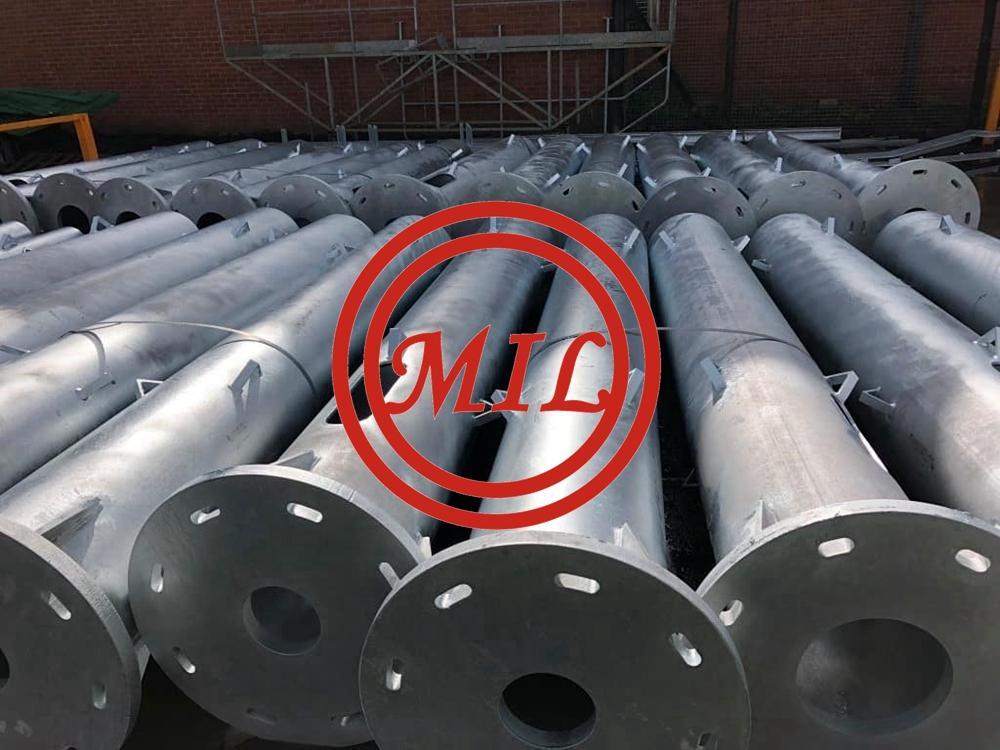 Galvanized Round Tapered 8m Outdoor Commercial Light Poles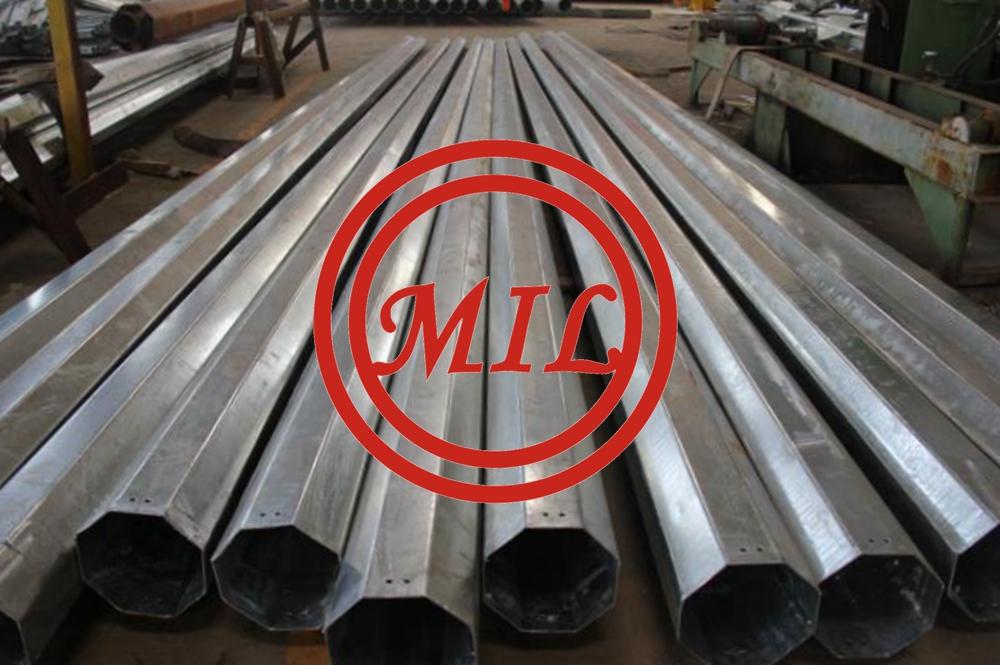 25FT 2.5mm Thickenss Hot Dip Galvanized Steel Pole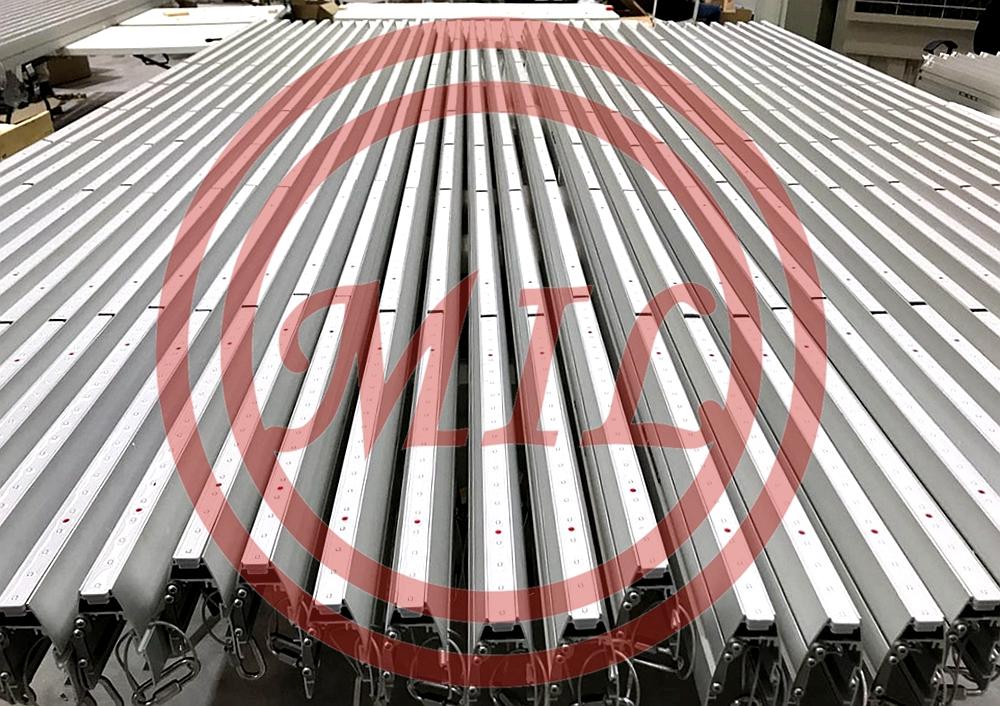 (Media Facade) CD-M Lighting Hangers
Related Products