ASME B16.49,API 5L PSL 2,ISO 15590-1 Induction Bends,Hot Bends,Factory Bends
| | |
| --- | --- |
| Model No.︰ | - |
| Brand Name︰ | Induction Bend,Factory Bend |
| Country of Origin︰ | - |
| Unit Price︰ | US $ 2000 / MT |
| Minimum Order︰ | 5 MT |
Type

30/45/90/180Degree (R=3D,5D,10D,,,)

Standard

API 5L, ASME B16.49,ISO 15590-1

Out Diameter

21.3mm -1422mm

Wall Thickness

1.8 - 160mm

Steel Grade

ASTM A403:A234WPB

EN 10219-1:S275, S275JR, S355JRH, S355J2H

ASTM A182: WP304,WP304L,WP316,WP316L,WP321

A234 WP11,WP5,WP9,WP91,WP22,WP12,WB36,

API 5L: GR B, X42, X46, X56, X60, X65, X70,X80,X100

EN 10208-2:L175, L210, L245, L320, L360- L555

Surface

Fusion bond Epoxy coating, Coal Tar Epoxy, 3PE, Vanish Coating, Bitumen Coating, Black Oil coating as per customer's requirement

Test

Chemical Component Analysis, Mechanical Properties (Ultimate tensile strength, Yield strength, Elongation), Technical Properties (Flattening Test, Bending Test, Blow Test, Impact Test), Exterior Size Inspection, Hydrostatic Test, X-ray Test.

Mill Test Certificate

EN 10204.3.1 & EN 10204.3.2

Usage

High&Medium pressure liquid delivery, such as water, gasand oil, oil drilling and machinery manufacturing, etc.
SIZE AVAILABLE:
Nominal Pipe Size in

Outside diameter O.D.(mm)
BENDING RADIUS(mm)
Angle Bending
θ
Tangent Length at Each end
Wall Thickness (mm)
3D
4D
5D
6D
8D
10D
3"
89
267
356
445
534
712
890
90°,60°
45°,30°
22.5°,or
as per
the choice
of purchaser
350
Sch STD,
sch10,Sch20,
Sch30,Sch40,
Sch80,etc.
or as per
the choice
of purchaser
4"
114
342
456
570
684
912
1140
350
6"
168
504
672
840
1008
1344
1680
350
8"
219
657
876
1095
1314
1752
2190
700
10"
273
819
1092
1365
1638
2184
2730
700
12"
325
975
1300
1625
1950
2600
3250
700
14"
356
1068
1424
1780
2136
2848
3560
700
16"
406
1218
1624
2030
2436
3248
4060
700
18"
457
1371
1828
2285
2742
3656
4570
1000
20"
508
1524
2032
2540
3048
4064
5080
1000
22"
559
1677
2236
2795
3354
4472
5590
1000
24"
610
1830
2440
3050
3660
4880
6100
1000
26"
660
1980
2640
3300
3960
5280
6600
1D (Outside
diameter of
bend)or
as per
the choice
of purchaser
28"
711
2133
2844
3555
4266
5688
7110
30"
762
2286
3048
3810
4572
6096
7620
32"
813
2439
3252
4065
4878
6504
8130
34"
864
2592
3456
4320
5184
6912
8640
36"
914
2742
3656
4570
5484
7312
9140
38"
965
2895
3860
4825
5790
7720
9650
40"
1016
3048
4064
5080
6096
8128
10160
42"
1067
3201
4268
5335
6402
8536
10670
44"
1118
3354
4472
5590
6708
8944
11180
46"
1168
3504
4672
5840
7008
9344
11680
48"
1219
3657
4876
6095
7314
9752
12190
50"
1270
3810
5080
6350
7620
10160
12700
52"
1321
3963
5284
6605
7926
10568
13210
54"
1372
4116
5488
6860
8232
10976
13720
56"
1422
4266
5688
7110
8532
11376
14220
SPECIFICATIONS:
ASME B16.49-2001 Factory-Made Wrought Steel Buttwelding Induction Bends for Transportation and Distribution Systems
EN 14870-1:2004, Petroleum and natural gas industries - Induction bends, fittings and flanges for pipeline transportation systems - Part 1: Induction bends (ISO 15590-1:2001 modified).
ISO 15590-1 - Petroleum and Natural Gas Industries - Pipeline Transportation Systems - Part 1 - Induction Bends
DNV OS-F101 - Submarine Pipeline Systems - 2000
DEP 31.40.20.33-Gen Linepipe induction bends (amendments/supplements to ISO 15590-1)
ABNT 15273. Petroleum and Natural Gas industries - induction Bends tor Pipeline
Transportation Systems - 2005(Brazilian standard on induction bending for the oil and gas industries)
ABNT NBR 15273 – Indústrias de petróleo e gás natural – Curvas por indução para sistema de transporte por dutos
TPA-IBS-98 Recommended Standards
for Induction. Bending of Pipe and Tube by the Tube and Pipe
TOTAL GS EP PLR 221 Fabrication of hot bends for pipelines (sweet service)
ASME B31.8 – Gas Transmission and Distribution Piping System
ASME B16.9– Factory-Made Wrought Butt-welding Fittings
ASTM A-860 – Standard Specification for Wrought High Strength Low-alloy Steel Butt-Welding Fittings
ASTM A-516 – Standard Specification for Pressure Vessel Plates, Carbon Steel for moderate and Lower Temperature Service
MSS SP-75 -Specification for High-Test Wrought, Butt-Welding Fitting
CSA Z245.11-05 - Steel Fittings
PFI ES-24 - Pipe Bending Methods, Tolerances, Processes and Material Requirements
MATERIALS:
Carbon and Alloy steel
For Moderate and elevated Temperatures
ASTM/ASME A234: WPB, WPC, WP1, WP11, WP12, WP5, WP22, WP9, WP91
EN 10216-2: P195GH, P235GH, P265GH, 20MnNb6, 16Mo3, 8MoB5-4, 14MoV63, 10CrMo5-5, 13CrMo4-5, 10CrMo9-10, 15NiCuMoNb5-6-4, X11CrMo5, X11CrMo9-1, X10CrMoVNb9-1, X10CrWMoVNb9-2, X20CrMoV11-1
RCCM: CL2-CL3-NC, grades: P265GH, P280GH, P295GH, P355NH, TU42C, AE250B1

High Yield Steel for pipe line and offshore
ASTM A860/MSS SP-75: WPHY 42, WPHY 46, WPHY 52, WPHY60, WPHY 65, WPHY 70 grades, WPHY80
EN 10208-2: L245NB, L290NB, L360NB, L415NB, L360QB, L415QB, L450QB, L485QB, L555QB, L360MB, L415MB, L450MB, L485MB
API 5L: Gr.B,X42, X46, X52, X60, X65, X70,X80

For Low Temperature service
ASTM/ASME A420: WPL6, WPL3

Stainless steel
Austenitic
ASTM/ASME A/SA403: WP304 (L) (H) (LN) (N), WP321 (H), WP316 (L) (H) (LN) (N), WP347 (H), WP317 (L), WPS31254
RCCM: CL1-CL2-CL3, Grades: Z2CND17.12, Z2CN18.10, Z2CND18.12N
ASTM A774: TP304L, TP316L, TP317L, TP321, TP347
Equivalent grades of EN 10253-3, EN 10253-4 (former AFNOR-DIN-BS equivalent grades)

Duplex
ASTM/ASME A/SA 815 UNS 31803 (Duplex), UNS 32750 (Duplex),UNS 32760 (Duplex), UNS 32550 (Superduplex)

Non ferrous alloys
Nickel Alloy
ASTM/ASME BSB 366: UNS N04400, UNS N06600, UNS N06625, UNS N08020, UNS N08800, UNS N08811, UNS N08825,UNS N10276
Aluminium Alloy
ASTM B361: 3003 and 6061 grades
Specifications︰
Induction Bending is a controlled means of bending pipes through the application of local heating using high frequency induced electrical power. to create a narrow, circumferential, heated band around the material to be bent. When the appropriate temperature is reached, the material is pushed forward through the coil at a consistent speed and temperature while a bending moment is applied. After the material passes through the coil, it may be cooled (quenched) by forced air or water spray, or it may be allowed to cool naturally at ambient temperatures.

Originally used for the purpose of surface hardening steels, induction technology when used in pipe bending consists basically of an induction coil placed around the pipe to be bent. The induction coil heats a narrow, circumferential section of the pipe to a temperature of between 850 and 1100 degrees Celsius (dependant on the material to be formed). As the correct bending temperature range is reached, the pipe is moved slowly through the induction coil whilst the bending force is applied by a fixed radius arm arrangement.

As the bending occurs, the adjacent area forward of the heat band is water or air quenched (or may be allowed to cool naturally) thereby allowing the cool material to either side of the 'heat band' to retain the integrity of the original material as best as possible. This means of distortion control provides excellent dimensional accuracy and repeatability.


Achieved tolerances when forming induction bends are to some extent governed by the materials in hand and the required format of the finished product however the following are the minimum standards to which Induction Pipe

Although induction bending produces excellent results as far as physical properties are concerned, it must be noted that there are two important considerations required – firstly the reduction in wall thickness at the outside (extrados) of the bend and secondly the degree of ovality which is present.


The induction pipe bending process uses induction heating to produce highly accurate bends. The quality of induction bends is superior to the elbow fitting. Hydro burst tests show that spools with induction bends fail in the straight pipe and not in the bend, whereas in comparable elbow-based systems the elbow (inside radius) is always the first to burst. Stress calculations confirm this. The natural tendency to have a thicker inside wall thus proves to be advantageous and ensures that the bend exceeds the strength of the straight pipe. Many companies have exclusively chosen equipment for their induction bending.

Our Bending is capable of providing the following tests and more.

X-Ray, Heat Treatment, Stress Relieve, Liquid Penetrate Testing, Brinel Hardness Testing, Magniflux Testing, Ultra-Sonic Testing, Magnetic Particle Testing, PMI (Positive Material Identification), Elemental Analyzer, Hydro Test.

Destructive Mechanical Testing
Testing can be carried out to American e.g. ASTM & API, European e.g. BS EN & DIN and to individual client standards e.g. Shell DEP 31.40.20.33, DNV OS F101 & BP GIS 43 – 317 amongst others
We are happy to make arrangements for witnessing of testing by statutory inspection bodies (e.g. Lloyds Register, Det Norske Veritas and Bureau Veritas) as well as by clients and client representatives, ensuring that transparency & confidentiality is always maintained
Under our ILAC/CNAS Accreditation the following tests can be carried out
 Tensile testing (ASTM and BS EN)
 Impact testing (ASTM, BS EN & IZOD) from ambient to – 196° C
 Hardness Testing (Vickers and Brinell)
 Corrosion tests on Duplex and Stainless steels to ASTM G48 – A
 Macro and Micro examinations of metallic materials (Including both photo macro & micrographs)
 Determination of percentage ferrite to ASTM E562
 Weld testing (complemented by our NDE availability)
We have close links with several other ILAC accredited laboratories and as such can sub-contract testing outside of our accreditation e.g. elevated temperature tensile testing, chemical analysis, HIC and SSCC corrosion tests etc.

Non Destructive Examination
To ensure compliance with specification, many of our bends undergo non-destructive testing. This can be as simple as a basic minimum wall thickness check or can involve a series of surveys using various means of fault detection.

We provides an in-house service through highly experienced operators based within our site and qualified to ASNT / PCN Level II (with procedures externally approved to Level III). This arrangement allows the flexibility we need to ensure our process is as efficient as possible.


Our available range of in – house NDE comprises;

■Magnetic particle inspection – standard format
■Magnetic particle inspection – fluorescent format
■Liquid penetrant inspection
■UT wall thickness survey
■UT straight beam lamination survey
■UT shearwave survey
■UT longitudinal seam weld survey
■Surface hardness survey
Post Bend Heat Treatment

A feature of induction bending pipework is that due to the heat input allied to the stresses formed during process, mechanical properties may be altered – sometimes significantly.

The majority of materials we bend, particularly high yield carbon & duplex type steels etc. require a full body furnace heat treatment after bending in order to either restore or, as is often the case, enhance mechanical properties. Through our local sub contractor we are able to offer a variety of heat treatments including the following;

Normalise
Usually applied to carbon steels such as ASTM A106 Gr. B, A333 Gr. 6 & API 5L X52, this process includes a set time at temperature with a still air cool to ambient outside the furnace atmosphere

Normalise & Temper
Commonly associated with materials containing a higher level of chrome e.g. ASTM A335 P11 & P22 etc. Once complete, the normalise process (as above) is followed by tempering for an extended time at a lesser temperature, again with a still air cool to ambient

Quench & Temper
Intended for high yield materials e.g. API 5L X65, the material is held for a time at temperature then rapidly quenched in a cooling medium to provide a hardening action. Once complete, the quench is followed by tempering at a lesser temperature, this time with a still air cool to ambient

Solution Anneal
Applied to stainless & duplex steels such as UNS S31803 & UNS S32760, the material is held at an elevated temperature for the required time before rapid cooling in either air or water. No secondary heat treatment is usually required with this process.


Workmanship is initiated at every level. Every piece is examined and cross-examined. Non-destructive testing plays an important role in maintaining high quality. According to our customers bending specification, MIL is capable of providing the following tests and more.
X-Ray, Heat Treatment, Stress Relieve, Liquid Penetrate Testing, Brinel Hardness Testing, Magniflux Testing, Ultra-Sonic Testing, Magnetic Particle Testing, PMI (Positive Material Identification), Elemental Analyzer, Hydro Test

MIL meets and exceeds the following standards

ASME Code
"U" & "S" Stamp Section I and VIII
"A.N.S.I."
"A.W.W.A."
PFI-ES24
TPA-IBS-98
TPA-CBS-98
MSS-SP75
ASME B31.1, 3 & 4
B16.49


Our bends are widely applied on several industries including, however not limited to:

Refinery
Chemical
Heating and Cooling
Pharmaceutical
Architectural
Boiler
Petrochemical
Agricultural
Food processing
Pneumatic Conveying
Power Piping
Pipeline
DOT (Department of Transportation)
Pulp and Paper
Ship Building
Automotive
Aircraft
Ship and Barge


Standard Met︰

Terms

Arc – The curved portion of tube bends or pipe bends.

Bevel – A type of end preparation of tube bends or pipe bends.

Centerline Radius (CLR) – Distance in inches from the center of curvature to the centerline axis of the tube rolling or pipe rolling bends. Often abbreviated as CLR.

Cold Tube Bending – The bending of pipe or tube to shapes by cold working methods.

Degree – Angle in degrees to which the pipe bends or tube bends are formed (i.e. 45 degrees, 90 degrees, 180 degrees, etc.)

Easy Way (EZ) – Bending of a rectangular tube with its short side in the plane of the tube bend.

Grade – Manufacturers' specification of material type of pipe or tube, (i.e. A53B, T304W SS).

Hard Way (HW) – Bending of a rectangular tube with its long side in the plane of the tube bend.

I.D. – Inside diameter of the tube or pipe.

Minimum Tangent – The minimum straight on the end of pipe bends required by the bending machine to form the bend.

Neutral Axis – That portion of the pipe bend or tube bend that is neither in compression or tension.

O.D. – Outside diameter in inches of the tube or pipe.

Out of Plane – The deviation of the horizontal plane of a single pipe bend between its tangent points, based on the theoretical center-line of the pipe rolling bend.

Ovality – The distortion or flattening of pipe or tube from its normal, round shape caused by the pipe bending process.

Plain End – Square cuts made prior to pipe bending with no intended exact tangent length.

Roll Past – Small amount of arc bent beyond a specified degree.

Rough Cut – Ends cut with an acetylene torch or arc gauge, ends are not required to be straight.

Square Cut – Cuts made square to the tangent of pipe bends or tube bends after the pipe bending process.

Tangent – The straight portion of material on either side of arc of rolling bends.

Tangent Point – The point at which the pipe bend or tube bend starts or ends.

Taper Bore – Material milled or ground out of the inside diameter tangent end of pipe rolling bends to create a different wall than the original thickness.

Wall – The thickness in inches of tubular pipe material.

Wrinkles – Waving or corrugation of pipe bends or tube bends in the inner radius.
Product Image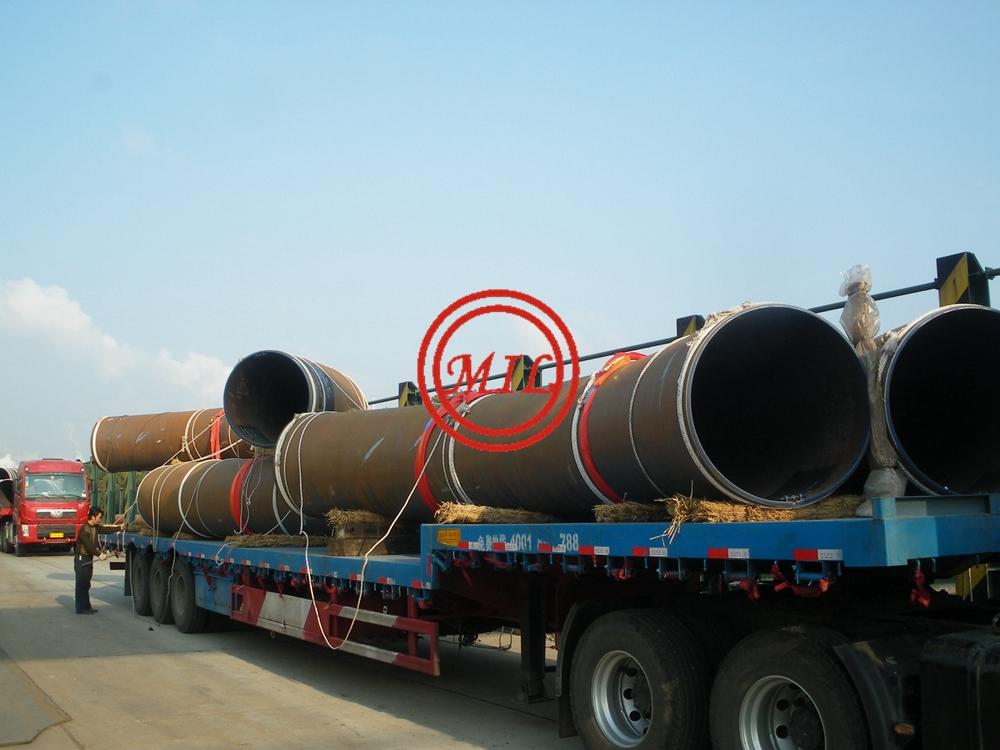 API 5L X70 PSL2/AS 2885-1 L485MB INDUCITON BENDS FOR LNG PIPELINE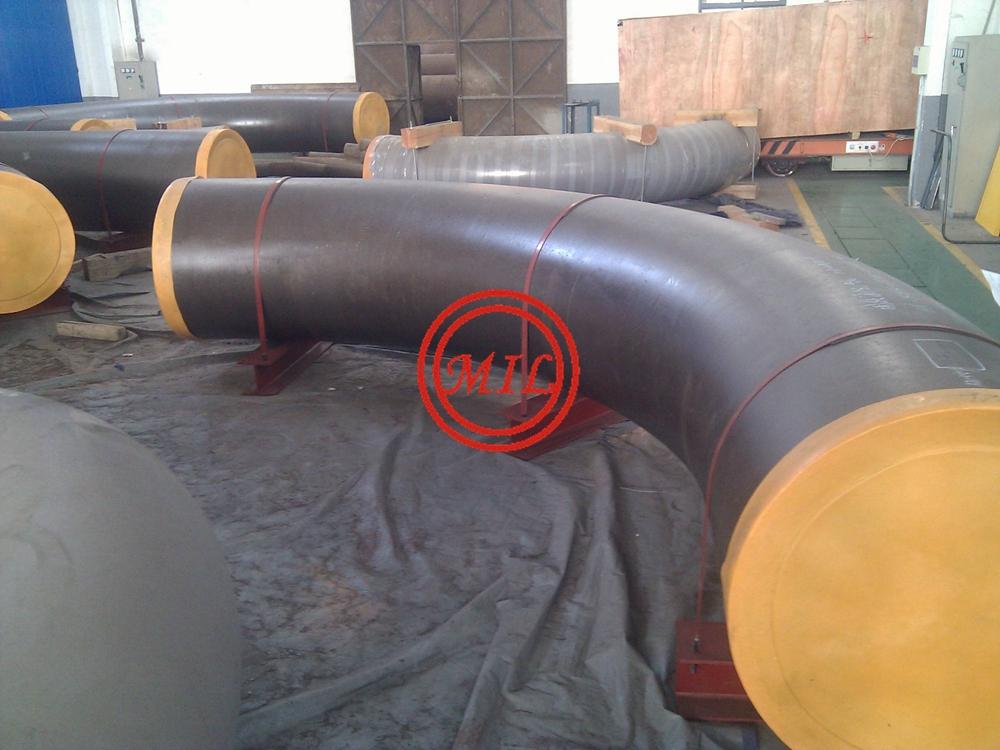 API 5L X60 PSL2+FUSION BONDED EPOXY COATED FACTORY BENDS

API 5L X52M PSL 2+DFBE COATED HOT BENDS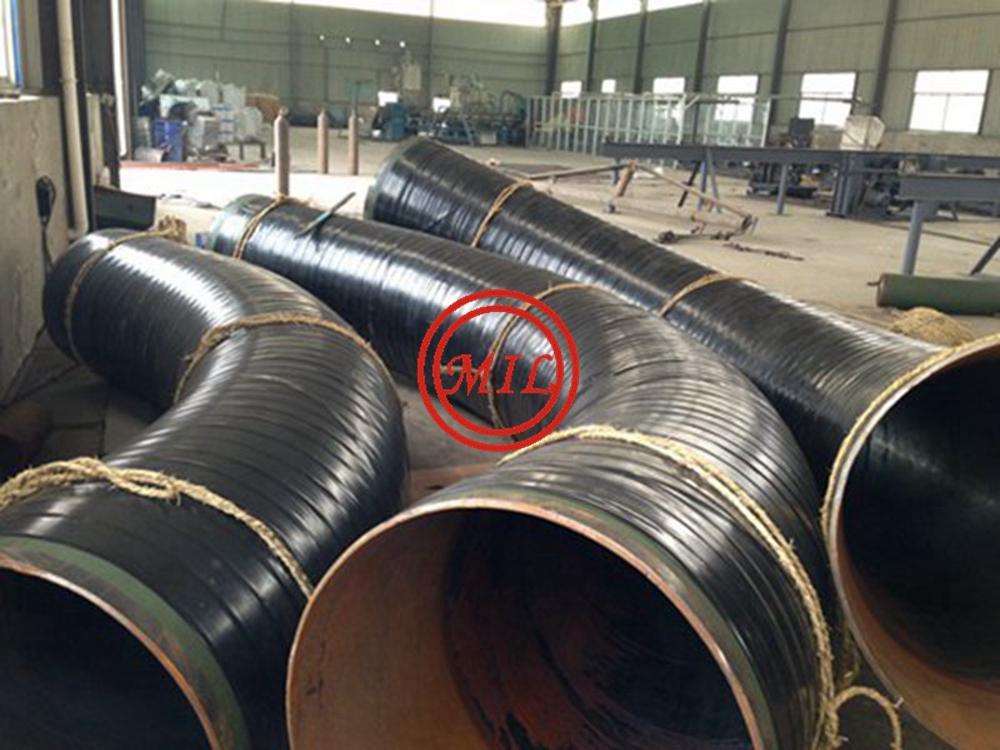 API 5L X65 PSL2+DIN 30670 FBE+PE TAPES WRAPPED INDUCTION BENDS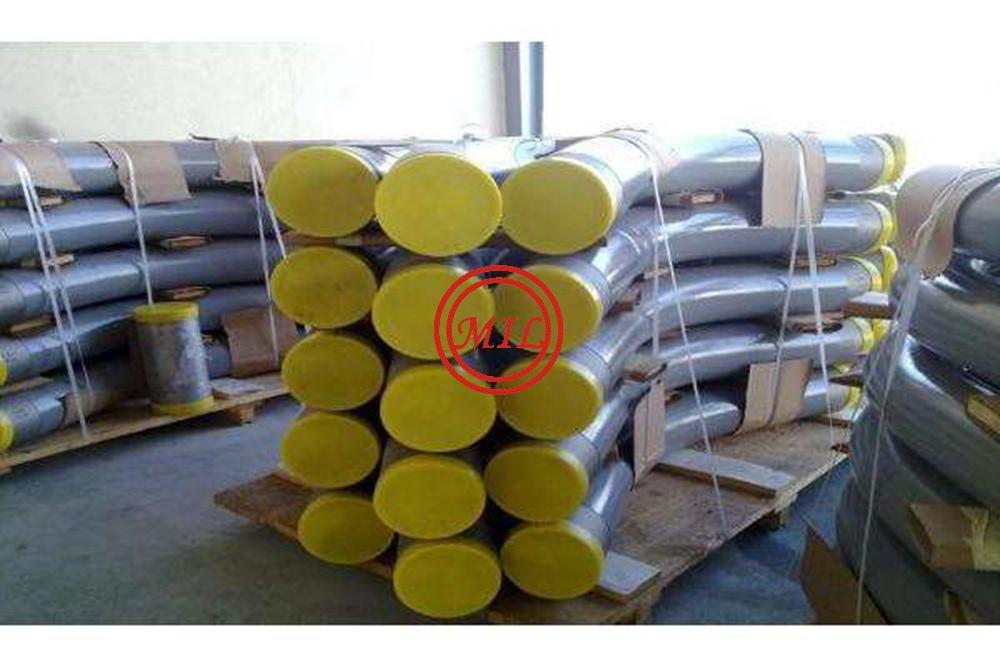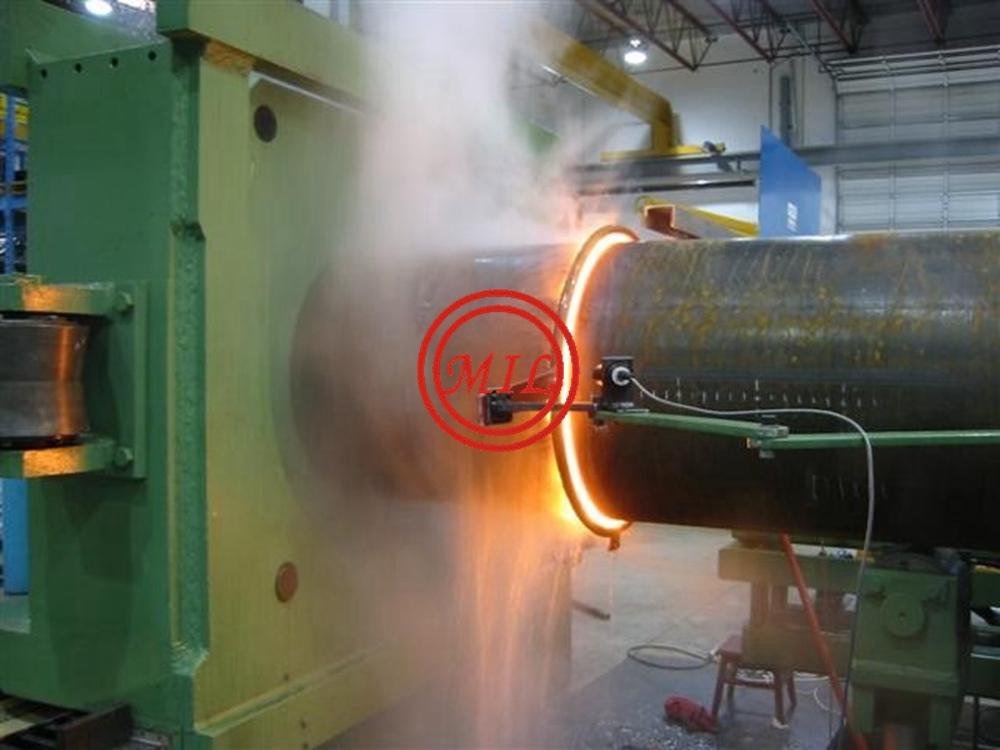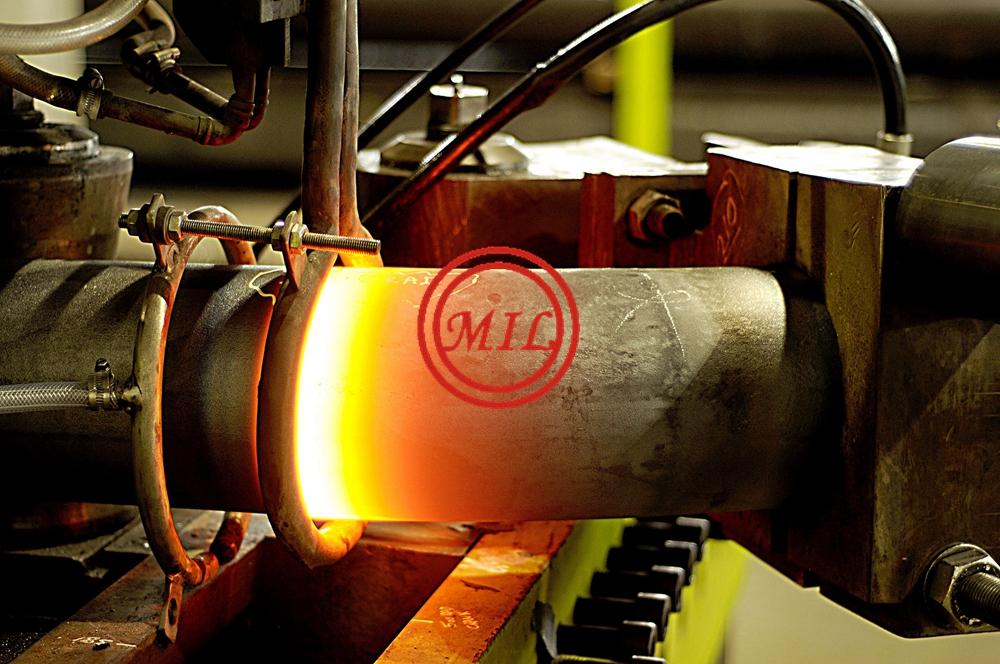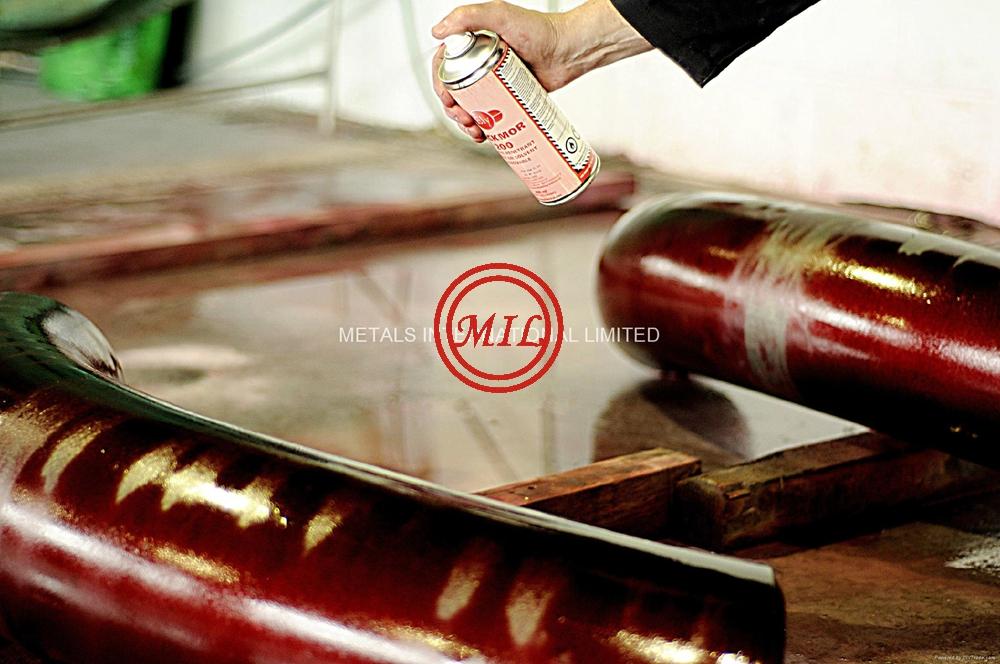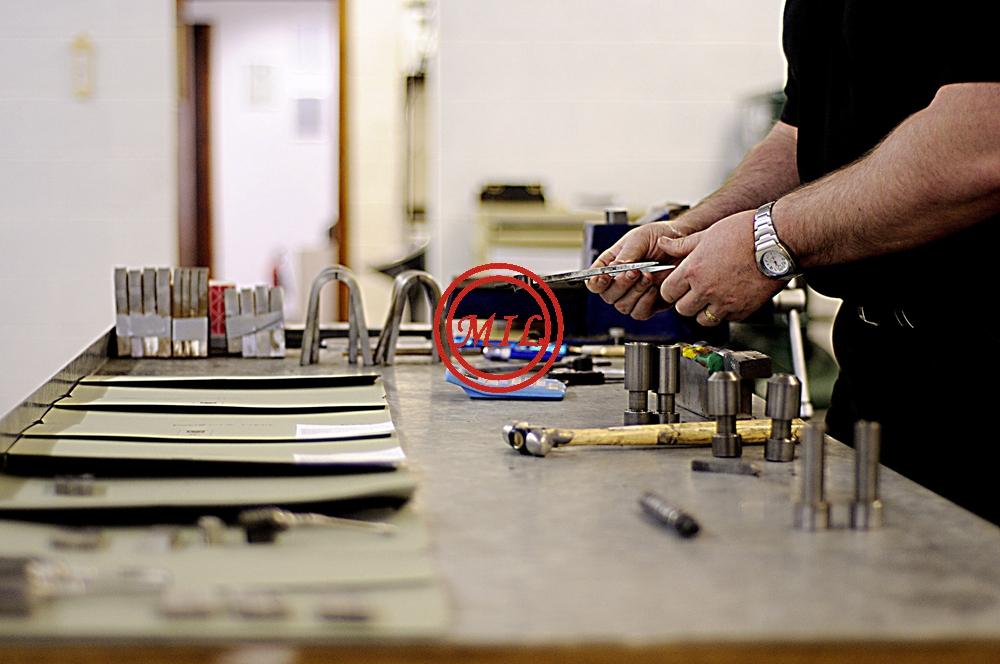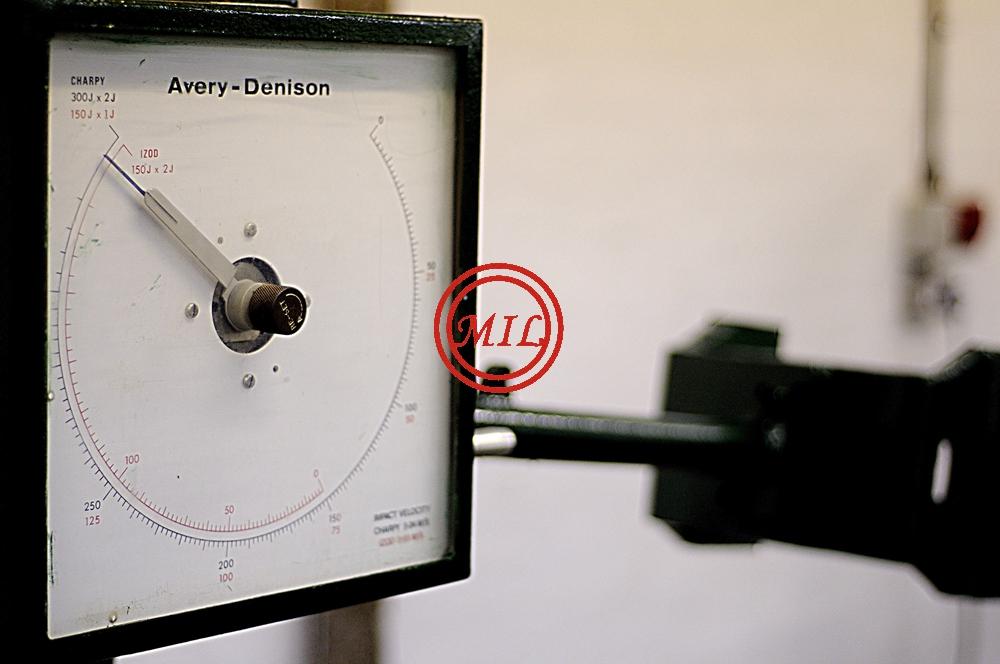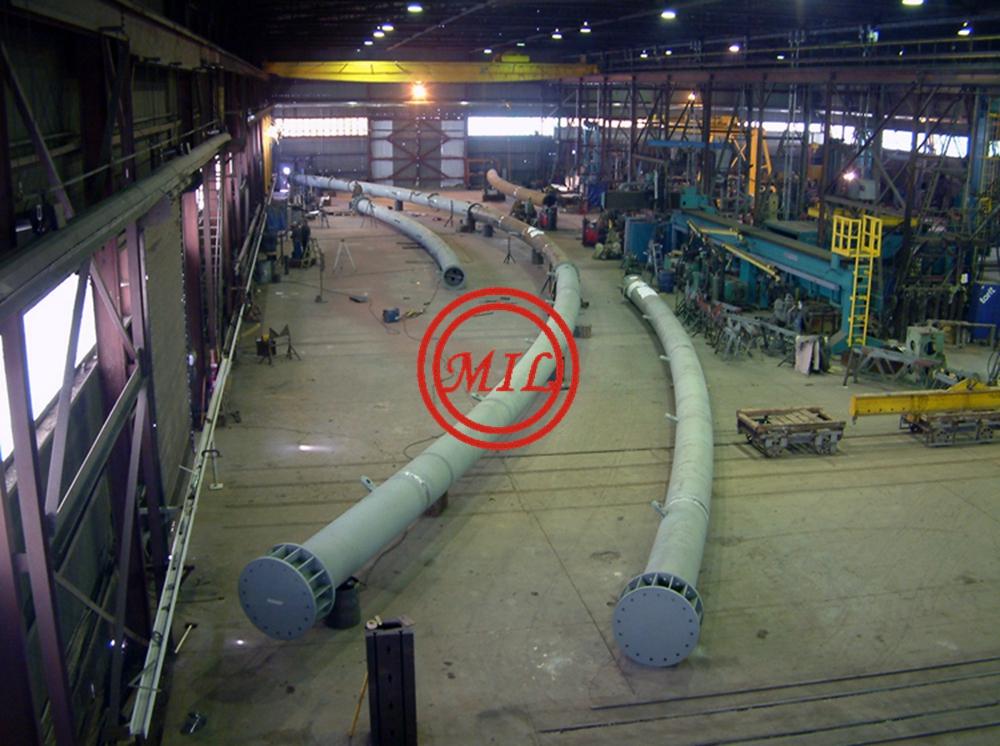 Related Products