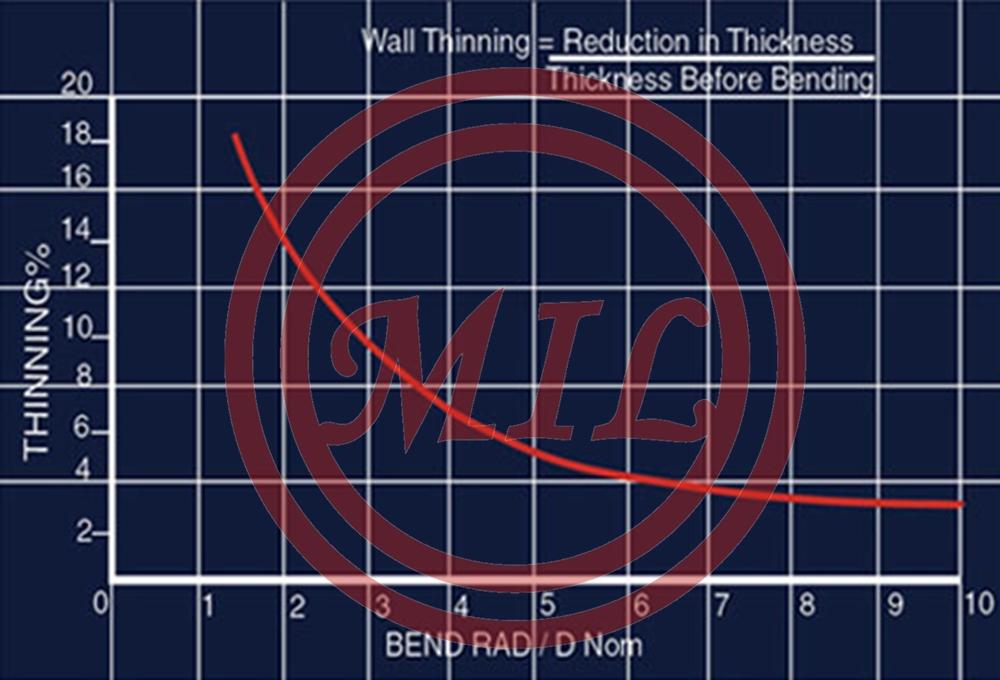 Induction Bending is a controlled means of bending pipes through the application of local heating using high frequency induced electrical power. to create a narrow, circumferential, heated band around the material to be bent. When the appropriate temperature is reached, the material is pushed forward through the coil at a consistent speed and temperature while a bending moment is applied. After the material passes through the coil, it may be cooled (quenched) by forced air or water spray, or it may be allowed to cool naturally at ambient temperatures.
Originally used for the purpose of surface hardening steels, induction technology when used in pipe bending consists basically of an induction coil placed around the pipe to be bent. The induction coil heats a narrow, circumferential section of the pipe to a temperature of between 850 and 1100 degrees Celsius (dependant on the material to be formed). As the correct bending temperature range is reached, the pipe is moved slowly through the induction coil whilst the bending force is applied by a fixed radius arm arrangement.
As the bending occurs, the adjacent area forward of the heat band is water or air quenched (or may be allowed to cool naturally) thereby allowing the cool material to either side of the 'heat band' to retain the integrity of the original material as best as possible. This means of distortion control provides excellent dimensional accuracy and repeatability.
Achieved tolerances when forming induction bends are to some extent governed by the materials in hand and the required format of the finished product however the following are the minimum standards to which Induction Pipe
Although induction bending produces excellent results as far as physical properties are concerned, it must be noted that there are two important considerations required – firstly the reduction in wall thickness at the outside (extrados) of the bend and secondly the degree of ovality which is present.
The induction pipe bending process uses induction heating to produce highly accurate bends. The quality of induction bends is superior to the elbow fitting. Hydro burst tests show that spools with induction bends fail in the straight pipe and not in the bend, whereas in comparable elbow-based systems the elbow (inside radius) is always the first to burst. Stress calculations confirm this. The natural tendency to have a thicker inside wall thus proves to be advantageous and ensures that the bend exceeds the strength of the straight pipe. Many companies have exclusively chosen equipment for their induction bending.
Our Bending is capable of providing the following tests and more.
X-Ray, Heat Treatment, Stress Relieve, Liquid Penetrate Testing, Brinel Hardness Testing, Magniflux Testing, Ultra-Sonic Testing, Magnetic Particle Testing, PMI (Positive Material Identification), Elemental Analyzer, Hydro Test.
Destructive Mechanical Testing
Testing can be carried out to American e.g. ASTM & API, European e.g. BS EN & DIN and to individual client standards e.g. Shell DEP 31.40.20.33, DNV OS F101 & BP GIS 43 – 317 amongst others
Under our ILAC/CNAS Accreditation the following tests can be carried out
 Tensile testing (ASTM and BS EN)
 Impact testing (ASTM, BS EN & IZOD) from ambient to – 196° C
 Hardness Testing (Vickers and Brinell)
 Corrosion tests on Duplex and Stainless steels to ASTM G48 – A
 Macro and Micro examinations of metallic materials (Including both photo macro & micrographs)
 Determination of percentage ferrite to ASTM E562
 Weld testing (complemented by our NDE availability)
We have close links with several other ILAC accredited laboratories and as such can sub-contract testing outside of our accreditation e.g. elevated temperature tensile testing, chemical analysis, HIC and SSCC corrosion tests etc.
Non Destructive Examination
To ensure compliance with specification, many of our bends undergo non-destructive testing. This can be as simple as a basic minimum wall thickness check or can involve a series of surveys using various means of fault detection.
We provides an in-house service through highly experienced operators based within our site and qualified to ASNT / PCN Level II (with procedures externally approved to Level III). This arrangement allows the flexibility we need to ensure our process is as efficient as possible.
In–House NDE;
■Magnetic particle inspection – standard format
■Magnetic particle inspection – fluorescent format
■Liquid penetrant inspection
■UT wall thickness survey
■UT straight beam lamination survey
■UT shearwave survey
■UT longitudinal seam weld survey
■Surface hardness survey
Post Bend Heat Treatment
A feature of induction bending pipework is that due to the heat input allied to the stresses formed during process, mechanical properties may be altered – sometimes significantly.
The majority of materials we bend, particularly high yield carbon & duplex type steels etc. require a full body furnace heat treatment after bending in order to either restore or, as is often the case, enhance mechanical properties. Through our local sub contractor we are able to offer a variety of heat treatments including the following;
Normalise
Usually applied to carbon steels such as ASTM A106 Gr. B, A333 Gr. 6 & API 5L X52, this process includes a set time at temperature with a still air cool to ambient outside the furnace atmosphere
Normalise & Temper
Commonly associated with materials containing a higher level of chrome e.g. ASTM A335 P11 & P22 etc. Once complete, the normalise process (as above) is followed by tempering for an extended time at a lesser temperature, again with a still air cool to ambient
Quench & Temper
Intended for high yield materials e.g. API 5L X65, the material is held for a time at temperature then rapidly quenched in a cooling medium to provide a hardening action. Once complete, the quench is followed by tempering at a lesser temperature, this time with a still air cool to ambient
Solution Anneal
Applied to stainless & duplex steels such as UNS S31803 & UNS S32760, the material is held at an elevated temperature for the required time before rapid cooling in either air or water. No secondary heat treatment is usually required with this process.

ASME B16.9 - B16.28 - B16.25ASME B16.49-2001 Factory-Made Wrought Steel Buttwelding Induction Bends for Transportation and Distribution Systems
EN 14870-1:2004, Petroleum and natural gas industries - Induction bends, fittings and flanges for pipeline transportation systems - Part 1: Induction bends (ISO 15590-1:2001 modified).
ISO 15590-1 - Petroleum and Natural Gas Industries - Pipeline Transportation Systems - Part 1 - Induction Bends
DNV OS-F101 - Submarine Pipeline Systems - 2000
DEP 31.40.20.33-Gen Linepipe induction bends (amendments/supplements to ISO 15590-1)
ABNT 15273. Petroleum and Natural Gas industries - induction Bends tor Pipeline Transportation Systems - 2005(Brazilian standard on induction bending for the oil and gas industries)
ABNT NBR 15273 – Indústrias de petróleo e gás natural – Curvas por indução para sistema de transporte por dutos
TPA-IBS-98 Recommended Standards for Induction. Bending of Pipe and Tube by the Tube and Pipe
TOTAL GS EP PLR 221 Fabrication of hot bends for pipelines (sweet service)
ASME B31.8 – Gas Transmission and Distribution Piping System
API-5L – Specification for Line Pipes
ASME B16.9– Factory-Made Wrought Butt-welding Fittings
ASTM A-860 – Standard Specification for Wrought High Strength Low-alloy Steel Butt-Welding Fittings
ASTM A-516 – Standard Specification for Pressure Vessel Plates, Carbon Steel for moderate and Lower Temperature Service
MSS SP-75 -Specification for High-Test Wrought, Butt-Welding Fitting
CSA Z245.11-05 - Steel Fittings
PFI ES-24 - Pipe Bending Methods, Tolerances, Processes and Material Requirements
Carbon and Alloy steel
For Moderate and elevated Temperatures
ASTM/ASME A234: WPB, WPC, WP1, WP11, WP12, WP5, WP22, WP9, WP91
EN 10216-2: P195GH, P235GH, P265GH, 20MnNb6, 16Mo3, 8MoB5-4, 14MoV63, 10CrMo5-5, 13CrMo4-5, 10CrMo9-10, 15NiCuMoNb5-6-4, X11CrMo5, X11CrMo9-1, X10CrMoVNb9-1, X10CrWMoVNb9-2, X20CrMoV11-1 *
EN 10253-1, EN 10253-2 RCCM: CL2-CL3-NC, grades: P265GH, P280GH, P295GH, P355NH, TU42C, AE250B1 (Other grades can be supplied upon request)

High Yield Steel for pipe line and offshore
ASTM A860/MSS SP-75: WPHY 42, WPHY 46, WPHY 52, WPHY60, WPHY 65, WPHY 70 grades, WPHY80 only as per MSS SP-75
EN 10208-2: L245NB, L290NB, L360NB, L415NB, L360QB, L415QB, L450QB, L485QB, L555QB, L360MB, L415MB, L450MB, L485MB
API 5L Gr.B,X42, X46, X52, X60, X65, X70,X80
For Low Temperature service ASTM/ASME A420: WPL6, WPL3
Stainless steel
Austenitic
ASTM/ASME A/SA403: WP304 (L) (H) (LN) (N), WP321 (H),WP316 (L) (H) (LN) (N), WP347 (H), WP317 (L), WPS31254
RCCM: CL1-CL2-CL3, Grades: Z2CND17.12, Z2CN18.10, Z2CND18.12N
ASTM A774: TP304L, TP316L, TP317L, TP321, TP347
Equivalent grades of EN 10253-3, EN 10253-4 (former AFNOR-DIN-BS equivalent grades) Austenitic/Ferritic
ASTM/ASME A/SA 815 UNS 31803 (Duplex),UNS 32750 (Duplex),UNS 32760 (Duplex),UNS 32550 (Superduplex) and equivalent
Non ferrous alloys
Nickel Alloy ASTM/ASME BSB 366: UNS N04400, UNS N06600, UNS N06625, UNS N08020, UNS N08800, UNS N08811, UNS N08825, UNS N10276
Aluminium Alloy ASTM B361: 3003 and 6061 grades