ASTM A498,ASTM A1012,ASTM B359,ASME SB359,ASTM B898 Integral Fin Tube
| | |
| --- | --- |
| Model No.︰ | - |
| Brand Name︰ | - |
| Country of Origin︰ | - |
| Unit Price︰ | - |
| Minimum Order︰ | - |
Integrally Finned Tube
Developed as a method of increasing heat transfer performance of fluids whilst minimising the physical size and cost of the heat exchanger

The fin is produced by being rolled from the wall of the tube and is therefore integral with the tube itself. Due to fin rolling the wall thickness beneath the fin section is reduced compared with the plain ends. The bore of the fin section is slightly reduced. Most tubular materials can be finned, however hardness of the material usually determines the finning code or fin profile.
Harder materials such as stainless steel, nickel alloys and titanium are usually supplied with a greater fin density (28, 30 or 36 fins / inch). This shallower fin profile reduces work hardening of the material and helps eliminate the possibilty of fin root cracking. Softer materials such as carbon steel, copper and copper alloys are usually supplied with a deeper profile giving a lower fin density (16 or 19 fins / inch).

Plain ends and any skipped sections must be specified.
Finished tubes can be U bent if required. The U bend area can be either finned or plain, to meet the required specification.
Manufacturing Limitations

Materials:

1. Carbon and low alloy steel

2. Stainless steel: TP304 / TP304L / TP316 / TP316L

TP321 and duplex

3. Copper alloys: Alloy 443 / 687 / 706 / 715 etc

4. Titanium and high nickel alloys Tube Sizes

outside diameter: 12.7 / 15.8 / 19.05 and 25.4mm

Plain end wall thickness: >= 1.25mm

Length: up to 24,000mm

Surface Area Improvement

Typical surface area improvements by using integral

low finned tubes are:

1. 19.05mm OD with 19 fins / inch: 270%

2. 25.4mm OD with 26 fins / inch: 330%

Depending on the fluids within the heat exchanger the

thermal improvement can range from between 20%

to in excess of 100%
Alloy

Plain Dimensions

Finned Dimensions

Outside

Diameter

(mm)

Wall

Thickness

(mm)

FPl

Fin OD

(mm)

Fin

Height

(mm)

Notch of Fin

Nominal Outside Surface Area(㎡/m)

Actual Outside Surface Area(㎡/m)

Wall

Under

Fins

(mm)

Ridge Number

(n)

Ridge Height

(mm)

Nominal Outside Surface Area

(㎡/m)

Actual Outside Surface Area(㎡/m)

T2/TP2

16

1.10

42

15.85

0.90

√

0.050

0.203

0.65

--

--

0.040

0.040

16

1.20

42

15.85

0.90

√

0.050

0.211

0.63

30

0.30

0.040

0.048

15.88

1.00

46

15.80

0.75

√

0.050

0.195

0.60

20

0.35

0.041

0.048

19

1.13

46

18.85

0.95

√

0.060

0.272

0.63

45

0.38

0.050

0.084

19

1.20

46

18.85

0.95

√

0.060

0.272

0.65

45

0.38

0.049

0.084

19

1.13

50

18.85

0.92

√

0.060

0.288

0.63

45

0.38

0.050

0.084

25.25

1.18

50

25.25

0.92

√

0.060

0.391

0.71

54

0.40

0.069

0.118

BFe10-1-1

18.85

1.20

46

18.85

0.90

√

0.060

0.263

0.71

--

--

0.049

0.049

HSn70-1

18.85

1.20

46

18.85

0.85

√

0.060

0.253

0.71

3.3

0.25

0.050

0.060

HAl77-2

13.85

1.50

42

13.85

1.0

√

0.044

0.191

1.1

--

--

0.030

0.030
Monometallic finned tube with fins drawn from the parent metal of the tube. All monometallic Tubes are using a cold rolling or ribbing process.

Materials: Aluminium, copper, brass, cupronickel, carbon steel, stainless steel, titanium, etc.
FPI: 12, 16, 19, 28, etc.
OD: 1/2"-1"

Applications:
Aftercoolers, air coolers, air heaters, charge air chillers, condensers, convection heaters, electric heaters, evaporators, fluid coolers, gas coolers, heat pipes, hydrogen coolers, industrial tumble dryers, intercoolers, immersion heaters, oil coolers, radiators, refrigeration, solvent recovery and steam to air heat exchangers.
Benefits of Finned tubes
Finned tubes provides 2.5 to 3 times the external surface area of bare tube, which yields numerous benefits for the heat transfer equipment. Reduced pace, weight & structural savings in compact heat exchanger is valuable. The more expensive the tube material, the more dramatic the cost savings for corrosive service. Proper material selection can eliminate costly downtime & maintenance. Coastal refineries using once-through seawater cooling systems can benefit by substituting conventional copper nickel tubing with Titanium finned tube, Titanium finned tube is highly resistant to seawater corrosion erosion.


Quality standards:
ASME Sec. 8, Div 1, UG-8 (and Appendix 23 for external pressure rating where necessary)

ASTM B-891 Seamless and Welded Titanium and Titanium Alloy Condenser and Heat Exchanger Tubes with Integral Fins
ASTM A-1012 Seamless and Welded Ferritic, Austenitic and Duplex Alloy Steel Condenser and Heat Exchanger Tubes with Integral Fins
ASTM A-498 Seamless and Welded Carbon, Ferritics and Austenitic Alloy Steel Heat Exchanger Tubes with Integral Fins
ASTM B-359 Copper and Copper Alloy Seamless Condenser and Heat Exchanger Tubes with Integral Fins
Specifications︰
The fin tubes available with us covers Integrated Finned Tube of Copper (C10200, C12000, C12200), Cupronickel (C70600), Aluminum (1060) and Aluminum Alloy (AISI6063), Bimetallic Finned Tube such as Copper - Aluminum, Copper Alloy - Aluminum, Steel – Aluminum, Stainless Steel – Aluminum, Laser Welded Fin Tube using Stainless Steel and Titanium.
Concerning the integral finned tube, the fins are obtained by roll forming the outer surface of a soft seamless plain tube. The technology simply squeezes the wall thickness transforming into straight fins on the tube. So the fin and the tube are integrated and inseparable, which avoids the heat resistance between fin and tube, and optimizes heat exchange efficiency. Based on this structure, the Extruded type can survive more severe working conditions than other finned tubes. On the other hand it shows several unique features such as enhanced physical structure, resistance to vibration, anti-corrosion ability, and long service life, etc.
The interior surface of finned tube can be plain or undulated or grooved according to customers' request on different heat exchange efficiency. Besides, the shape of finned tubes can not only be in straight, but also after soft annealing in Omega shapes, coils, or customized shapes catering to customers' needs.
The laser welded fin tube, although obtained by laser welding technology, has the structure more or less the same as the integral type, which mean it shares similar advantage. The more significant is that it makes much harder materials like Stainless Steel and Titanium possible in this structure.
Standard Met︰
T-type fin tube
T fin tube is a kind of high efficient heat exchange tube that is made by rolling processing and molding of the light pipe. Its structure characteristic is forming a series of spiral ring T tunnel on the outside the pipe surface.
The medium outside the pipe forms a series of bubbles in the tunnel nuclear when heated. And because the tunnel cavity is in a heated state, the bubble nucleus rapidly expands and increases the inside pressure rapidly by continuously heating, then erupts from a crack in the pipe surface. There is a strong flush power and a certain negative pressure with the bubbles erupting, and which makes the low temperature liquid flow into the T tunnel forming the constant boiling. This way of boiling sends out the heat is much large than the light pipe in an hour and an surface square, so T-type tube has the higher ability of boiling heat transfer.  
T-shaped fin tube features:
(1) Good heat transfer effect. The coefficient of heat boiling is 1.6~3.3 times higher than the light tube in the R113 working medium.
(2) Only when the heat medium temperature is higher than the boiling point of cold medium or bubble point is 12℃ to 15℃, the cooling medium can bubbly boils in a regular light tube heat exchanger. Instead, cold medium can be boiling When the temperature is just 2℃ to 4℃ in the t-shaped fin tube heat exchanger. And the bubbling is close, continuous, and rapid. So the T-type tube forms the unique advantages compared with the light pipe.
(3) With CFC 11 for medium single-tube experiment showed that the boiling up heating coefficient of T-type is 10 times of the light pip. For small bundles of liquid ammonia medium experimental results that the total heat transfer coefficient of T-type tube is 2.2 times of the light pipe. The reboiler industrial calibration of C3 and C4 hydrocarbon separation tower shows that , the total heat transfer coefficient of T-type tube is 50% higher than the smooth tube in the low load, and 99% higher in the heavy load.
(4) The pipe price of this kind of porous pipe is cheaper. 
(5) It is not easy to scale both within and outside the tube T tunnel slot surface due to the fierce disturbance of internal gas-liquid and seam gas quickly jetting along T high, which ensures the equipment can use for a long time and the heat transfer effect is not affected by scale.

Carbon-steel low fin tube (threaded pipe)
Due to the features that higher heat transfer coefficient, larger heat transfer area and less consumption of steel etc, Threaded pipe has been recognized as a kind of strengthening heat transfer element. The research report pointed out that the design of is reasonable. So the flue gas heat transfer efficiency of threaded pipe is 1. 6 times of light tube. Because the threaded pipe has the remarkable characteristics, it has been more and more widely used in boiler manufacture.  
Features:
(1) The heat transfer of a thread smoke tube is as the same as that of 1.7 to 1.8 root ordinary pipes after application of the optimization of heat transfer and flow resistance when it is used on the boiler. This not only can reduce the pipe numbers, but also can lessen the diameter of the pot shell, thus, to save the steel and to cut down capital.
(2) The heat transfer surface area is 1.5 to 2.0 times of the light pipe, this greatly improves the activity of the cooling methods and strengthen the tube inside boiling and condensation transfer effects in the application of air conditioning refrigeration industry.
(3)Setting up in heat exchange equipment application on decoration, steel or stainless steel tube through a molding machine rolling, spiral tube fouling are spiraling in appearance, set decoration equipment running line temperature changes make the pipe produces expansion and contraction, thus can make the dirt to fall off; For the cylinder and the light pipe scale layer, without the power off.


Product Image


ASTM A179 low-finned-steel-tubes-for-LNG-plants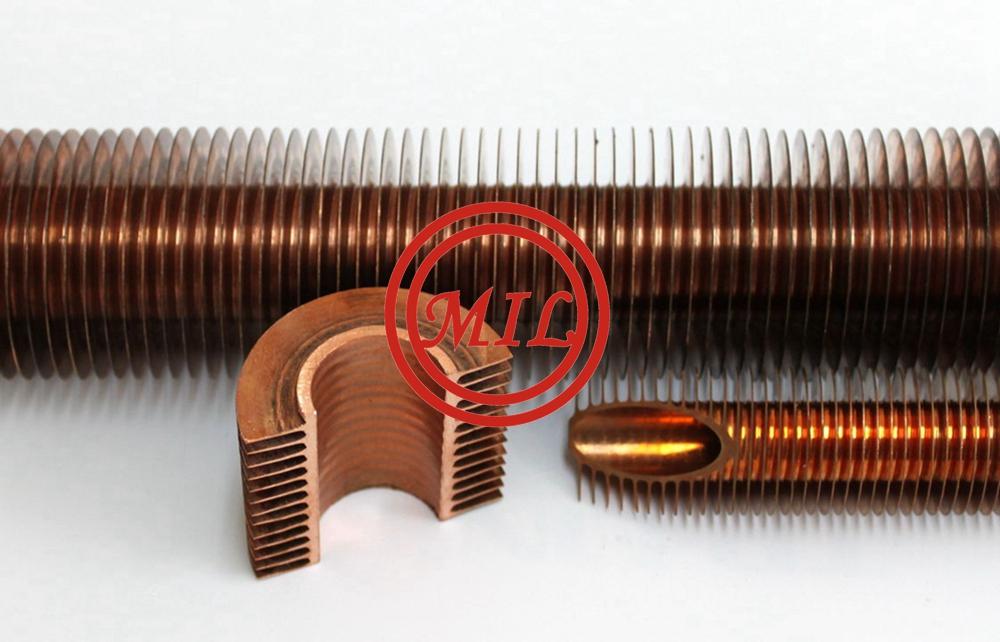 heat_exchanging_copper_spiral_finned_tube_with_extruding_process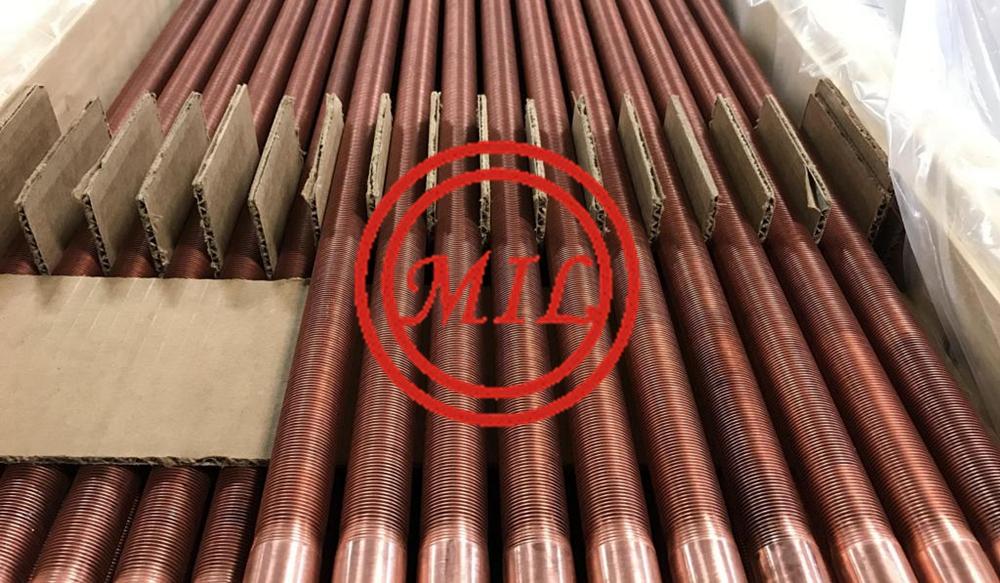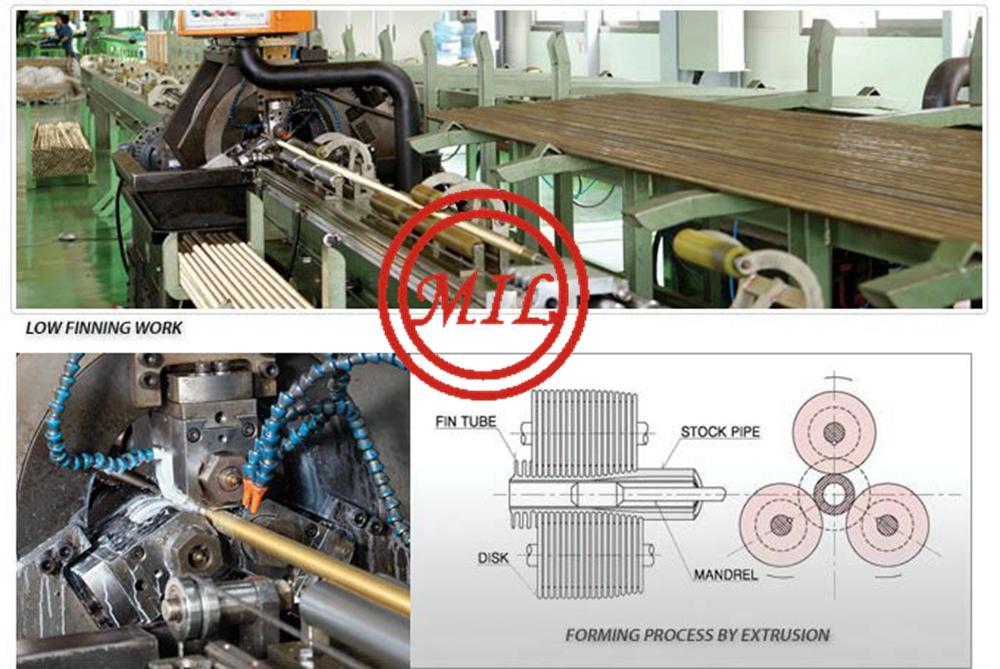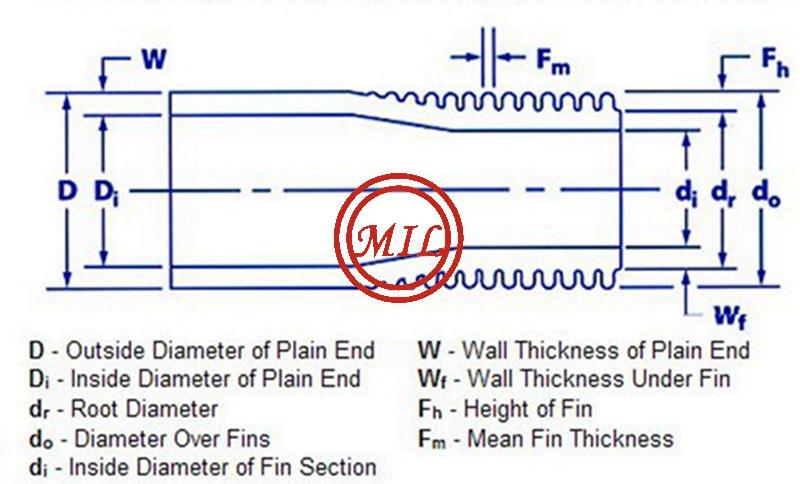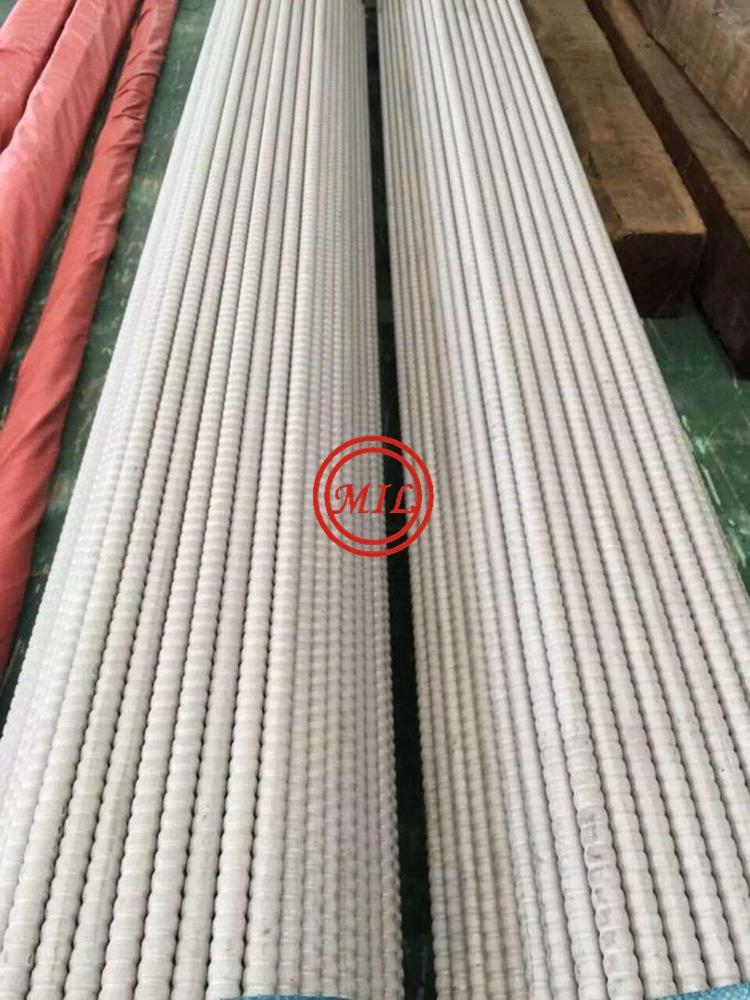 CORRUGATED FINNED TUBE

CORRUGATED ALUMINUM FINNED TUBE
Related Products