CRA CLAD PIPE or CRA LINED PIPE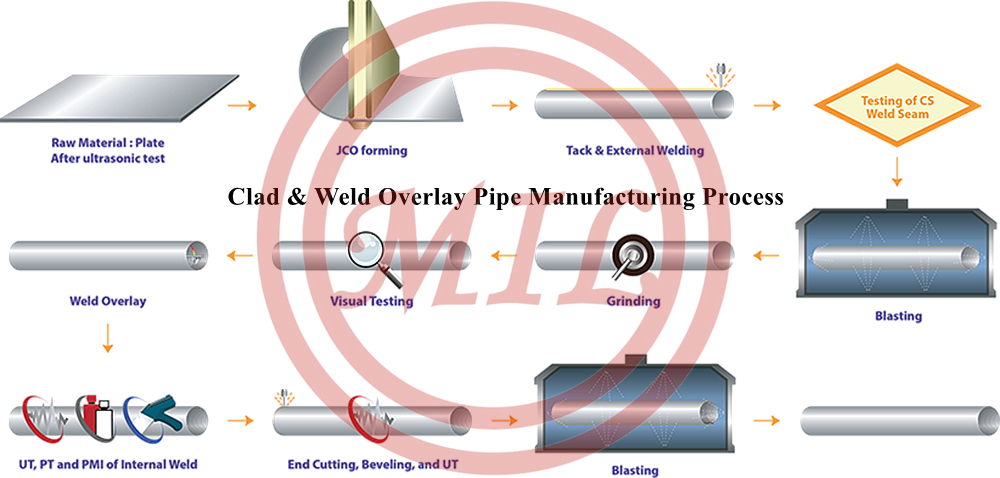 1. CRA clad or lined pipe is composed of a conventional carbon steel or low alloy steel pipe and a corrosion-resistant alloy layer. CRA refers to corrosion-resistant alloy. The CRA layer is metallurgically bonded (clad) or mechanically bonded (lined) to the internal or external surface of the steel pipe. The carbon steel or low alloy steel pipe is called base metal, or backing steel; The CRA layer is usually called cladding material or lining. This is economically favorable for large-diameter heavy pipelines since the relatively much thinner CRA layer not only retains enhanced corrosion-resistant properties but also reduces the cost to the minimum. The CRA clad or lined steel pipes are widely used in pipeline transportation systems in the petroleum and natural gas,marine applications, chemical plant, and power plant, etc.
2. Material Selection and Standard Specification
Base materials of the CRA clad or lined steel pipes include seamless or welded line pipes of API 5L Grade B, X42, X46, X52, X56, X60, X65, X70 and X80. In other circumstances, the base metal can also be provided as ASTM A106 Gr.B, ASTM A333 Gr.6, ASTM A335 Cr-Mo alloy steels (P5, P11, P22, P9, P91), etc.
The CRA cladding or lining material covers an extensive range of stainless steels and nonferrous alloys: SS 304/304L, SS 316/316L, SS 317/317L, Duplex 2205 (S31803), 2506 (S31804), 2507 (S32750), S32740, Alloy 254 SMO (S31254), 904L (N08904); Incoloy alloy 825 (N08825), Inconel alloy 625 (N06625), Hastelloy C-276 (N10276), Inconel alloy 59 (N06059), Alloy 31 (N08031), AL6NX (N08367), Alloy 20 (N08020), Monel alloy 400 (N04400); Titanium Grade 2, 5, 7, 9, 12; zirconium R60702; and some copper alloys.
3. Manufacturing of CRA Clad or Lined Steel Pipes
CRA clad steel pipe is a bimetallic pipe composed of an internal (and in some cases external) CRA layer that is metallurgically bonded to the backing steel. The cladding may be bonded by hot rolling, coextrusion, weld overlay, explosion bonding, powder metallurgy, or some other process that produces a metallurgical bond.
4.Weld Overlay, also known as cladding, hardfacing, weld cladding, or weld overlay cladding, is a process where one or more metals are joined together via welding to the surface of a base metal as a layer. This is normally done to improve the material by adding either a corrosion resistant or hardfacing layer to it. Surfaces prepared in this way can even be highly customized by layering and alloying multiple different materials together.
5. Tests and Inspection
Tensile tests: The CRA layer shall be removed from all specimens of finished products; Longitudinal tensile tests and transverse tensile tests; Weld tensile test (if there is any weld seam in the backing steel).

Flattening tests.

Guided-bend tests.

Fracture toughness tests.

Hardness tests (Vikers – ASTM E 384, Rockwell – ASTM E 18).

Ferrite/austenite ratio for duplex stainless steel CRA layer.

Corrosion tests as per ASTM A262 Practice B or Practice E, ASTM G28 Method A, ASTM G48 Method A.

Tests for CRA cladding bond strength and CRA liner tightness.

Residual magnetism (less than 15 Gauss).

Hydrostatic inspection.

Dimensional inspection and visual examination.

Ultrasonic inspection for clad pipes.

100% X-Ray inspection for all welds.
6. Reference Standards:
API 5LD CRA Clad or Lined Steel Pipe
DNV-OS-F101 Submarine Pipeline Systems 101 Section 7.D. Clad or Lined Steel Linepipe
DEP 31.40.20.32-Gen CRA clad or lined steel pipe (amendments/supplements to API Spec 5LD)
NACE MR 0175/ISO 15156-2 Petroleum and Natural Gas Industries – Materials for Use in H2S Containing Environments in Oil and Gas Production. Part 2. Cracking resistant Carbon and Low Alloy Steels, and the Use of Cast Irons.
NACE TM 0177 Laboratory Testing of Metals for Resistance to Sulfide Stress Cracking in Hydrogen Sulfide (H2S) Environments
NACE TM 0284 Standard Test Method - Evaluation of Pipeline and Pressure Vessel Steels for Resistance to Hydrogen-Induced Cracking