API 5CT J55,K55,N80-1 Slotted Liner, Slotted Pipe
| | |
| --- | --- |
| Model No.︰ | Slotted Liners |
| Brand Name︰ | API 5CT Slotted Casing,Slotted Liners,Well Screen |
| Country of Origin︰ | - |
| Unit Price︰ | US $ 2500 / MT |
| Minimum Order︰ | 10 MT |
Slotted Pipe
The slotted pipe uses a variety of methods to cut many longitudinal or spiral slots of certain specifications in the line or staggered pattern. This product is made using special thin blade cutting and laser cutting. The cross section of slot is available in rectangle, trapezoid(trapezoid angle of 3-8°), and other special shapes. It can guarantee a permeability of 0.5%-10%. The slot can be processed according to user requirements.

1. This screen pipe is mostly processed based on the body of J55 or N80 oil casing, which has high strength, and is not easy to deform.
2. The product enjoys good verticality of slot edge, smooth cut edge with no burrs, and uniform slot.
3. The 2 7/8" slotted pipe has 300 slots per 1.5m. It achieves an open area of 72㎡ which is 2.4 times larger than the tubing of the same specification. This is beneficial to fluid flow.
4. It has more distinct superiority in deviated and horizontal wells.
5. Due to the entire antiseptic treatment, a dense protective layer is formed on the surface. This improves the corrosion and abrasion resistance, and effectively extends the service life of the slotted pipe for underground work.
6. It is suitable for sand retention in the well with the sand particle size greater than 0.3mm.
7. The product is easy to use and large in inner diameter, which also facilitates the configuration of pipe string.
8. Material: Carbon steel, stainless steel.
9. Pipe type: Oil casing, tubing.
The slotted liner is mainly used to the water and oil reservation layer without much sand. It's function is to prevent rock bits from dropping into the well bore. The working principle is to allow the certain size and coming fthrough the surface with crude oil but keeping the bigger size sand being outside to form the sand bridge for anti-sand purpose. This type of product is commonly used to sand rock and catbonate reservoir, in particular, suitable for horizontal wells.
Slotting Patterns: Line slot pattern, staggered slot pattern, multiple staggered slot pattern.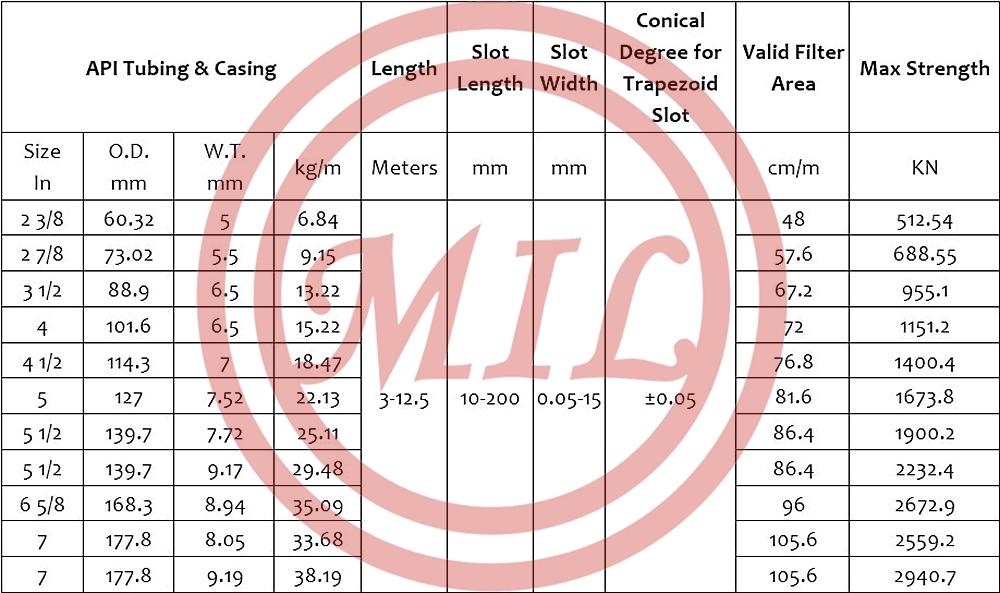 Product Image
Related Products